Homeowners are splurging on countertop upgrades
February 7, 2022 | 2:16 pm CST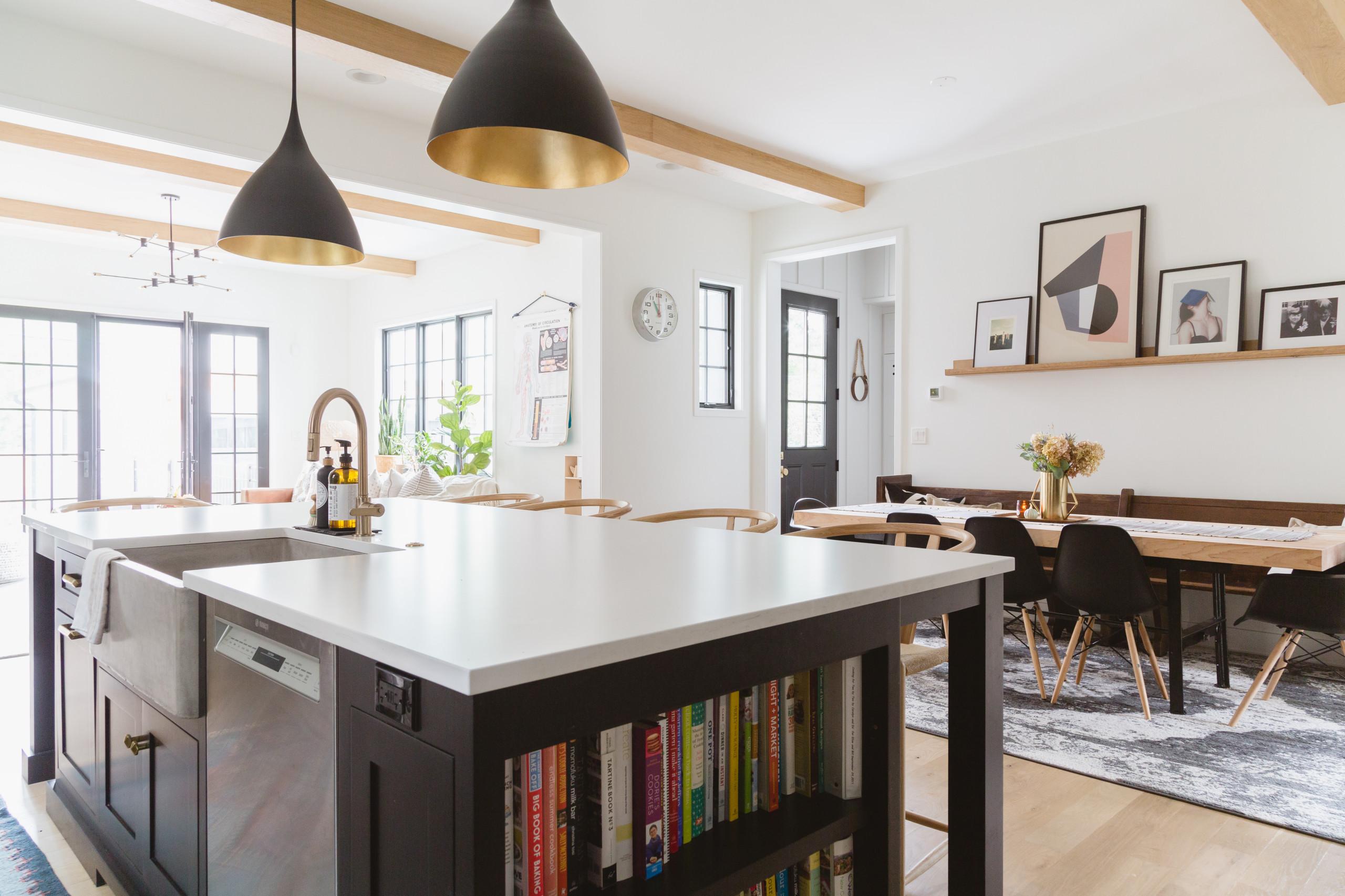 Photo By Rachel Loewen/Houzz
PALO ALTO, Calif. – Countertop upgrades are a key feature in kitchen renovations, according to the 2022 U.S. Houzz Kitchen Trends Study which surveyed nearly 2,400 U.S. homeowners who were either planning, in the midst of, or recently completed a kitchen remodel.
Approximately 35 percent of respondents said they splurged on countertops and it was the most common feature upgraded by 91 percent of homeowners. 
"It is clear that homeowners are willing to spend a little more to get exactly what they want in countertops that are both beautiful and practical, despite rising prices of labor, products, and materials," said Marine Sargsyan, Houzz senior economist. "We're seeing a rise in overall kitchen renovation spend as homeowners not only splurge on specific features but also make major modifications to the kitchen layout, systems, and walls, many of which require the assistance of licensed home professionals. In fact, hiring rates for home professionals to complete these projects are the highest we've seen in four years."
The study found that cost is not a factor when choosing countertop materials. Homeowners were more influenced by look and feel (69 percent), durability (57 percent), and ease of cleaning (38 percent). The most popular materials were engineered quartz and granite and tariff and pandemic price increases had little impact. 
Of the more than one in five renovating homeowners who select an island countertop material that contrasts from their primary countertops, over one-third choose butcher block or wood slab (35 percent), which has also been impacted by the pandemic. Aesthetically, homeowners increasingly choose white for their countertops during renovations (39 percent), up six percentage points from the previous year.
Additional findings include:
•    The median spend for both major and minor kitchen remodels increased in mid-2021 by 14 percent to $40,000 and by 25 percent to $10,000, respectively, compared to 2020. The median spend for a major kitchen remodel of a large kitchen (250 square feet or more), continued to climb for the fourth year in a row, to $50,000, up from $45,000 the previous year. The median spend on a major small kitchen remodel (less than 250 square feet), increased as well, up to $35,000 in mid-2021 from $30,000 in mid-2020.
•    Overall hiring of kitchen renovation professionals has jumped to 89 percent from 85 percent in 2020, its highest level in four years. General contractors continue to be hired the most frequently (53 percent), up significantly by four percentage points from 2021. Cabinetmakers, kitchen designers, and interior designers are also being hired more frequently than last year.
•    Following a kitchen renovation, one in five homeowners say that a top activity at their island is work (20 percent), up four percentage points from 2021. Homeowners are making space for this activity with nearly two in five islands stretching more than 7 feet in length (39 percent), up five percentage points from last year. Homeowners are also making the space brighter with the vast majority installing new light fixtures above islands (92 percent).
•    White continues to lead as the top choice for kitchen cabinets, backsplash, and walls (41, 40, and 32 percent, respectively). Gray is the most common alternative to white, with 27 percent of renovating homeowners painting the kitchen walls gray, 13 percent installing gray flooring, and 11 percent opting for a gray backsplash. That said, blue, black and green bring visual interest to the space through contrasting kitchen island cabinet colors (26, 10, and five percent, respectively).
For more information, visit houzz.com.
Have something to say? Share your thoughts with us in the comments below.