Houzz partners with Benjamin Moore
December 17, 2020 | 8:52 am CST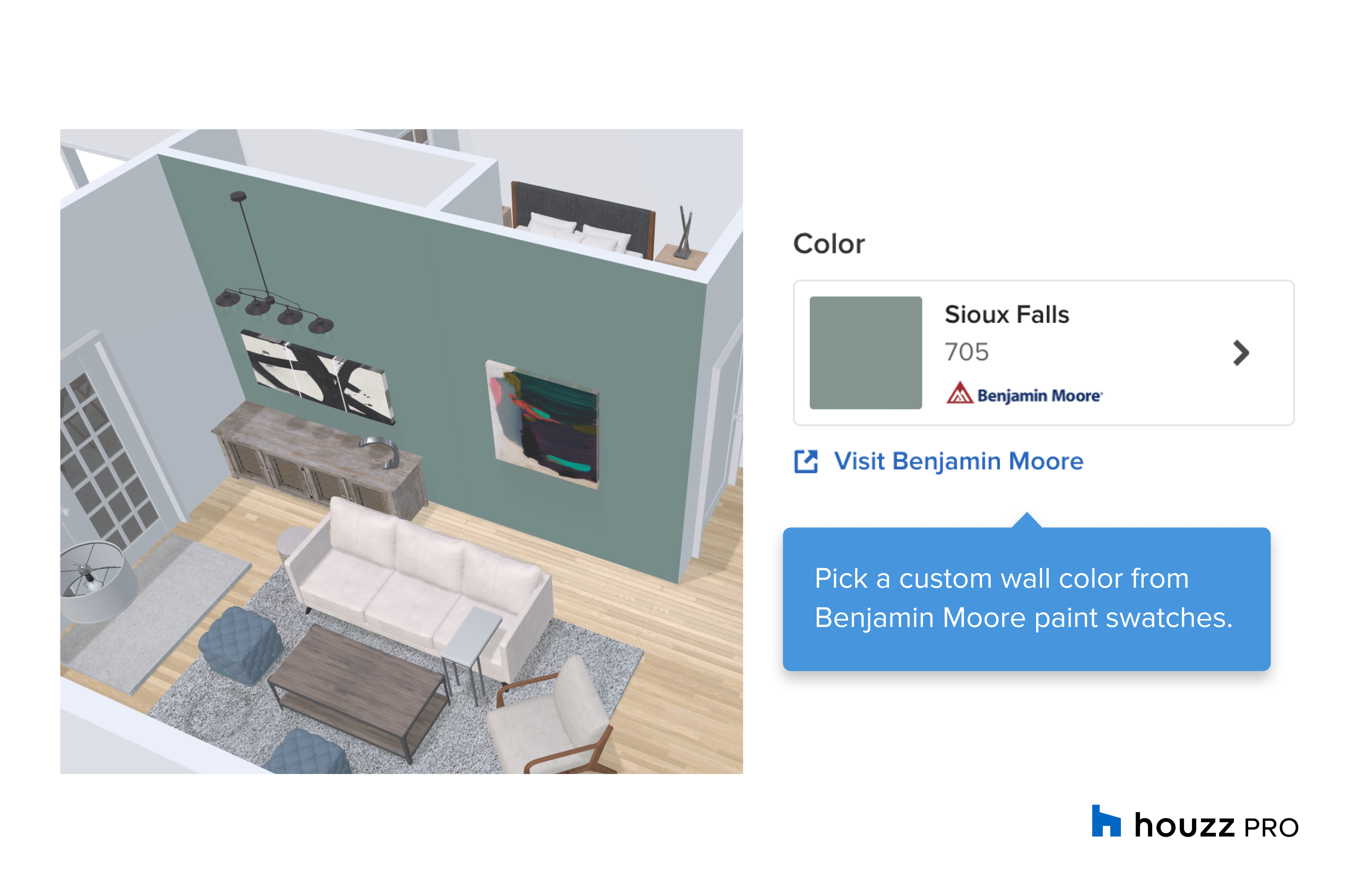 Photo By Houzz
PALO ALTO, Calif. - Houzz Inc. announced a partnership with Benjamin Moore to embed its color portfolio in new visualization tools within Houzz Pro, its all-in-one business management and marketing solution for residential construction and design professionals. As part of this engagement, Benjamin Moore will provide paint colors for the Houzz Pro 3D Floor Planner and Mood Board tools.  
"We are thrilled to team up with Houzz to support the innovative solutions they are developing for professionals in the home remodeling and design industry," said Craig Bunting, Benjamin Moore Director of Customer Segment Marketing. "By selecting from our expansive color portfolio within Houzz Pro, we're streamlining the color selection process for home professionals and their clients alike." 
The Houzz Pro 3D Floor Planner allows pros to create accurate 3D interior schematics which can be presented in walkthrough or dollhouse views to give clients a realistic preview of the finished project. Pros can enter specific wall dimensions and ceiling heights, and resize windows, doors and furniture to match product selections. Floor finishes can also be customized to include a variety of tile, wood flooring and carpet. 
Houzz Pro Mood Boards are now available for designers and other pros to showcase a project's look and feel through products, colors and inspiration photos. Products can be uploaded from a computer, pulled directly from the Houzz Shop, or added through the Houzz Pro Product Clipper, which captures and stores product images and information from any website where pros source products. Pros can edit product images within each mood board, including removing backgrounds, layering products on top of each other, and presenting the room with a 3D perspective to offer a comprehensive look at the space. Floor plans made with the Houzz Pro 3D Floor Planner can be added to any mood board and will automatically update in the mood board when they are edited in the Floor Planner tool.
To address pros' need for accurate colors in their 3D models and mood boards, Houzz Pro enables pros to choose from thousands of Benjamin Moore colors to customize 3D model walls and place paint swatches in a mood board. Once a 3D floor plan or mood board is approved, the pro can easily click on the paint swatch to order the exact paint color from Benjamin Moore's website. 
To learn more about Houzz Pro 3D Floor Planner and Mood Board tools, visit
houzz.com/pro
. 
Have something to say? Share your thoughts with us in the comments below.