Helping those in need take that Next Step
January 7, 2023 | 2:25 am CST
Photo By Next Step
When someone is without a home, or living in a shelter, hope is hard to come by.
In the streets of Grand Rapids, Michigan, there are those recently released from prison, those struggling with PTSD, panhandling on the streets and overpasses —  for them, the future can seem bleak.
At Next Step of West Michigan, a faith-based, non-profit in Grand Rapids, staff and volunteers work to give these men and women hope by providing them woodworking and job skills training as well as employment opportunities. Hope through work is their mantra.
Next Step offers a 7-week woodworking training program. It also has businesses that employ members of this community in its woodworking manufacturing business, and a public works program that contracts with the city of Grand Rapids to clean up parks and alleys and cut down brush.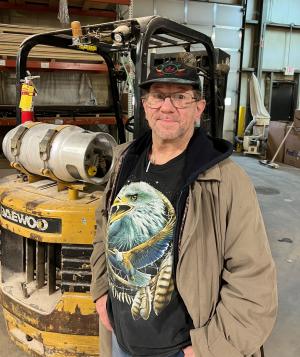 The Skills Training Program teaches woodworking basics while developing and improving life skills in a "supportive environment with access to connections for employment in our community," said David Bult, Next Step training program director. 
Bult, a former manager of a furniture company in Morocco before returning to his hometown of Grand Rapids, said the hands-on, experiential training program provides employment skills and ultimately job placement in woodworking, furniture making, manufacturing and construction industries. This is borne out in the companies that have hired Next Step graduates (see sidebar). 
Bult said that the training program is part-time at the beginning and more hours are added to help students get used to 40-hour workweeks. The training emphasizes safety and the process of woodworking. What are the machines and how do they use them to process a board? Students design and build a project, usually a side table or nightstand, that they take home. 
After seven weeks, students have experience working on a variety of equipment including table saw, router, chop saw, jointer-planer, sander, and hand tools. They also get design and CAD experience. "Everything," said Wendy Taylor, a graduate of the program. "David teaches you how to use the machines, and figure out the design. You start with a raw piece of wood and make something you can call your own." 
Taylor works for Next Step in the manufacturing division. She is an assistant to Phil Nellis the manager of the manufacturing and public service division. "I entered the program in January, graduated, and started work in March." 
She works in production overseeing workers who sometimes lose their cool. One frustrated man recently threw some objects. Taylor took him aside to reestablish expectations. He listened. She was once where he is now. "I was recently incarcerated," she said. "When I got out, I needed to start my life over. I needed to reset and start everything over in my life. And, coming here did exactly that for me."
Meeting challenges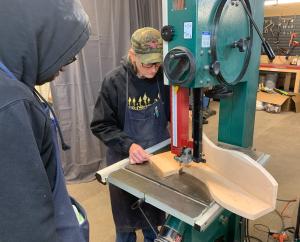 The men and women who undergo the training program come to Next Step with some strikes behind them. 
Nellis, the manager of the woodworking division that produces items such as birdfeeders, retail fixtures, bunk beds for shelters, and some flat-pack high-end children's furniture for a company in Holland, said that he has seen a lot in the time he has worked at Next Step. 
A former pastor and furniture maker in Seattle said "I've been here for four years, and I've enjoyed the challenge of it. I've been exposed to levels of suffering that I did not know were possible, and also levels of beauty and dignity that continue to astound me and give me hope." 
Despite the student's challenges, those that make it through the program have some ember of hope that the future can be better. That they have something to offer.
"The analogy that I use is that of buying a pack of wood," said Bult. "Everybody wants select and better in the people that they hire, but sometimes some of the most beautiful wood comes from the part of the tree that you can't see. The part with flaws that make for interesting character traits." 
Volunteer Stephan Waltman, a retired vice president of nearby Stiles Machinery, who acts as a Next Step consultant and a veteran advocate for the program, is reminded of a teenager who accidentally killed his best friend while playing with a gun. 
When he was released at 21 years old, he  had "no social skills, no technical skills, no positive connections to the community, but somehow he found himself at Next Step." 
He started with the drill press, and somehow he found drilling holes in wood to be fascinating and for every drill press job that came along, he volunteered for it. 
"Woodworking," said Waltman, "turned out to be a ticket out of the mess that his life had been since age 14." Today, the twenty-something is a Next Step team leader helping others find their own ticket to a better life.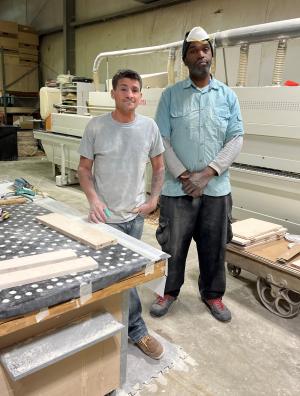 Bult said that sometimes it just takes giving people a helping hand, and opening up opportunities. "We just help get them some training, get them working with other people who have similar interests in woodwork and then they take it from there. They're developing their resume. We helped maybe bridge a connection between them and some area employers who are willing to give them a chance."
Crossing that bridge
One such person who crossed that bridge is Gerald Miller, who prefers to be called Rusty. His background included drafting and nearly a quarter of a century as a telecommunication engineer. After losing his job in the telecommunications field, things didn't go well for him. "I had too much time on my hands and I got on the computer and I got into a little bit of trouble." Charged with a computer crime, he eventually ended up serving a 7-year prison sentence at the Milan Federal Correction Center, Milan, Michigan, where he did part of his sentence working in a repair shop.
Once out, he found himself with few options and ended up living in a shelter operated by the Mel Trotter Ministries, which now owns Next Step. There he learned of the Skills Training Program. 
After graduating, he had three job interviews and was offered a job at TMC Furniture, a Grand Rapids manufacturer that produces unique and fun products. "Right now I'm starting at the bottom, doing sanding, but I'm just kind of learning how the company operates, and how they go from one job to the next," said Miller.
Eventually, said Tom Heitz, plant manager for TMC Furniture, the goal is to cross-train Miller into other areas of the factory. 
"In West Michigan," Heitz said, "it's tough to find good people. When we were looking for workers I was introduced to the program by an Associate here at work. I looked into it and found it to be a wonderful organization."
Heitz has since hired two more people who graduated from the Next Step training program. 
"Not everybody does as well as Rusty," said Bult, "There are some people that struggle and you can never predict it from the beginning, but when someone like Rusty shows up early every morning for training, when they come and make the coffee, ask good questions, come in before class to work on their own personal project, you can see that he had the drive to get his life on track."
Why take the chance?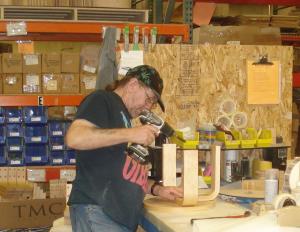 Because the graduates of the training class bring with them a challenging past it is natural to wonder how they will fit into a company's culture.
Kevin Kuske, COO, of the high-end furniture manufacturer, Joseph Jeup, said that is a consideration no matter where the job candidate comes from. His company hired several Next Step graduates, but before they did, Kuske and other members of the company visited the facility. 
"There were probably a couple of classes where we just observed to kind of learn more about the program and the people. How do they interact? Are they going to show up every day? You get a lot of information that you might not get from just hiring someone from off the street. So, from that point on, we've been kind of actively working with them to build talent here."
Have something to say? Share your thoughts with us in the comments below.