Furniture makers confidence continues to rise
January 5, 2022 | 10:56 am CST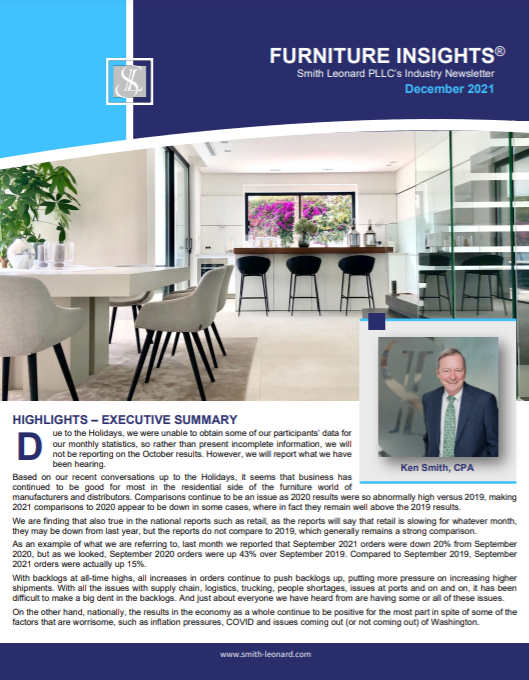 Business continues to be good for most in the residential side of the furniture world of manufacturers and distributors.
The analyst firm, Smith Leonard, did not release October quantitative results, but did prognosticate on the state of the industry based on other reports, and found reason to be positive about the industry.
According to the report, comparisons continue to be an issue as 2020 results were so abnormally high versus 2019, making 2021 comparisons to 2020 appear to be down in some cases, where they remain well above the 2019 results.
"We are finding that also true in the national reports such as retail, as the reports will say that retail is slowing for whatever month, they may be down from last year, but the reports do not compare to 2019, which generally remains a strong comparison," the report said.
As an example, the analysts reported that September 2021 orders were down 20% from September 2020, but after further analysis, they found that September 2020 orders were up 43% over September 2019. Compared to September 2019, September 2021 orders were actually up 15%.
With backlogs at all-time highs, all increases in orders continue to push backlogs up, putting more pressure on increasing higher shipments. With all the issues with supply chain, logistics, trucking, people shortages, issues at ports, and on and on, it has been difficult to make a big dent in the backlogs. And, "just about everyone we have heard from is having some or all of these issues," according to the report.
On the other hand, nationally, the results in the economy as a whole continue to be positive for the most part despite some of the worrisome factors, such as inflation pressures, COVID, and issues coming out (or not coming out) of Washington.
National Consumer Confidence
"Consumer confidence improved further in December, following a very modest gain in November," said Lynn Franco, Senior Director of Economic Indicators at The Conference Board.
"The Present Situation Index dipped slightly but remains very high, suggesting the economy has maintained its momentum in the final month of 2021. Expectations about short-term growth prospects improved, setting the stage for continued growth in early 2022. The proportion of consumers planning to purchase homes, automobiles, major appliances, and vacations over the next six months all increased.
"Meanwhile, concerns about inflation declined after hitting a 13-year high last month as did concerns about COVID-19, despite reports of continued price increases and the emergence of the Omicron variant. Looking ahead to 2022, both confidence and consumer spending will continue to face headwinds from rising prices and an expected winter surge of the pandemic."
Housing
Existing home sales rose in November for the third consecutive month with three of the four regions showing growth and the other about even. As with other reports, the comparisons to November 2021 to 2020 showed a decline of single-family homes of 2%, yet in November 2020 single-family sales were up over 25% over November 2019.
The report indicated that many homebuyers were trying to buy and lock in mortgage rates as expectations are that the rates will likely increase in the coming months.
New residential sales were up over October 2021 but were 14% below November 2020. But again, November 2020 sales were up almost 21% over November 2019.
Housing starts were up 8.3% in November versus November 2020 so housing results, in general, were very positive overall.
Other
November retail and food services sales were up 18.2% over November 2020, led by gasoline sales up 52.3% over last year and food services and drinking establishments up 37.4%. Sales at furniture and home furnishings stores were up 16.3% over November 2020 and up 28.2% year to date over the same period of 2020.
One of the bad news items was the consumer price index. The all items index rose 6.8% for the 12 months ending November, the largest 12-month increase since the period ending June 1982. The index for all items less food and energy rose 4.9% over the last 12 months, while the energy index rose 33.3% over the last year, and the food index increased 6.1%. These changes are the largest 12-month increases in at least 13 years in the respective series.
Total nonfarm payroll employment rose by 210,000 in November, and the unemployment rate fell by 0.4 percentage points to 4.2%. Notable job gains occurred in professional and business services, transportation and warehousing, construction, and manufacturing. Employment in retail trade declined over the month.
The Conference Board's Leading Economic Index increased 1.1% after a 0.9% increase reported last month. The report indicated "The U.S. LEI rose sharply again in November, suggesting the current economic expansion will continue into the first half of 2022, with "Inflation and continuing supply chain disruptions, as well as a resurgence of COVID-19, posing risks to GDP growth in 2022.
Real gross domestic product (GDP) increased at an annual rate of 2.3% in the third quarter of 2021, according to the "third" estimate released by the Bureau of Economic Analysis. In the second quarter, real GDP increased 6.7%.
Have something to say? Share your thoughts with us in the comments below.