Arauco's $450 million particleboard operation open for business
April 16, 2019 | 8:20 pm CDT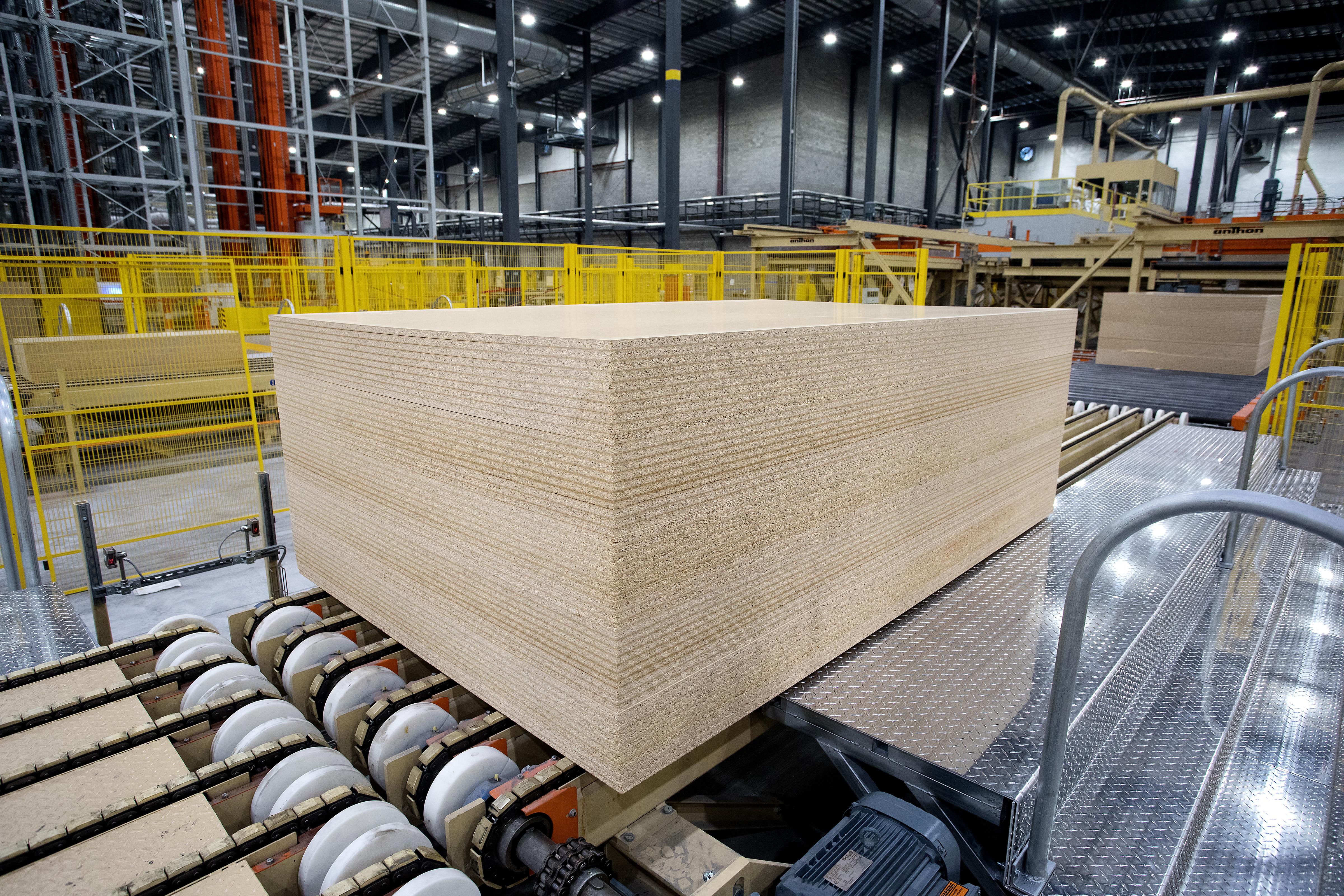 GRAYLING, Mich. – Arauco marked the grand opening of its $450 million particleboard and lamination facility in Grayling Michigan, with an April 16 ribbon-cutting ceremony and plant tour attended by executives from Arauco, Arauco North America, as well as key customers and public officials from Chile and the state of Michigan.
Those on hand for the ceremonial ribbon included: Roberto Angelini, Arauco first vice president, Board of Directors; Gonzalo Zegers, senior vice president International & Business Development of Arauco; Cristián Infante, president and COO of Arauco; Matias Domeyko, CEO of Arauco, corporate; Kelly Shotbolt, president of Arauco North America; Tex Giddens, Grayling project director; Matt Gibbon, Arauco Grayling plant manager; Paul Krepps, Global Business Development manager, Michigan Economic Development Corp. and Elise Lancaster, state director, Office of U.S. Senator Gary Peters.
The 820,000-square-foot facility staffs more than 200 full-time employees and houses North America's largest-capacity, continuous single-line particleboard press, two thermally fused laminate (TFL) lines and a large stocking warehouse for just-in-time delivery. The mill has a total production capacity of 452 million square feet on a 3/4 -inch basis. It is the first greenfield composite panel mill completed in the United States in nearly 20 years, and Arauco's eleventh manufacturing site in North America.
Headquartered in Atlanta, Georgia, Arauco North America is a subsidiary of Arauco.  Based in Santiago, Chile, Arauco is a global producer of wood products supplying pulp, lumber, plywood, composite panels and millwork.
The first boards from Arauco Grayling were shipped to RTA furniture giant Sauder Woodworking.
Arauco said the new Grayling facility will improve the logistics of the entire chain of production and support its growing customer base in the Midwest. The panel products are used in the manufacture of commercial and residential furniture, cabinetry and retail fixtures.
The ribbon cutting ceremony comes two years after the company broke ground on the 160-acre site.  
The 820,000-square-foot facility is set on 160 acres, part of a 640-acre plot in Grayling, Michigan.
"Today's ceremony is designed to celebrate the successful result of literally years of hard work and cooperation by my fellow team members as well as leaders from the state of Michigan, Crawford County and the larger Grayling community," including Grayling Charter Township, said Matt Gibbon, Arauco Grayling plant manager.
In his remarks, Arauco North America President Kelly Shotbolt also acknowledged the significant contributions of the Grayling project managers, and praised Michigan officials and local Crawford County representative for creating an environment conducive to undertaking such a large-scale business endeavor.
"Grayling is a prime example of positive collaboration between the public and private sector," said Shotbolt. "We are grateful for the incredible support received both from Grayling community leaders and the state of Michigan. It has been vital to enabling Arauco to renew our industry in North America through what is arguably the most advanced, automated and large-scale facility of its kind anywhere in the world."
"While known for automobile manufacturing, Michigan also is the office furniture capital of the world," Shotbolt remarked. "We are pleased to substantially expand our production capacity to assure a strong, sustainable supply of quality, raw and finished product for this growing region."
In his speech, Shotbolt added, "We located this mill close to our customers so we could take the freight out, and so we can support those customers that have stayed true to this area, and help them sustain their business – to grow their business. We believe that in so doing, we can be an economic multiplier in this region."
Elise Lancaster, state director, Office of U.S. Senator Gary Peters, noted that the wood industry is a key element of Michigan's economy, "with approximately 90,000 jobs in the state, supported by the Michigan forest products industry, generating approximately $17 billion annually.
"We welcome Arauco as the first major particleboard mill built in the U.S. in over 20 years," she added.
Receiving a certificate are Matt Gibbon, Arauco Grayling plant manager, Kelly Shotbolt, Arauco North America president and Cristián Infante, Arauco (corporate) COO and president.
"We saw this as a great opportunity," said Cristián Infante, COO and president of the Santiago, Chile-based firm. "I think it is very exciting to be a company like Arauco that produces products that come from well-managed forests, that contribute to improving the lives of the people, and not hurting the planet but on the contrary, helping. And that's our DNA – that's what we aim for. And really, this project is part of that great dream that we have at Arauco."
"This is a historic day and milestone for our company," Matías Domeyko, Arauco CEO, said in a statement.  "The official start of production at Grayling exemplifies the outstanding innovation and sustained growth Arauco is known for globally, and what has been central to propelling our positive business results. The Grayling mill achievement also is the culmination of unwavering commitment from our valued investors who shared our vision for capturing significant market opportunity in North America. We offer heartfelt thanks for their dedication and support in making this remarkable, new manufacturing plant possible."
Inside the plant
The Grayling plant will produce the full range of the company's raw particleboard, in a wide variety of thicknesses, as well as Arauco's full Prism TFL collection of decorative panels.
The Dieffenbacher press at the Grayling mill.
The Grayling operation boasts North America's largest continuous particleboard press. The Dieffenbacher single-line press measures 170 feet by 10 feet wide and has a maximum production speed of 1,200mm per second. The composite panels will be manufactured in thicknesses of 1/4 inch to 1-3/4 inch, in widths of 4, 5 and 6 feet. Grades to be made include M3, M3i, M2, MS, and Door core LD1/LD2.
The facility also has two 5 x 20 Wemhoner TFL press lines, capable of producing 120 million square feet annually on a 3/4-inch basis, in a wide variety of colors, styles and textures. The company said there is room for a third TFL line if additional capacity is required.
The Wemhoner TFL line.
Other equipment used in the plant includes Anthon saws, IMEAS sanding systems, GreCon and Baumer Colour Brain scanning systems used on the particleboard line and TFL lines respectively, and a Lukki automated board storage retrieval system.
Consistent with all other Arauco mills in North America, the Grayling plant is sustainably managed, with FSC chain-of-custody, CARB 2-TSCA, CPA ECC and other certifications.
"We've gone ahead and built this beautiful facility and we will join the community of like-minded companies that will stay true to their communities, and stay true to this industry," Shotbolt said. "This facility will stand here for decades to come."
With six wheels, the cooler can hold up to 270 24-foot particleboard panels.
Have something to say? Share your thoughts with us in the comments below.