60 Minutes Says Lumber Liquidators Linked to CARB Violations
March 1, 2015 | 7:35 pm CST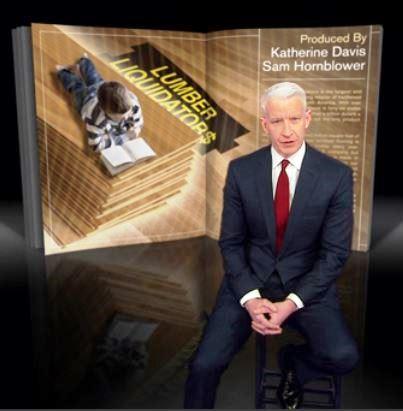 A report on Lumber Liquidators by 60 Minutes TV news today said the wood flooring company was selling laminate flooring in California that exceeded CARB rules for formaldehyde content.The flooring is manufactured for Lumber Liquidators at several factories in China.
Reports by environmental watchdog groups who accuse Lumber Liquidators of LACEY Act import violations were also recounted during the 60 Minutes report. Lumber Liquidators is under investigation regarding that, and said during its earnings report last week that it could face charges by the federal government.
During the 60 Minutes program, Anderson Cooper interviewed Lumber Liquidators chairman Tom Sullivan, who founded the firm in 1993.Cooper showed Sullivan secretly taped interviews with managers at three Cinese plants manufacturing laminates for Lumber Liquidators. All three managers
told 60 Minutes that the laminate wood flooring they produce is not CARB compliant, although it is shipped in boxes that state the opposite, and it is sold in California as meeting that state's limits on product formaldehyde emissions.
Lumber Liquidators, which trades on the New York Stock Exchange, reported last week that its 2014 sales exceeded $1 billion dollars.
Have something to say? Share your thoughts with us in the comments below.