KBIS 2015: Grass Dynapro Slide Has Depth Adjustment Option
January 22, 2015 | 10:27 am CST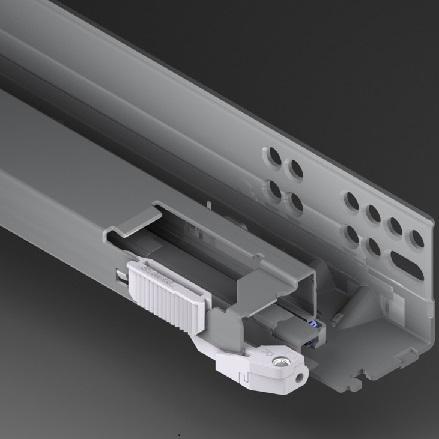 LAS VEGAS - Dynapro, the concealed undermount slide system from Grass, now offers a depth adjustment option providing 4 dimensional adjustment. The depth adjustment is an add-on piece to the cabinet member. It provides up to a range of +4.5mm forward adjustment. The depth adjustment works with all Dynapro slides and for narrow, standard, and inset drawers. All 4 dimensional adjustments on the Dynapro are simple operations and easily done without the use of tools.
The Dynapro offers a high load carrying capacity, 4 dimensional adjustment options for perfect alignment, and a synchronized movement that allows the drawers to operate without a sound. Available for 5/8" and ¾" drawer material, longer lengths and a carrying capacity of up to 132 pounds. In closing, the Soft-close action of the Dynapro provides a smooth gentle stop.
Dynapro, the concealed undermount slide from Grass combines intelligence, function, and comfort.
Source: Grass America
Have something to say? Share your thoughts with us in the comments below.