A Great KBIS 2015 Show for Glideware
February 3, 2015 | 3:16 pm CST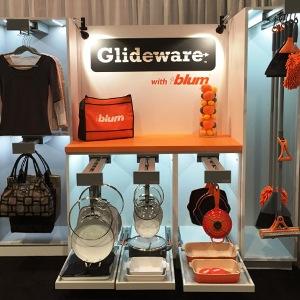 For those of you who were not able to attend the Glideware display at the 2015 KBIS Show, the widely anticipated launch of Glideware with Blum was a huge success. We are happy to announce that most of our distributors will be offering Glideware with Blum soon. The overwhelming demand to add a "soft-close" feature and grey color option can now be met. Glideware is now available with Blum Tandem hardware. Contact one of our authorized distributors to learn more about how you can begin offering Glideware with Blum to your customers today... (see authorized distributor list and locations below)
When we created Glideware we intended to design a solution for unorganized kitchen cabinets everywhere. Based on the incredible market response, the Glideware product line has been able to expand well beyond cookware, organizing everything from kitchens to bathrooms to closets and garages.
Glideware with Blum now allows our distributors, interior designers, cabinet manufacturers, dealers and retailers to now offer the highest quality, innovative, accessible product(s) on the market to their customers.
Thank you for your continued interest in the Glideware product line. We wish you an incredible 2015!
Sincerely,
Dave & Jenny Hall
Have something to say? Share your thoughts with us in the comments below.