DEWALT Introduces New Line of Marking Products
November 17, 2014 | 9:03 pm CST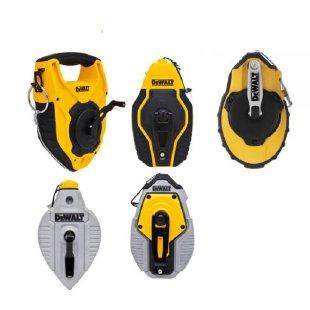 New Britain, CT — DEWALT® introduces five new products to its marking family. Product Manager Charlie Thierfeld explained, ―These new products fuse innovation with user-focused design for an exceptional job site marking experience. Marking is essential on any jobsite from laying roofing shingles or as a level reference. This new range of chalk tool models, from a compact design to a large reel, offers pros the right tool for a multitude of projects.‖
The DEWALT® Premium Chalk Reel – model DWHT47270 – features a 6:1 Gear Ratio for smooth and rapid winding. A durable helical gear system, as opposed to the standard gears in many reels on the market, provides smooth, quiet action and is much less prone to line jams and breaks. The gear system is sealed to help prevent debris and contamination from clogging and damaging the gear mechanism. The body is cast metal for durability and interlocking hooks easily join lines for productivity. The Premium Chalk Reel is also available in a kit with red chalk – model DWHT47246L.
The Compact Chalk Reel Blue Kit – model DWHT47257L – is ideal for a secondary reel or correction reel with 30' Braided Line. The body is 50 percent smaller than the current DEWALT® Chalk Reel, and features a 3:1 gear ratio for quick line retraction. The gear mechanism features a clutch design for fast, easy unwinding. A built in belt clip provides simple, secure storage.
The Die-Cast Chalk Reel – model DWHT47256 – is a heavy duty, versatile tool. An aluminum die cast body delivers all the durability users have come to expect from the DEWALT® brand. To help prevent corrosion, DEWALT® has designed this chalk reel with a stainless steel hook and crank arm. A felt gasket distributes chalk uniformly as the line is extended.
The tear-drop shape allows the Die-Cast Chalk Reel to be used as a plumb bob, reducing the number of tools needed on the job site. The Die-Cast Chalk Reel is also available in a kit with red chalk or blue chalk – model DWHT47255L or DWHT47309L.
For sites where extra large lines need to be snapped, the DEWALT® Large Capacity Reel – model DWHT47252 – is the ideal solution. Holding up to a pound of chalk, the Large Capacity Reel is more than capable of handling the chalk reel needs of large job sites. Helical Gears offer durability, smooth cranking and to help to decrease line jams and breaks. The 150 foot braided cotton line is long enough and durable enough for almost any job. A 3:1 gear ratio allows for 3X* faster rewind. Rubber over-molding provides users with a comfortable grip when using or transporting the reel. For ease of use and convenience, the DWHT47252 features a ring and hook attachment.
The DEWALT® 100' Chalk Reel – model DWHT47142 – features a 3:1 gear ratio for easy winding. An open access door offers quick refills and access to internal components. A 100' heavy-duty line resists abrasion and breakage. A stainless steel hook and crank withstands abuse and resists corrosion. A high-impact ABS housing makes the Reel durable and lightweight. Over-molded soft grips provide comfort and control. The 100' Chalk Reel is also available in a kit with red chalk or blue chalk – model DWHT47144 or DWHT47143.
DEWALT® marking products are available at The Home Depot and in the independent channel.
Summary:
DEWALT® introduced five new models to their marking line of products, from compact to large capacity. These new chalks are ideal for professional users who demand high quality tools. The variety of product designs allows DEWALT® to provide the right reel for virtually any job.
About DEWALT:
DEWALT® is a leading manufacturer of industrial power tools, hand tools and accessories, including corded and cordless drills, saws, hammers, grinders, routers, planers, plate joiners, sanders, lasers, generators, compressors, nailers, saw blades, metal and masonry drill bits, abrasives, screw driving accessories and more, as well as hand tools and pneumatic tools. DEWALT® tools can be found nationally and internationally, wherever tools are sold. With more than 1,000 factory-owned and authorized locations, DEWALT® has one of the most extensive service and repair networks in North America. For more information, visit www.dewalt.com or follow DEWALT® on Facebook and Twitter.
*Compared to DEWALT DWHT47256 Chalk Reel
Have something to say? Share your thoughts with us in the comments below.