WMCO to hold June 21 networking event at Conestoga College
May 29, 2023 | 2:38 pm CDT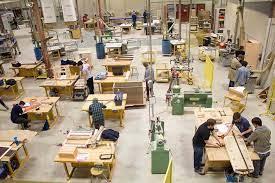 HANOVER, ON – The Woodworking Centre of Conestoga College of Kitchener, Ontario, will host the quarterly networking meeting of the Wood Manufacturing Cluster of Ontario (WMCO) on June 21.
Registration to attend either in-person or via live-stream, open to WMCO members and non-members.
A tour of the well-equipped Woodworking Centre will follow a pair of seminar presentations.
ERP- Demystified and Scaled to Operations -- Member Case Studies Panel Discussion
Representatives of five manufacturers of diverse sizes and segments will each share a summary of their company's journey to implement an ERP program including the challenges, the successes and benefits, and lessons learned along the way. This session will be moderated by a WMCO representative and supported by three ERP suppliers.
Key attendee take-aways of the session include: 
Understanding how to scale ERP for their business model;
How to manage ERP after implementation; and 
Learn from others' successes and challenges.
Risk Management Cost Containment for Wood Manufacturing Operations: Updates in a Post-Covid Environment
Risk management for wood companies has recently presented new challenges and opportunities to understand how to manage costs and current risks at the same time. Alex Bilik of Cowan will share his expertise to help you identify areas in which manufacturers do not need coverage to reduce costs and where it is required to protect a business.
Have something to say? Share your thoughts with us in the comments below.