Murat Dogan named president of CWMDA
March 15, 2020 | 1:22 pm CDT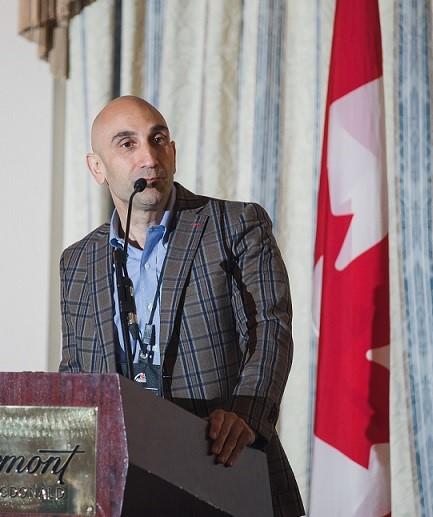 MISSISSAUGA
-- The Canadian Woodworking Machinery Distributors Association named Murat Dogan its new  president at the group's annual meeting.   Dogan has been a key actor in the Canadian woodworking industry for more than 20 years and is currently the president of the IMA Schelling Group, Canada.   He takes over from Andreas Grabe (Homag Canada), whom all members thanked for his input and contribution during his term.   At the same time, the CWMDA said it is proud to announce the launch of its new
website.
It features a new "Technology showcase" page that offers a quick overview of the latest technology offered by the CWMDA members.
Founded in 1988, CWMDA is a trade association dedicated to promoting woodworking machinery in Canada.  Its members are manufacturers and distributors that operate permanent facilities in the country.  They are leaders in their respective fields, representing internationally recognized brands, offering new technology for the Canadian woodworking industry.  CWMDA members share several values and offer services with the objective of assisting the industry in various ways.  For more information, visit
cwmda-acdmb.ca
Un nouveau Président et un nouveau site web pour l`ACDMB
À l`occasion de l`assemblée annuelle de l`ACDMB, Murat Dogan a été nommé Président de l`Assocation. Murat est un acteur bien connu de l´Industrie Canadienne du Bois depuis plus de 20 ans et est présentement le Président de IMA Schelling Group Canada. Il prend ainsi la relève de Andreas Grabe (Homag Canada) que tous les membres souhaitent remercier pour son engagement et sa contribution pendant cette période.  Par la même occasion, l´ACDMB est fière d`annoncer le lancement se son nouveau site Web qui se veut plus informatif au sujet de ses membres et différentes activités. À titre de nouveauté, on mentionne la page « Vitrine technologique » oú l´on peut faire un survol de la plus récente technologie offerte par ses membres.  L`Association, fondée en 1988, se dédie à la promotion de la machinerie pour le bois et représente un groupe des plus importants distributeurs Canadiens offrant des marques internationalement reconnues. Pour un investissement avisé et la plus récente technologie, nous vous invitons à contacter nos membres. Pour plus dìnformation, visitez
cwmdaacdmb.ca
Have something to say? Share your thoughts with us in the comments below.