Wood Industry 4.0 Has Dominated Technology Trends in 2015
November 23, 2015 | 6:18 pm CST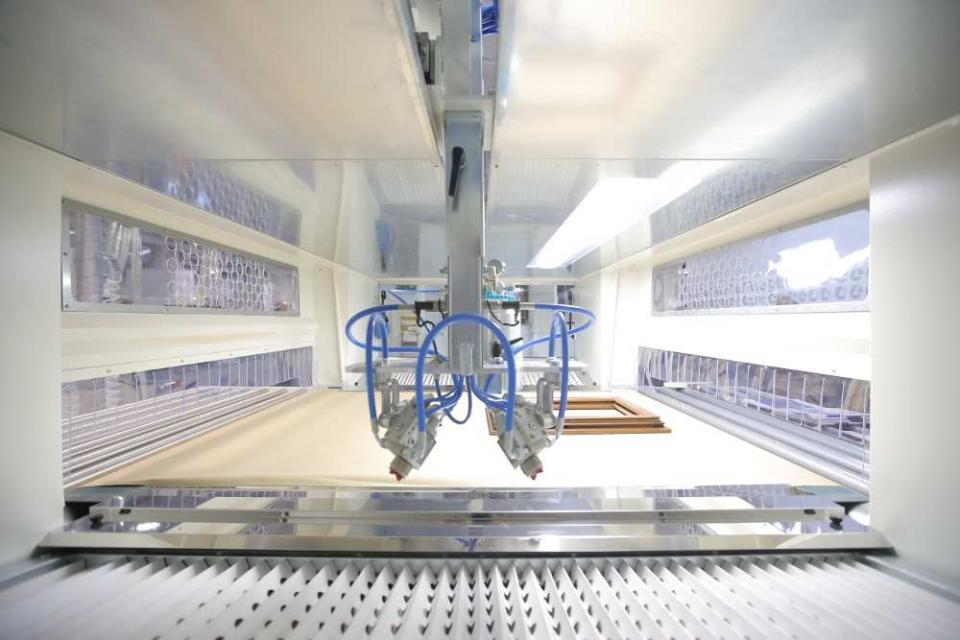 Technology for Batch One wood products manufacturing is finally catching up with what custom woodworkers and cabinetmakers have been doing for years. Now it's possible to do it on a factory production-line — right down to one-off edgebands of varying thicknesses and robotic hand sanders.
Under the name "Industry 4.0," this production makeover has been sweeping across all manufacturing segments, enabled by advances in enterprise-wide computer systems. Now every production cell, machine function and employee can be linked in real-time through blue-tooth wireless, tablet computers and smart phone apps. Coupled with automated machining technology, this levels the playing field so big firms can go custom, and small firms can produce products on par with the large shops.
The rapid adoption of lower-cost hot air edgebanding for zero-joint edges, automated materials handling, and simplified CNC operation — with improved human interfaces — also means more consistent and productive output.
Batch One Edgebanding
For runs of one table or cabinet — the essence of Batch One production — perhaps no other technology is as complicated as edgebanding. Its set-up times were historically long, as were warm-up times for the glue pot. That doesn't work when the changeover must take place from workpiece to workpiece.
Hot air edgebanding solved half the problem. It was a big deal at the LIGNA show two years ago, and even bigger for LIGNA 2015. Its ability to start up fast is a natural fit with Batch One production. Scm showed its first entree in the field, while Holz-Her showed a quick changeover rail system to move between conventional and PUR. Also big: Scm, Biesse and Homag showed edgeband mechanisms that adjust for panel thickness. bit.ly/1OasgIa
Wood Industry 4.0: Think Different
Industry 4.0, the long-term full factory automation strategy that was the talk of LIGNA 2015, was also among the major themes for conference sessions at the 2015 Woodworking Machinery & Supply Expo in Toronto in November.
Industry 4.0, as described by Lignum Consulting, is a comprehensive strategy for automating factories, embracing organizational structure, data, product development, logistics and human resources. Lignum Consulting Inc. President Georg Frey, based in North Carolina, and Sepp Gmeiner, partner, who heads the Toronto office, operated the first stop on LIGNA 2015's Industry 4.0 Technology Tour in Hannover.  bit.ly/1NGXnsK
Robotics To Mimic Human Woodworkers
At AWFS Fair 2015, smaller-scale robots took up hand finishing. Biesse and Prime Heat each showed Fanuc robots that sand or finish doors and furniture parts. Biesse's Opera R sanded doors with a conventional hand-held orbital sander, swapping out a square sander for getting the corners on a recessed cabinet door panel, then selecting a round orbital for rails and stiles, just like a human operator. bit.ly/1MZ2OTb
Crowdsourcing Woodworking Skills
Hundreds of woodshop pros give detailed answers to technical and technique questions posted monthly at Woodworking Network's Shop Smarts Challenge, earning it a place among our most-viewed pages. bit.ly/WWNShopSmarts   
SawStop Sues Bosch Over Patents
Among major business stories, the series of reports on Bosch's entry into SawStop's domain was highly viewed. SawStop is taking legal action to block Bosch's approach to a flesh-sensing saw that stops the blade before injuring the operator. Bosch says the technologies don't violate SawStop patents. It uses a piston that doesn't damage the blade. bit.ly/1Jl015e
5 Apps that Woodworkers Must Try
Smart phones are ubiquitous, and their ability to capture and compare colors is amazing. Also, from levels to plumb bobs, free smart phone apps for woodworkers are like a virtual toolbox. bit.ly/1FzhX9K
Tool Verifies Saw Blade Angle Is Right
Simple and simply popular: the  AccuMASTER 2-in-1 Digital Angle Gauge finds true level and checks angles on saw blades, jointer fences, sharpening planes, drill press, etc. It debuted at AWFS Fair 2015. bit.ly/1QypXm3
Wood Friction Welding Needs No Glue
The behavior of wood surfaces in joining wood,  TMI shows glue-less welding of wood using vibration and pressure, an approach developed for aircraft production in the 1960s. bit.ly/1PEt4Zx
Stiles Homag BHX Vertical CNCs
The BHX was the vertical CNC machining center that tipped the balance for the compact technology. Homag sold more than one per day in its first three years on the market. The count is much higher now. bit.ly/1YkuEBk  
Evolution Vertical CNC 
Holz-Her has updated its Evolution model and expanded the lineup since its first introduction to the U.S. market at IWF 2014, including a boring-only version introduced at LIGNA 2015. Evolution suspends the panel with a vacuum clamp so it can be trimmed on all four sides. bit.ly/1OVspmr
Biesse Vertical CNC Brema Eko 2.1
Biesse launched the Brema vertical CNC, which can carry out all boring, milling, and glue and dowel insertion operations, as well as managing additional hardware inserts. It also handles delicate surfaces. bit.ly/1NgujxU
Scm REM Pilot Vertical CNC 
We ran across Scm's CNC technology in reporting on Lockdowel fasteners at LIGNA and during the AWFS Fair.  Its availability in the U.S. hasn't yet been announced.   bit.ly/2161cBz
Robland Vertical CNCer
The Robland Silverline 3000 CNC vertical drilling machine appeared at the Canadian 2013 Woodworking Machinery & Supply Expo. bit.ly/1T3Oyxv
Auto-Guide Hand-held Router Arrives
A hand-held router that uses machine vision and GPS to guide its cutting path is getting closer to market. A product of Massachusetts Institute of Technology grad student research, it is now moving into the world of venture capital funding with some backing by Roo Venture Capital, and has been redesigned by a former Google product developer and renamed Shaper. bit.ly/1HlgN9a
Vacuum-Power Dremel Cleans & Cuts
A vacuum-powered rotary Dremel cleans debris while running 30,000 rpm. The VRT1 turns a shop vacuum into a turbine-powered rotary tool, capturing airborne dust as it goes. bit.ly/1NHffUa
Precision Cut Technology at Cal Door
Cal Door credits its success to a combination of old-world craftsmanship with cutting-edge technology using automatic stops and pushers on industrial pop up saws. bit.ly/1T4e8Cv
Wonder of Low Temp Powder Coating
Next generation in Ultra Low Bake Powder Coating technology, IGP-RAPIDtop 88, a clear topcoat for solid wood.  Louisville-based U.S. IGP powder coating on chairs and other products is dramatic, with the bare wood contrasting with the glossy coating achieved with RAPIDtop 88. bit.ly/1XeHPRQ
How Reality TV Made Him Buy a CNC
While many people  recognize him as a contestant on HGTV's "Ellen's Design Challenge," furniture maker Tim McClellan, owner of Western Heritage Furniture in Jerome, AZ, was already  well established before the show. He has been crafting high-end furniture pieces for more than 20 years. A stint on the Ellen show made him buy his first CNC. bit.ly/1FN7sEl
Wood Ed Training Simulator at WMS
Wood Ed, a woodworking machinery virtual reality training system, is being distributed in North America by Taurus Craco Machinery. Developed by Mimbus, the training system provides a safe yet realistic approximation of woodworking machinery for training new equipment users. bit.ly/1X7ddUg
3D Wood Laser in Kickstarter Record
Glowforge, a 3D laser cutter and etcher for wood, metal, leather and other materials, reports a Kickstarter crowdfunding record, raising more than $28 million in the last month for pre­-orders of its scanner and cutter. A consumer version sells for $1,995, while a more robust Pro model sells for $3,995. bit.ly/1k7bxvo
CNC Machining 101: Batch One List
What is the difference between a CNC router and a machining center? What role does Batch One processing have in your plant? A  panel of experts explain the technologies and the role these machines have in creating a flexible work environment. They also share purchasing considerations along with machining tips for processing not only solid wood and panel products, but also advanced materials. It was our most popular webcast in 2015. bit.ly/1MsdmNp
Lowe's Adds Holoroom 3D Visualizer
Lowe's Holoroom, an augmented reality room visualizer that lets customers walk right into a virtual kitchen cabinet design, will be rolled out in 19 U.S. stores. First launched in Toronto, it is combined with Oculus Rift and Google 3D viewing technology. bit.ly/1O7Raun
Have something to say? Share your thoughts with us in the comments below.