Windows & doors: Industry trends & projections
December 7, 2022 | 10:01 am CST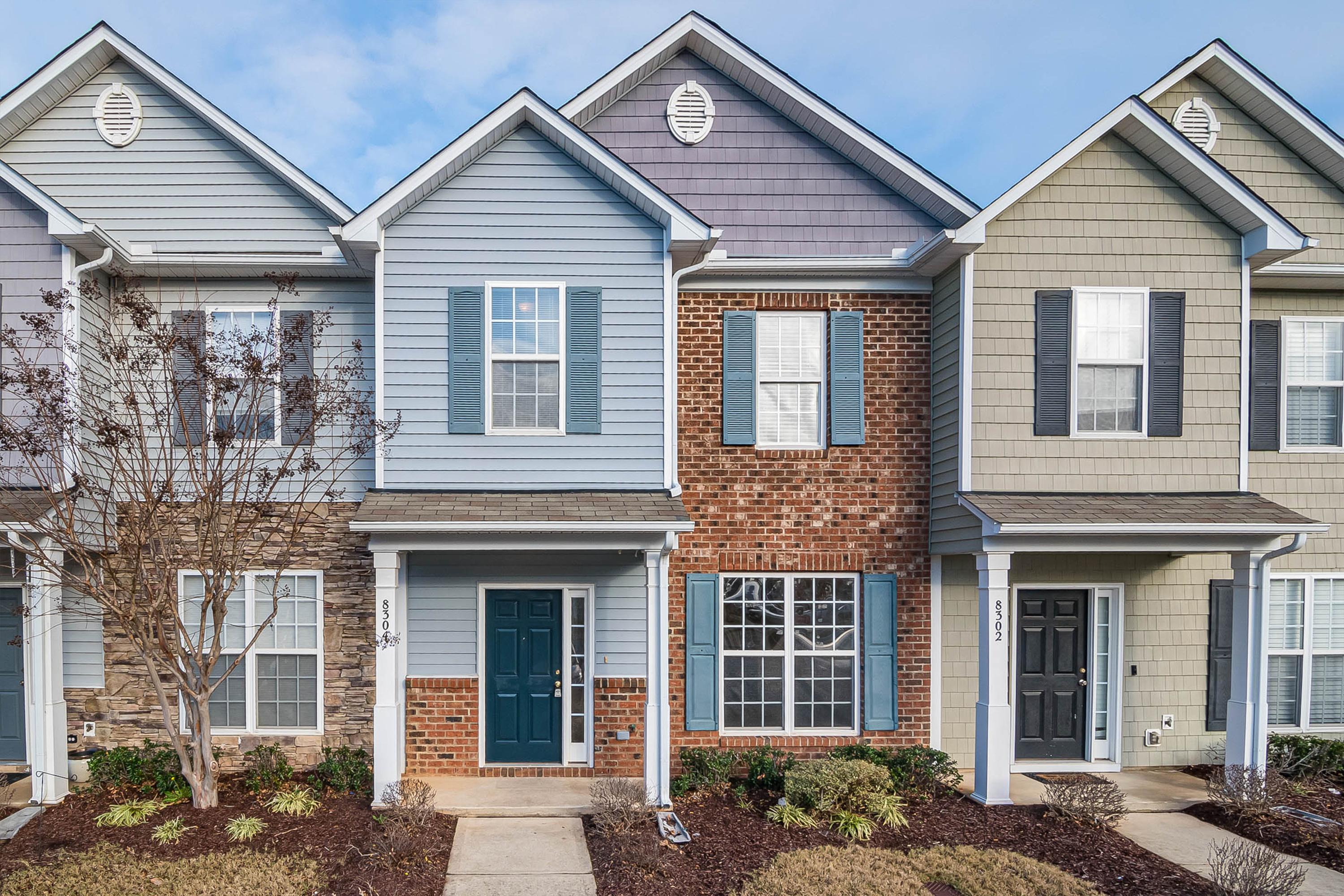 Global demand for residential windows and doors is forecast to rise 3.1% per year through 2025, to $130 billion, according to The Freedonia Group's Global Residential Windows & Doors study. Going forward, market advances will be supported by growth in residential construction, increases in average home sizes, rising income levels, and a rising emphasis on energy-efficient products.
Forecasts by the Fenestration and Glazing Industry Alliance also show U.S. demand for residential windows in new construction to rise 5% in 2022 before flattening in 2023 and declining by 5% in 2024. Remodeling and replacement window demand is forecast to grow by 5% in 2022, followed by 3% and 2% gains in 2023 and 2024. For perspective, in 2021 windows in new housing increased by 13% while remodeling and replacement window demand grew by 5%, according to the FGIA 2021/2022 Study of the U.S. Market for Windows, Doors and Skylights.
The residential entry door market grew 2% in 2021, with growth forecast through 2024. In contrast, the 2021 market for non-residential entry doors declined significantly, FGIA reported, with volume down 11% from 2020 figures.
Meanwhile, the contract/commercial window segment grew 5% in 2021 and is projected to increase by 8% in 2022, and continue growing into 2023. Storefront windows represent the largest market segment by vision area with 27% of the overall non-residential glazing in 2021, followed closely by site-fabricated windows.
Click on the infographic to enlarge. Find more market data in the December 2022 FDMC Wood Industry Almanac.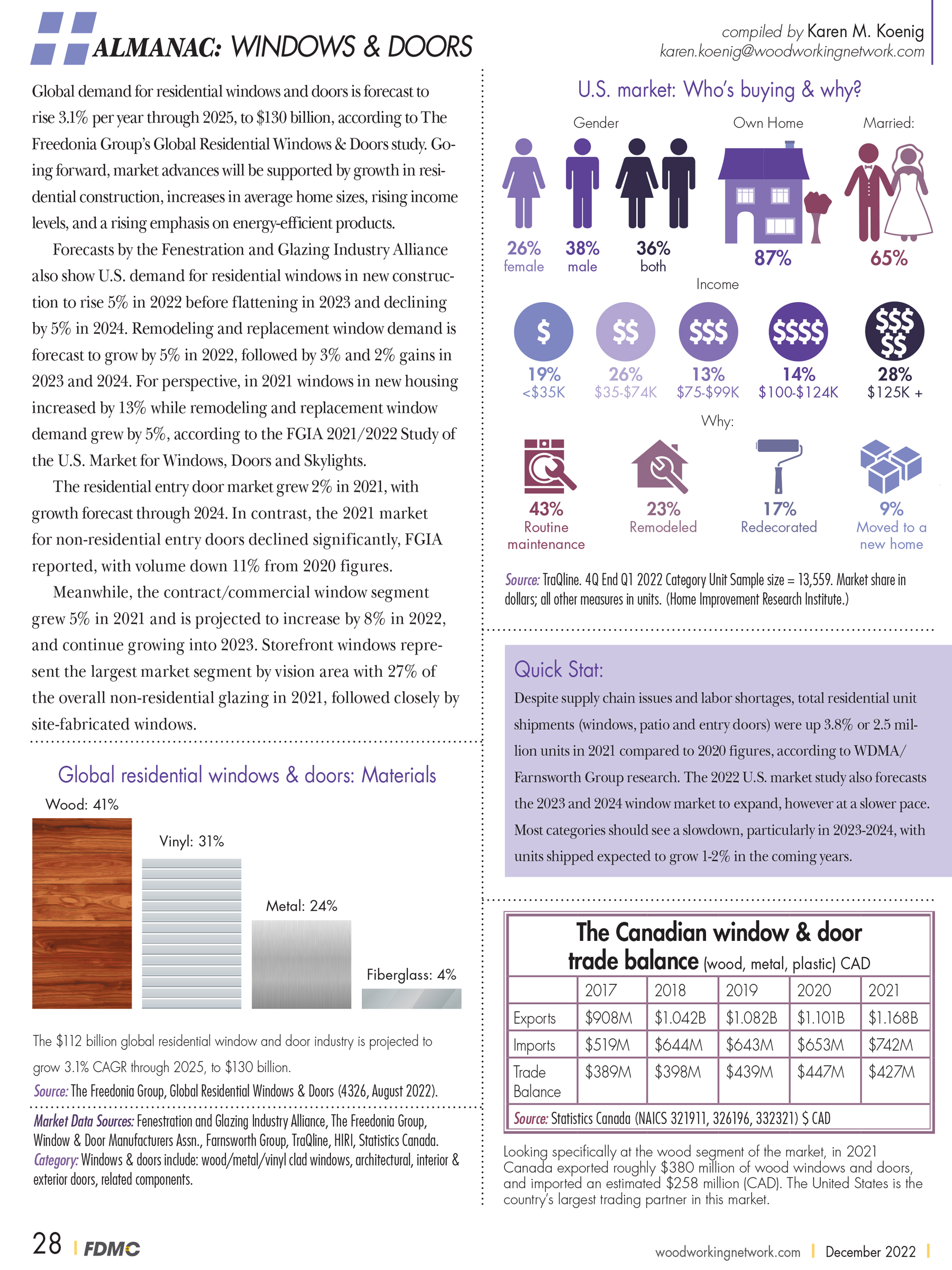 Quick Stats:
• Despite supply chain issues and labor shortages, total residential unit shipments (windows, patio and entry doors) were up 3.8% or 2.5 million units in 2021 compared to 2020 figures, according to WDMA/Farnsworth Group research. The 2022 U.S. market study also forecasts the 2023 and 2024 window market to expand, however at a slower pace. Most categories should see a slowdown, particularly in 2023-2024, with units shipped expected to grow 1-2% in the coming years.
• The global windows and doors market was valued at $153.1 billion in 2020 and is estimated to grow 6.2% CAGR from 2021 to 2027, to $227.1 billion, according to Global Market Insights. The residential segment will generate demand of more than 10 billion square feet by 2027 due to new housing construction. The North American market will account for roughly $40 billion by 2027 due to the growing investments in public and private infrastructure. Asia Pacific's windows and doors market is slated to showcase a 6.4% growth rate through 2027.
Market Data Sources: Fenestration and Glazing Industry Alliance, The Freedonia Group,  Window & Door Manufacturers Assn., Farnsworth Group, TraQline, HIRI (Home Improvement Research Institute), Statistics Canada (StatCan), Global Market Insights.  Category: Windows & doors include: wood/metal/vinyl clad windows, architectural, interior & exterior doors, related components.
More data on North American woodworking and the specific wood product market segments can be found in the December 2022 FDMC Wood Industry Almanac. Also, find market data year-round at WoodworkingNetwork.com/news/almanac-market-data.
Have something to say? Share your thoughts with us in the comments below.