Home renovation pros expect 10-15% sales growth in 2016: Houzz
January 19, 2016 | 9:55 am CST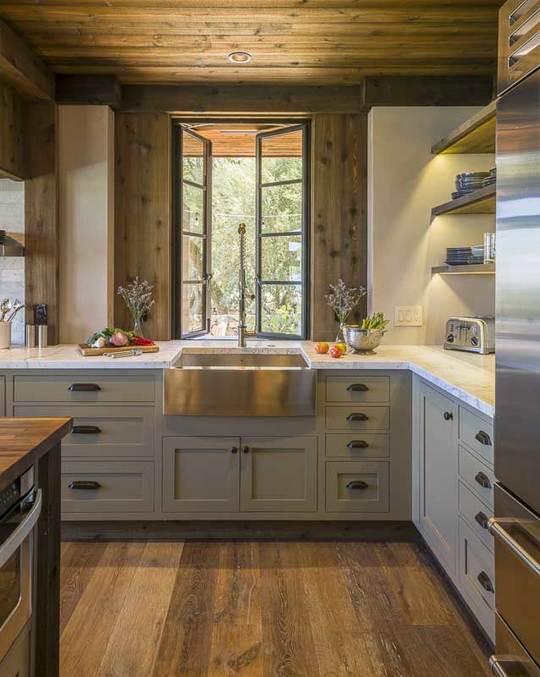 Photo By Andrew McKinney
Palo Alto, Calif. – Houzz Inc., the platform for home remodeling and design, has released the 2016 Houzz State of the Industry. The report provides an overview of 2015 and an outlook for 2016 for residential renovation and design businesses based on data reported by more than 3,500 professionals in the Houzz community. The vast majority of residential businesses are bullish on 2016, expecting both revenue and profit growth to continue this year.
Houzz also released the Q4 2015 Houzz Renovation Barometer, showing continued confidence in year-over-year and quarter-over-quarter gains in business activity among renovation industry professionals, and an optimistic outlook for the first three months of 2016.
Home renovation and design businesses on Houzz anticipate more widespread revenue and profit growth in 2016 than they experienced in 2015, according to the findings of the 2016 Houzz State of the Industry. Half or more of businesses surveyed expect revenue growth rates of 10 percent or more (48-59 percent of businesses, depending on industry sector), with over one-fifth expecting annual rates of 15 percent or more (22-35 percent of businesses).
This is roughly in line with the growth experienced in 2015 by all industry groups with the exception of architects, who expect more conservative growth rates in 2016 relative to 2015.
In order to sustain this substantial growth in 2016, half or more firms plan to further invest in marketing (50-70 percent of firms across industry groups). Over a third plan to bring in larger budget projects (39-54 percent of firms), increase their prices (37-49 percent of firms) and/or improve customer experience (35-47 percent of firms).
"All of our Houzz industry research to-date points to an exceptional two-year run for the home renovation and design industry, leading to a healthy market in 2016," said Nino Sitchinava, principal economist at Houzz. "2016 should bring more moderate but steady growth, driven by solid consumer demand but hampered by labor shortages.
"We expect to see businesses increasing their fees to offset rising labor costs and years of low margins, as well as focusing efforts on big-ticket projects while expanding their staff."
In 2015, revenue growth was reported for nearly three-quarters (67-76 percent) of residential renovation and design companies on Houzz, mirroring 2014 rates. Revenue growth rates were more moderate in 2015 than in 2014, however 30-37 percent of businesses reported high double-digit revenue growth (more than 15 percent) in 2015, compared to 34-45 percent or more in 2014.
More than half of the firms in each category reported that the cost of doing business increased in 2015, with those in the construction sector reporting the most widespread cost increases (76 percent among general contractors, 74 percent among building and renovation specialty companies, and 70 percent among design-build firms).
Despite overall industry growth in 2015 and positive expectations for 2016, residential renovation and design businesses cite the following challenges:
Managing Consumer Concerns and Expectations: Tackling the cost-related worries of consumers (31-45 percent) and finding common ground between consumer expectations and their budgets (21-39 percent) were top challenges for businesses in 2015.
Rising Business Costs: The increasing cost of doing business was also a top challenge across most industry groups (19-37 percent). Rising employee wages and/or benefits is one of the top drivers behind these swelling costs (36-63 percent). Other commonly cited cost drivers include advertising/marketing investment, product and material prices, business insurance fees, and subcontractor wages and fees.
Staffing Shortages: Consistent with other Houzz industry research, employee and/or subcontractor shortages are other top concerns for most industry groups heading into 2016 (13-37 percent). Firms were just as likely to expand their staff in 2015 as they did in 2014. In 2016, hiring is expected to continue at similar rates, with design-build and building and renovation specialty firms especially bullish.
The Q4 2015 Barometer, which tracks industry optimism in year-over-year and quarter-over-quarter market improvements, posted high year-over-year readings of 72 or higher across industry groups. The barometer also exceeded 70 points for all four quarters of 2015, further evidence in industry growth in 2015 relative to 2014. In terms of quarter-over-quarter readings, the Barometer posted scores of 58 or higher in Q4 2015. These scores are eight to 11 percent lower than Q3 2015 scores for all industry groups except architects and interior designers, whose scores only declined by four and one percent. The greater the index value relative to 50, the greater the proportion of firms reporting increases in quarterly business activity than those reporting decreases.
The dip in the quarter-over-quarter Q4 2015 scores reflects the continued seasonal cooling of market activity, in line with scores for the same quarter in 2014. This seasonal slowdown was felt across regions and industry sectors in Q4 2015, though to a lesser extent for firms in the South. Given the rainier weather conditions in the West in Q4 2015 versus Q4 2014, it is not surprising that Western renovation firms report weaker confidence in quarter-over-quarter gains compared to the same period in 2014. Firms across regions and industry groups are optimistic about Q1 2016, however, with quarter-over-quarter scores of 71 or higher.  
The full 2016 Houzz State of the Industry can be found here, and the complete Houzz Renovation Barometer Q4 2015 report can be found here. Houzz is the platform for home remodeling and design, providing people with everything they need to improve their homes from start to finish. From decorating a small room to building a custom home and everything in between, Houzz connects millions of homeowners, home design enthusiasts and home improvement professionals across the country and around the world. For more information, visit www.houzz.com.
Have something to say? Share your thoughts with us in the comments below.