What Does Your Wood Brand Say About You?
April 16, 2015 | 12:01 pm CDT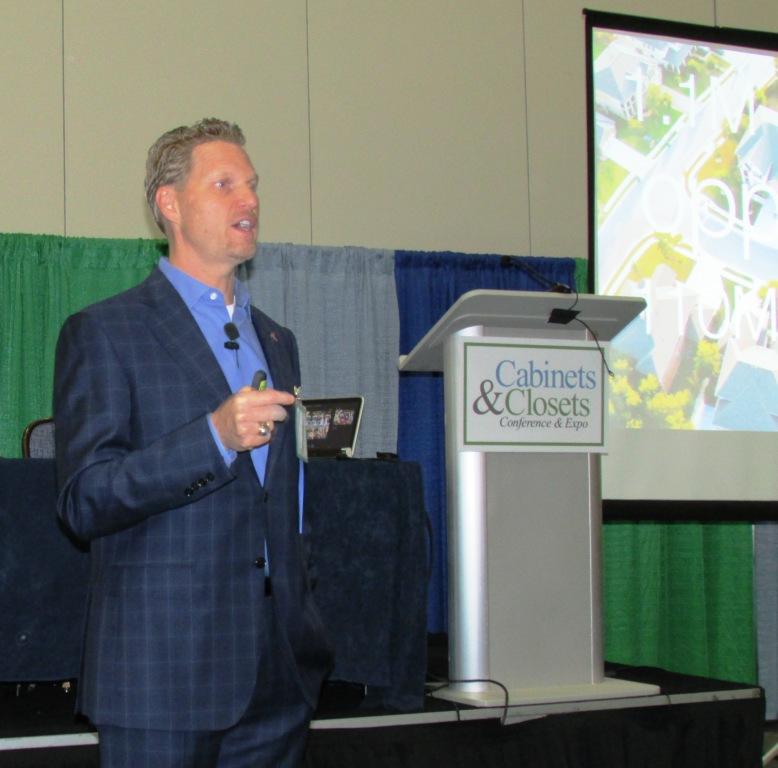 "Your brand should make people comfortable and make them want to be there [with you]," exuding a feeling of warmth, Bill Rossiter told 25 woodworkers in attendance at Thursday morning's Cabinets & Closets Conference & Expo keynote session. Rossiter, who is principal and CEO of marketing/branding firm Interrupt, LLC, in Toledo, OH, added, "Branding is not just a stamp. It's a connection to your customers."
His presentation, entitled "Building Brands in the Building Industry," went on to point out that to truly engage them with your brand, you first need to really know your customers. After all, in today's competitive marketplace, it's all about "making it relevant" for people, Rossiter said. For example, for the most part the 89 million Baby Boomers are using their substantial disposable incomes to buy convenience. If Boomers are among your target prospects, does your brand appeal to their desire for comfort?
He also cited research that shows how today's consumers, especially the 92 million people in the so-called Millennial generation, care about much more than price. "Five or 10 years ago, it was all about the lowest prices. But 93% of consumers now want something different and 'unique' to them. These are the people who bought most of the foreclosed homes; they don't want McMansions. It's about total value and life impact for them: What's in it for 'we:' their families, their neighborhoods and the environment?"
Differentiate Your Brand
So, what's the key to creating a winning brand? "Get away from the 'sea of sameness,'" advised Rossiter, who spent more than two decades at Owens Corning in various capacities. He showed samples of website homepage images from three different door manufacturers that all looked alike: "Cover their logos with your thumb and you cannot tell them apart," he challenged, adding that "only 10% of brands stand out."
The mention of logos led him to another important distinction: "A logo is not a brand," Rossiter stressed. "It is just a visual representation of your corporate identity."
Woodworkers seeking a strategy for success should "look at gaps in your marketplace and fill them," Rossiter encouraged. For instance, did you know that single females is the largest category of home ownership at 20%, he noted? "We do a terrible job as an industry of engaging women," he said, adding the reminder that 85% of decision-makers are female. Interrupt, LLC considers that an opportunity, as should you.
Valuable information also can be gleaned from post-job evaluations, in which Rossiter is a big believer. "Ask how you did: 'What was the best and worst part about working with us?' and 'Why did you choose me?'" Find out if there was one, single reason. At best, this kind of feedback can lead to testimonials, which can influence future customers. At the very least, it will facilitate referrals down the road.
No matter who you are trying to target – Boomers, Millennials, women – Rossiter said to remember that most consumers buy a new roof, a new front door or new kitchen cabinets maybe one to two times in their lives. "They research" before making such major purposes. Which is why having a relevant brand is so crucial to earning their business.
5 Important Brand Attributes
Relevant to target audience
Unique value from competitors
Ownable positioning
Consistent at every touchpoint
Sustainable over time
(Source: Interrupt, LLC)
Of the five brand attributes highlighted above, consistency may be the most important. "What good is spending a lot of money on a killer website if your customer service rep doesn't know how to answer the phone properly," Rossiter asked rhetorically. "Train your people!"
Inconsistency forms a disconnect, he concluded, which leads to a lack of confidence. "That's reason enough for them to walk away."
Have something to say? Share your thoughts with us in the comments below.