New life for older CNC machines
May 30, 2023 | 9:08 pm CDT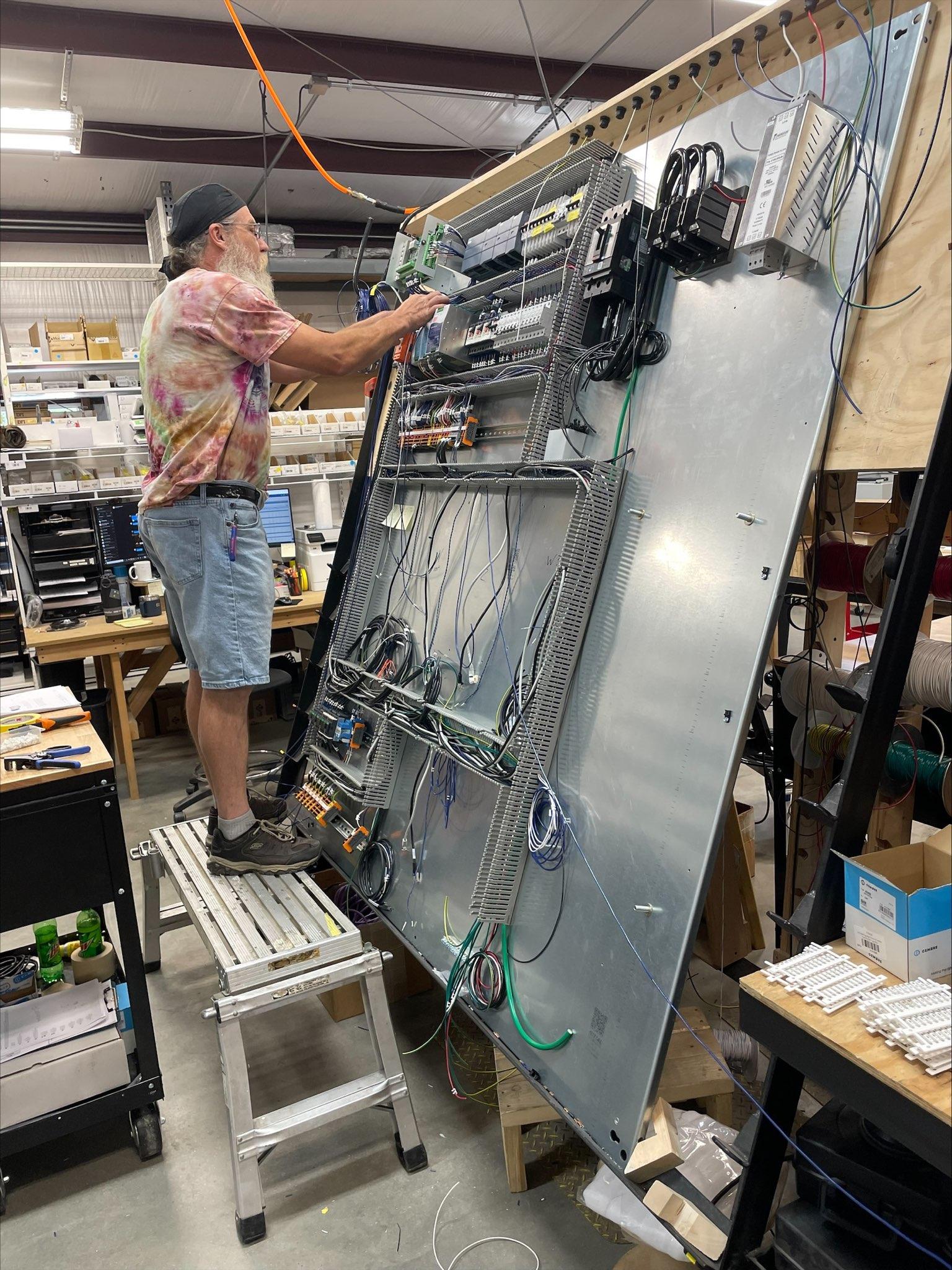 Photo By MachMotion
Your CNC router has been a war horse on the production floor for years, but lately, it has been showing its age. Especially the controller. Error codes are more frequent. Unplanned downtimes are up, as are maintenance costs and reworks.
What do you do if you can't afford to replace it with a brand-new machine? Keep plugging along until it fails and then buy that new machine? Or buy a new used machine, which might have its own issues?
If you ask MachMotion, a company that specializes in upgrading CNCs, the answer is obvious. Why buy a new machine when the current machine might have thousands and thousands of good parts in it?
The Newburg, Missouri-based company was started more than two decades ago, and in those years has given new life to hundreds of CNC machines by adding new controllers, electrical panels, wiring, and other upgrades. The company has worked on machines at factories and shops around the country, said Dave Eldredge, president of MachMotion.
Lots of life left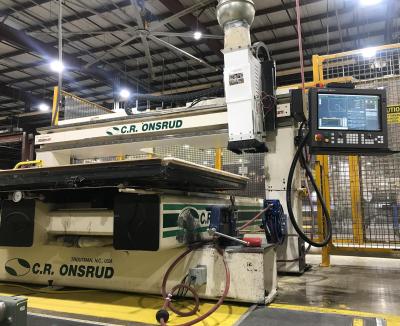 Some companies, however, don't take this route, said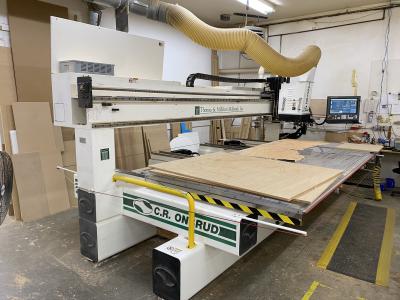 Eldredge. Some companies will work their CNCs until the controller fails and then look to buy another machine. 
But MachMotion believes that under that aging controller are vital components such as an iron-strong base and an AC motor that might still have decades of use remaining. Frankly, it is also the machine you know. As the company says in a promotional video, "You already have tooling for this machine, and perhaps most of all, you know how rigid it is and how hard it can be pushed."
One company that went the upgrade route was C.H.I. Overhead Doors in Arthur, Illinois. The company had purchased a used C.R. Onsrud CNC router that had a failing controller. 
MachMotion created an easy multiple-choice screen so the operator could simply pick from the touchscreen and press start. CHI streamlined its manufacturing process by choosing a control platform that is customizable to match its manufacturing workflow. 
The Control Retrofit/Upgrade done by MachMotion included a new 21-inch touchscreen HMI (human-machine interface), prewired electrical enclosure, Yaskawa servos, and spindle drive VFD (variable frequency drive). Additionally, Keyence safety light curtains were installed in worker danger zones.
After successfully completing the upgrades, C.H.I. went back to MachMotion controls for additional machines and now it operates three machines featuring MachMotion controls on two shifts a day. 
Upgrading with help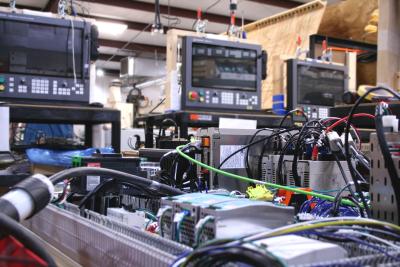 Another example is Thomas and Milliken Millwork Inc. in Michigan, which has a C.R. Onsrud 146C16C router that they use to create custom moulding, doors, windows, and other high-end wood products.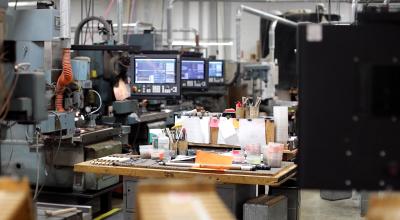 After years of operation, the company said, the original machine control system died. The company contacted MachMotion and supplied photographs and exact drawings as they wanted MachMotion to supply controllers, electrical panels, wiring, and other components, but Thomas and Milliken planned to do the actual installation work themselves and have MachMotion come in for the final software power-up and operator training.
The new panels fit in the original electrical enclosures on the machine. The electrical back panels were engineered to be able to run all six axes and the spindle motor, said Eldredge.
MachMotion has worked with several other companies in the industry such as Andersen Windows and Doors and Sleepsafe Beds. These are just a couple of the hundreds of CNC upgrade projects they have undertaken. 
Some companies, however, will throw up their hands after struggling with recurring problems and go buy another machine without knowing about the upgrade option MachMotion offers.
When to upgrade?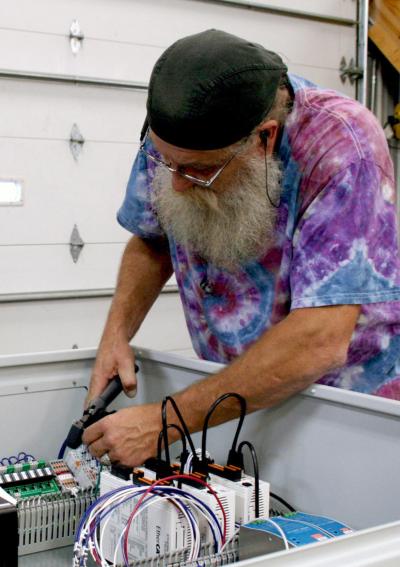 According to Eldredge, there are some tell-tale signs as to when you might want to get an upgrade. An obvious sign that you need an upgrade is if the old controller is dead. Less obvious reasons include spending time and money on rework or finding that your maintenance costs keep increasing. Downtime is becoming more frequent, including the dreaded unplanned downtime. Is your controller not keeping up with your programming needs?
"What we've found over the years works in this industry is that people are struggling with older technology on good machines," said Eldredge. "They may have a CR Onsrud or Komo or a Northwood machine and these are built for life. They have a solid base, but the controls are getting older, they may have a floppy disk in them, the controllers are not network compatible or the control manufacturers are no longer supporting the product because it is reaching its end of life. Having us go in there and helping them update those controls gives new life to the machine."
If a company decides they want to optimize an existing CNC machine, they undergo a needs analysis where they go through a series of questions to determine what their needs are and what part of the machine actually needs attention.
Sometimes these questions uncover additional issues. In those cases, a more comprehensive look is taken to determine the status of the machine. 
What benefits do you want?
One of the first questions that Eldredge likes to ask the customer is "What benefits do you anticipate getting from a new machine? I ask them because I think that we can add those same benefits like a new machine."
Through this needs analysis process Eldredge said that they get a sense of the bigger picture, take an inclusive look at the whole machine, and often can advise on improving production. 
If there are bigger problems with the machine, then there might need to be a pause before panels are built and installed and operators are trained. If additional repairs need to be scheduled and are known ahead of time, they can be planned for, and a course of action developed.
"We want to make sure they're not spending money on a machine that needs other things and then they have unplanned downtime while those things get fixed," said Eldredge.
The needs analysis process might also include adding technology. "If a machine didn't have a tool changer, we can add a tool changer," he added. "We can add a tool setter. We can add a labeler. We can help you turn the machine you have into the machine you want."
Built in Missouri
At MachMotion's Missouri facility, they build the control and electrical panels in-house. By building the electrical equipment themselves, they say they can power up the controllers and panels to test before shipping them to the site. 
Once on-site, the goal is to remove the old and install the new. They strive to have production up and running within a week. All wires are labeled, and needed items are shipped ready to be unpacked and ready for tear down and build up.
In addition, they put a widget on every control sold that allows MachMotion's support team to log into the control and remotely troubleshoot virtually any problem on the machine down to the mechanical and electrical systems.
"Our goal is to go in and in one week take a machine out of service, retrofit the machines, and on that Friday train the operators how to operate it and put it back in production." 
SIDEBAR: A typical week?
A MachMotion retrofit project begins with all the components shipped onsite, then the work really begins. Here is a typical installation week as described in a company video while doing a router retrofit at SleepSafe Beds in Bassett, Virginia. 
"We are retrofitting their C.R. Onsrud Panel Pro. So, in this case, their control had died. They were suffering from different faults that they couldn't clear so the machine was dead in the water.
"We ship everything up from MachMotion and show up with a full install crew.
"On day one, we typically remove all the old components. So, the old servos we take those off. Old servo motors, servo drives, all the old computers, the amplifiers, anything that may be in that cabinet, we take it all out. We're putting everything new in.
"We identify all the i/o that we're going to reuse. In this case, we reused everything. So, pressure sensors, the emergency stop bumpers on this machine, so any collision shock machine down safety feature. We adapted all the old pneumatics, so the drawbar drill bank, all that was reincorporated into our control system.
"The next couple of days was wiring and setup so we adapt all the old wiring.
"Figure that all out. Professionally wired in update to our schematic, so the customer has a complete electrical schematic when we're done with the job.
"Day three, typically we like to turn the machine on. We're usually at that point so we power everything up. Go through our preliminary checks, and make sure everything motions good. We do our servo tuning we need to that day, make sure everything's smooth.
"Then we begin our software setup, so setting up machine limits, recalibrating the machine, entering all that data we gathered in, ball-screw pitch, gear ratios, and make sure the machine's cutting accurately.
"Then, we work through any little kinks we have, making sure all our interlocks are set up, any special requests the customer has for functionality, any special safety things they want us to add, we take care of them.
"Then we start integrating into production so we get some G-code files from the customer, load everything in, cut test parts to make sure everything's accurate. Once that's all verified then we just spend the remainder of our time on-site training the customer."
Have something to say? Share your thoughts with us in the comments below.