Nations Cabinetry looks ahead to a bright finish
March 21, 2023 | 1:21 pm CDT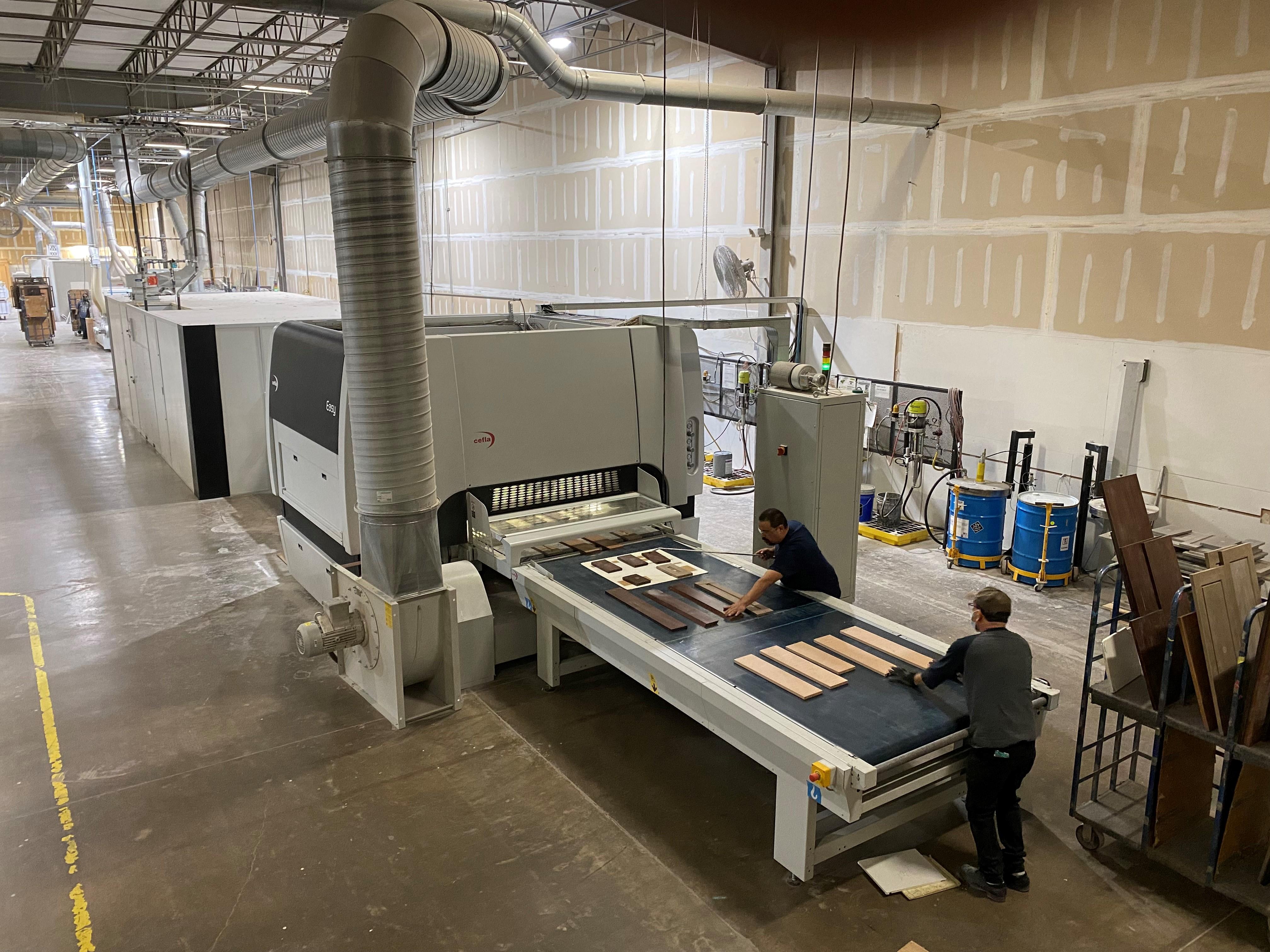 Photo By Nations Cabinetry
Nations Cabinetry's common-sense approach to continuous improvement is part of a long-term, multi-generational plan for growth. Already the largest tribal-owned kitchen and bath manufacturer in the U.S., the company has embarked on a plan to tackle improvement projects through new equipment investment, and employee training. 
While the company has a reliable and steady source of funding through its parent company, the Miami Nation of Oklahoma, a federally recognized sovereign nation, the company does not throw a checkbook at a problem, said JW Coady, president and CEO of the San Antonio-based company that ranked #134 on the latest FDMC300 list with $61 million in sales. 
He said that when the company looks to improve how it does things, such as its finishing capabilities or considering adding CNC saw technology and door processing capabilities, it takes its time, spends judiciously, and, most importantly, looks beyond the next quarter.
"We have 7,000 members of the tribe that we are accountable to, so when we look to improve what we do, we are thinking about generational growth," said Coady. "What is the best way for us to lay out the plant? What is the best way for us to finish a product? What's the best way to produce a product that ultimately provides the best value and service to our customers? That is our driving focus."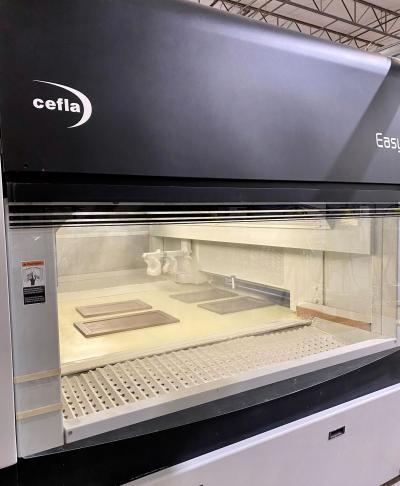 For instance, faced with a choice between major upgrades to its door line or its finishing line, the decision between the two was obvious. Finishing came first. The company had environmental reasons, employee health concerns, product quality rationale, and customer desires, but, "At the end of the day, in our industry, it is the finish that your customers are paying you for," Coady said. 
Nations Cabinetry recently completed a $3 million capital project expanding and modernizing its finishing process. The project stretched over 18 months as workers removed a dated, single-stack oven flat-line system and replaced it with three Cefla fast-dry, UV flat lines.  Nations also transitioned from a two-component, solvent-based finish to a quick-dry, water-based UV finish. 
Coady said that in his company's production analysis, the new Cefla lines have resulted in a 30-percent reduction in labor required to produce the same amount of cabinet parts.
"These lines allow us to improve our quality and productivity and represent our continued focus on process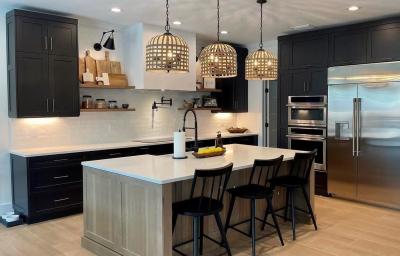 improvement and automation," said Coady. "The move to UV-cured material also substantially lowers our VOC footprint."
Purchasing decisions
Coady said that when purchasing equipment, he likes to work within an equipment manufacturer's product catalog. Tested, tried-and-true equipment is preferred. Case in point, the finishing upgrades included three identical, 150-foot-long, UV flatlines. 
The goal for these lines was to replace an aging workhorse of a finishing system, improve product quality, gain efficiency at reduced labor levels, and reduce VOC emissions that Coady said would be good for the environment and employee wellbeing. 
All really good rationale for making a decision, but Coady pointed to another factor. "The reason I went for the three individual lines versus one very long continuous line was to gain simplicity of operation. By using similar equipment, once we have people trained on one piece of equipment, it is exactly the same on the next one." 
The Cefla lines are anchored by the Cefla Easy spray booth. The established Easy system is a two-arm oscillating spray machine designed to quickly coat the part with little waste. Incoming workpieces are scanned by a reading barrier that precisely scans the shape and size of incoming pieces. The data is processed by control software and sent to the spray guns to optimize spraying and avoid wastage. 
After application of the UV waterborne finish, the cabinet parts are transferred to a quick dry UV oven. Once cured, parts can be stacked, assembled or packaged within minutes of the drying process.
It can be used with a variety of finish types including waterborne UV finishes from Sherwin Williams.
UV technology enables Nations Cabinetry to achieve properties that are equal to, or better than, the solvent-based finishing that it previously used with zero VOCs and with improved scratch and chemical resistance, according to Coady.
Coady said that he and his team have found that the UV cured finish provides a "far better cure" — perhaps as much as 30 percent more durable — and is much better for the environment and health of the worker. 
"It used to be in the industry you might walk into the finishing room and your eyes would water," he said. "That is a problem."
"The big win for us has been our VOC reductions," he added. "Volatile organic compounds is a big one in our industry. Many companies have yet to really move to UV curing or water-based materials because solvent has ruled the business for many years. The reality is that it is just not sustainable from an environmental standpoint."
Getting the job done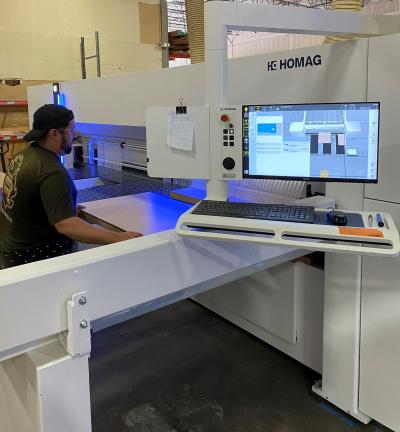 To install the Cefla lines was a lesson in controlled chaos, admits Coady. The effort was coordinated by a Business Development team that charted every step of the process. The multi-department group's efforts were key to getting the decommissioning of the original line and installing the three new lines.
It wasn't always easy. There were some production disruptions along the way, but the company was prepared. 
"At the same time as we put in the one line, we had to flex a lot of products around and frankly we had to turn some business down," said Coady. "Because we take a long-term approach, if, in the short term, we have to turn some business down, that is what we will do, but it was all aimed at getting the plant into top shape." 
As the work progressed, workers underwent training from supplier partners Cefla and Sherwin Williams.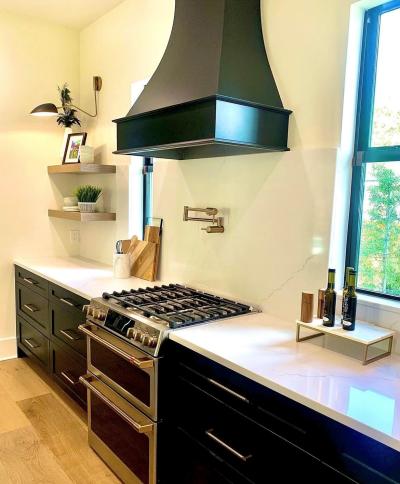 "Investing in the skills of our people is critical to the actual use of the system,"
Coady said. "Too often, companies will plop down new technology in the middle of the plant and two weeks later they are shocked when employees are still looking at it and scratching their heads. That is not how we do things."
That is why after-purchase service is critical. "I was on the phone last night with Cefla asking questions," said Coady. "Our mechanics and technicians and operations people often Facetime with Cefla technicians asking them, 'Why did this happen? Why did we have an error code?' It is technology in its simplest form keeping people connected and informed."
Continuing to grow
Staying connected with employees and suppliers is likely to grow in importance as the company upgrades other areas, as well as potentially adding new products or even entering new markets. 
When the company needed to upgrade its cutting capacity the concept of connectivity also was part of the decision The company purchased two Homag Sawteq B-500 saws, which are high-capacity, rugged panel saws, Coady said. The Homag saws features the CADmatic 5 saw control system from Homag that has a range of functions and ease-of-use thanks to its intuitive operating concept.
"The Homag saws are network capable," said Coady. "If we have any issues, a Homag tech or (Homag distributor) Stiles Machinery tech can remote access in and discuss the problem."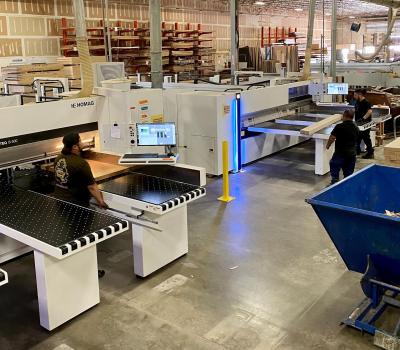 Connectivity might also a factor when the company begins to further upgrade its door production capabilities. Coady is considering a new CNC-based, multi-head cope and profile machine. "It takes the same technology used on a CNC and applies it to doors." 
The challenge is lead times. If he were to place an order for the machine, it might be a year for delivery.
Even as the company waits on this machine, or other upgrade, it is not standing still on other fronts. 
Recently, the company introduced a new laminate line of acrylic matte colors for its DreamCraft  line of European-style frameless cabinetry and closets and home organization products. 
Nations is also considering launching a true "painted" matte finish using Sherwin Williams colors as a base.
New markets might be on the horizon because of enhanced capabilities.
Sherwin Williams can imbue anti-microbial properties into the finish, and that got Coady and his team thinking about new markets for its goods. 
"Now, we've gone past just a design or color trend. Now we're also going into sort of a lifestyle idea," he said. "So, more than just anti-fingerprinting or marring, we are now looking into expanding into the medical arena." 
Have something to say? Share your thoughts with us in the comments below.