MIT team develops handheld CNC router
August 6, 2012 | 7:00 pm CDT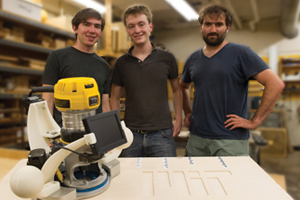 A poor attempt to build a simple picture frame has inspired a computer science team at the Massachusetts Institute of Technology to develop what may be the first successful handheld CNC router.
Alec Rivers, a PhD student in the Computer Science and Artificial Intelligence Laboratory had been trying to build a wood picture frame using woodworking tools handed down to him by his grandfather, but with his limited woodworking skills he couldn't cut the parts correctly.
"I was getting incredibly frustrated," he said, "because just as with any home project I would cut things out and they would look about right, but none of the pieces would line up."
So, rather than working to improve his woodworking skills, he looked for a solution from computer science. Working with Frédo Durand, an associate professor at CSAIL, and Ilan Moyer, a graduate student in the Department of Mechanical Engineering, Rivers and his colleagues went to work souping up a common handheld router so that it could adjust its position to precisely follow a digital path when the user moves the router close to the shape to be cut.
"You load the system up with a digital plan that you would like it to follow, and then you are only responsible for getting it to within a quarter-inch or so of that plan," River says. "The device then adjusts the position of the cutting bit within the tool to keep it to the plan."
How it works
Using the device is a two-stage process. Before cutting, the user must first move the router over the workpiece, allowing an onboard camera to photograph it and create a 2-D image of the piece to be cut. Black-and-white marked targets can be placed on the blank workpiece to help the device orient itself when there is not enough detail or distinctive patterns on the piece for photo identification.
Users create a design in the computer then overlay it on the 2-D map of the workpiece created by the device. "Since you have this image of the actual piece of material you are working with, you can line up your cut precisely," says Rivers. "So, for example, if you wanted to put it right on the edge of the material you are using, or you wanted to continue a cut that you'd already started manually, you can do that."
Placing the device on the workpiece, a user lines up the router and begins cutting. The computer compares the original 2-D map, the computer plan, and what the device's onboard camera now sees to locate itself precisely. Servo motors adjust the exact position of the bit to follow the plan even if it involves complex shapes and paths, according to Rivers.
Cheaper than a CNC machine
While no information was immediately available about what it would cost to actually manufacture the device, Rivers is confident it will be a lot less than most conventional CNC machines. He also sees a wider application by allowing CNC machining of parts that would be too large to fit in standard CNC routers.
"If you want to cut something that is very big, you need a huge CNC router, and that is first of all very expensive, and secondly it takes up a lot of space," he says.
In theory, the handheld CNC router could cut out any part of any size. One possible use the MIT team is exploring is attaching the unit on a vehicle such as a forklift and connecting it to a plasma cutter instead of a router to enable it to cut large steel shapes as used in construction or shipbuilding.
Other possible applications include connecting it to scissors for cutting out fabrics or marrying it to a printer head for use in drawing or painting applications like murals.
The design team was scheduled to publicly unveil the device at the Siggraph conference in August in Los Angeles.
Have something to say? Share your thoughts with us in the comments below.