Business slow? Reevaluate!
May 31, 2014 | 7:00 pm CDT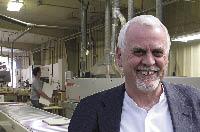 It is in these uncertain times when things tend to be slow that you should use the opportunity to put your house in order. What better time is there? Because when you are busy once more there is no time for things which come second to getting the work out the door.
Look closely at the work you are doing, is it done in the most efficient way? Do you have standards that you adhere to in all your custom work? Ask yourself which aspect of the work represents value to the customer! Ask yourself is it the size of a cabinet, or the material, or the color? Does it matter if the cabinets have a face frame or not? Is it important how you join the parts together or not?
Review all you do
Reevaluate all your operations from the moment you submit a price and a design to the installation of a job, and think, which of these tasks are valuable in the customer's eyes? Once you have concluded where the value is, make it flow.
You will find that most things which are done do not represent value in the customer's eyes. They may even hamper the value to flow. Take a hard look at every process, the tools and the workstations and ask yourself how you can minimize the time taken to do the work to be done. Eliminate tasks which represent redundancy.
Ensure that the workstations are dedicated to given tasks. Ensure that all tools required for specific tasks are where they should be. Make sure the tools are always in good order. Replace those tools which are inadequate.
On task, on target
Dedicate workstations to a given task and not to a particular workman. Size tables to the task to optimize your space. Ensure that all processes in the shop are sequential so that the material flows from the machines to the workstations with the minimum amount of material handling.
You may well be fully aware and in tune with these concepts and thus nothing new is said here. If that is so, look at it anyway because it is a well known fact that we all "become blind to our own folly" over time again and again.
Have something to say? Share your thoughts with us in the comments below.