Exotic Decking Profile: Mukulungu, or African Redwood
By Northwest Hardwoods
October 30, 2017 | 11:35 am CDT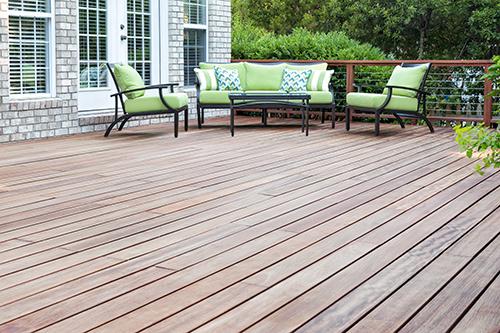 The working properties of African Redwood, or Mukulungu, make it ideal for decks, siding and other outdoor applications.
African Redwood, or Mukulungu, is an exotic hardwood ideally suited for commercial or residential applications, including decking, because of its durability, rich color and fine texture. It also happens to be a great value—with pricing lower than both composites as well as comparable exotic hardwoods such as Ipe.
In addition to its relatively lower cost and beauty, one of Mukulungu's most appealing traits is that it's a natural product. African Redwood requires no chemicals or preservative treatments. Its innate durability makes it long-lasting and resistant to termites, fungi and dry wood borers.
What To Know About Using African Redwood for Decking
Some of the best practices for using African Redwood are the same as any other hardwood decking. As with any project, for example, you should always check with local building codes and an architect prior to constructing. Like other hardwood decking, you should also:
Make sure that the ground is adequately sloped to eliminate standing water
Allow for cross-ventilation underneath the deck
Pre-drill holes for fastening hardwood deck boards
Specific to the wood's unique properties, you should know that Mukulungu is easy to sand, plane and polish, but too dense to glue or nail. Its incredible hardness requires strong blades for sawing and machining.
Below are some additional specific tips for you to consider when installing and finishing African Redwood exotic decking.
Storing & Acclimating African Redwood Decking
African Redwood decking should be allowed to acclimate to where it will be installed for seven days prior to installation in order to balance with local temperature and humidity levels. Follow these do's and don'ts for storing and acclimating:
Do not store decking directly on the ground, or on top of a concrete surface
Do not cover decking material with plastic or a tarp while acclimating
Do cover decking material with a piece of plywood to shield from rainfall
Do remember that acclimation requires airflow
Installing African Redwood Decking
A good deck design for any hardwood decking should allow for cross-ventilation underneath to: ensure stability; prevent cupping and surface checking; and minimize the natural movement of the wood. When installing African Redwood decking, be sure to leave enough gap spacing between boards to allow for expansion and contraction, as well as adequate air circulation.
Installation tips:
Premium carbide tipped saw blades are recommended for cutting
Do not allow standing water to pool under the deck
Expect an average shrinkage of approximately 1/8" on 4" wide boards and 1/4" on 6" wide boards
Shrinkage will vary depending on climate and temperature
Install with a 1/4" gap between boards
Sealing African Redwood Decking
We ship African Redwood with the end grain sealed with a clear wax to prevent any end checking. Fresh cuts should be sealed within 10 hours using an end grain sealant such as Anchorseal.
Sealing tips:
Do not apply end seal to the surface of the decking
Wipe off excess sealer immediately
Fastening African Redwood Decking
Pre-drilling is required for fastening Mukulungu deck boards. Like other hardwood deck material, failing to pre-drill can cause the wood to split around the screws. Fasten hardwood decking with stainless steel fasteners to avoid unsightly staining and discoloration to the wood over time.
Finishing African Redwood Decking
If you let an African Redwood deck weather, it will eventually turn a silvery gray—similar to Teak. You can choose to apply a finish every other year to retain Mukulungu's beautiful, natural reddish color, or you can leave it untreated to achieve the equally attractive silvery color.
Have something to say? Share your thoughts with us in the comments below.