WallGoldfinger introduces new conference table, credenza line
January 18, 2021 | 9:14 am CST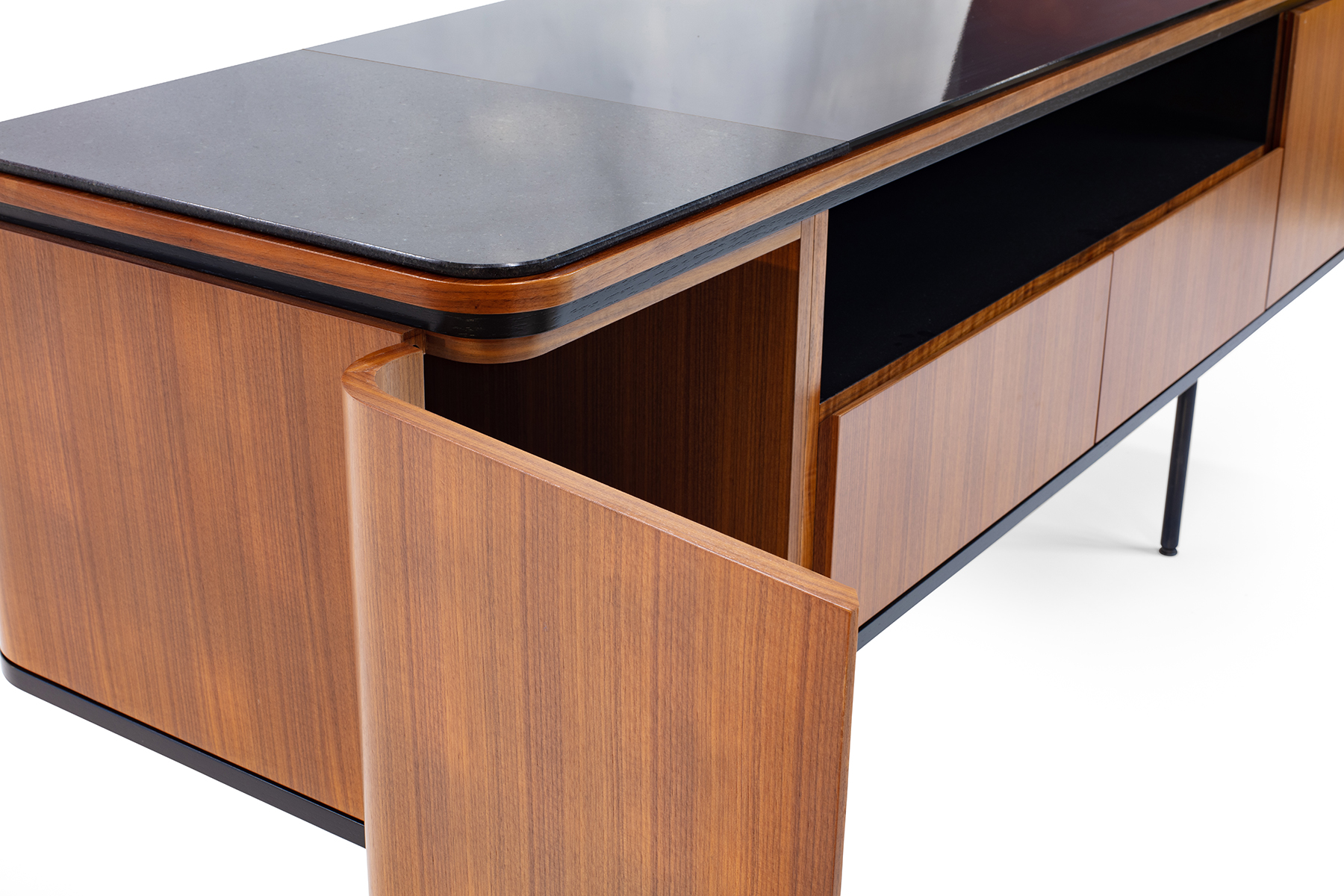 NORTHFIELD, Vt. – WallGoldfinger Furniture, a division of Mark Richey Woodworking, has unveiled a new conference table, credenza and waste receptacle line.
The new line, named Doko, includes round, square and rectangular conferences tables with radiused corners, credenzas with rounded "corners" and separate waste and recycling receptacles of a similar design.
"We're excited about this line and where it will place us within the fixed conference and resimercial market," said John Wall, vice president of sales for WallGoldfinger Furniture.
"WallGoldfinger has historically been known for its custom work and reconfigurable table lines, but we know easier to spec, fixed conference lines are in high demand. We are pleased to provide designers and businesses a new, versatile option."
The product name comes from the shape of the conference table base, which is reminiscent of the inverted shape of doko baskets used by porters to carry goods in regions like Nepal.
Mark Richey, president of Mark Richey Woodworking, is an elite mountain climber.
"To me, this new line is a reminder of not just the shape of the doko basket, but the strength and integrity of both the basket and the people who utilize it," says Richey, who has climbed Everest in Nepal and supported relief efforts in the poverty-stricken country. "Nepal is a rugged place with people of remarkable endurance. The setting of this furniture in corporate America will be quite different than its roots but offer the market the same lasting durability of its namesake.
The Doko table line is crafted of various top materials from cast acrylic to stone to veneer. The table base is comprised of solid wood curved staves with a unique metal base ring with a key-like component that extends up into the staves.
For wire management, removable staves are incorporated in the design. Smaller round wire management columns are available, or a larger wire management box slides under the tabletop, allowing worry-free positioning of floor cores.
Credenzas and waste receptacles offer functionality, rounded corners, rounded cabinet doors, finished backs and tall, thin metal base structure. Metal used on the line is anodized aluminum, WallGoldfinger's first foray in anodizing.
WallGoldfinger joined Mark Richey Woodworking two years ago and all WallGoldfinger Furniture is now made at the Mark Richey factory in Newburyport, Massachusetts. See http://www.wallgoldfinger.com/productlines
Have something to say? Share your thoughts with us in the comments below.