AHFA posts worksheet for stability testing
December 2, 2021 | 8:02 am CST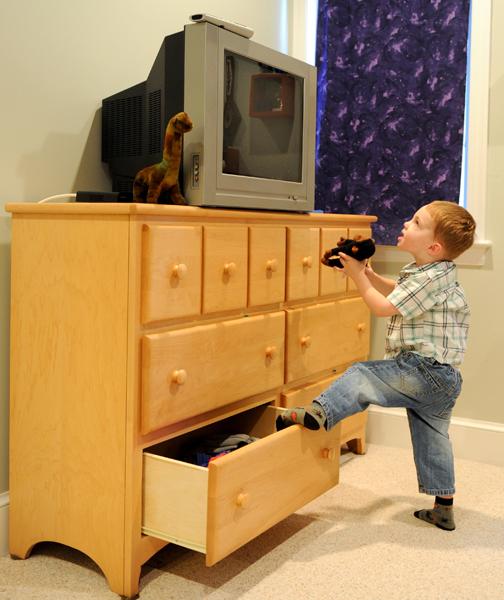 HIGH POINT, N.C. -- An interactive Excel worksheet created by AHFA to assist members in determining the "stability rating" of their clothing storage furniture is now available on the AHFA website.
A link to the worksheet can be found in the Member Toolbox on the Furniture Stability page of www.ahfa.us. A log-in is required to access this members-only tool.
Calculating a unit's "stability rating" is a key requirement proposed in the Notice of Proposed Rulemaking (NPR) for Clothing Storage Furniture released by the U.S. Consumer Products Safety Commission (CPSC) in July. Two test methods prescribed in the rule for determining this rating were demonstrated by members of AHFA's Furniture Safety Task Group at the Sustainability & Regulatory Summit in September and again at a meeting of the ASTM F15.42 Furniture Safety Subcommittee in November.
The NPR's test methods require precise measurements, including the functional volume of each drawer, the "maximum handhold height" of the unit, the distance of each open drawer from the fulcrum, and the vertical and horizontal distance from the testing force application to the fulcrum.
When these and other required measurements are plugged into the worksheet, it calculates the numerical value for the unit's "tip-over moment."
This value, in turn, is used to determine a unit's stability rating, which manufacturers would need to display on a 5-by-7-inch hangtag affixed prominently to all clothing storage units. Definitions and diagrams for the required calculations are provided within the worksheet for added clarity.
Although it could take years for CPSC to adopt the NPR as a final rule via its traditional rulemaking process, there is another route that could result in the implementation of the testing requirements within the NPR.
The STURDY Act -- which cleared the House in June and awaits consideration in the Senate -- would require CPSC to adopt a mandatory furniture stability standard within a year of the legislation being passed. STURDY would give the agency license to adopt the testing requirements within the NPR in whole or in part, with no required input from industry or other stakeholders.
AHFA continues collecting data and analysis from member companies that are using the worksheet to calculate the stability rating of their products. Once the NPR is published in the Federal Register, AHFA will have an opportunity to submit formal comments on behalf of the industry.
Have something to say? Share your thoughts with us in the comments below.