KCD Software and CNC Factory team up at Wood Pro Expo Texas
March 4, 2020 | 12:40 pm CST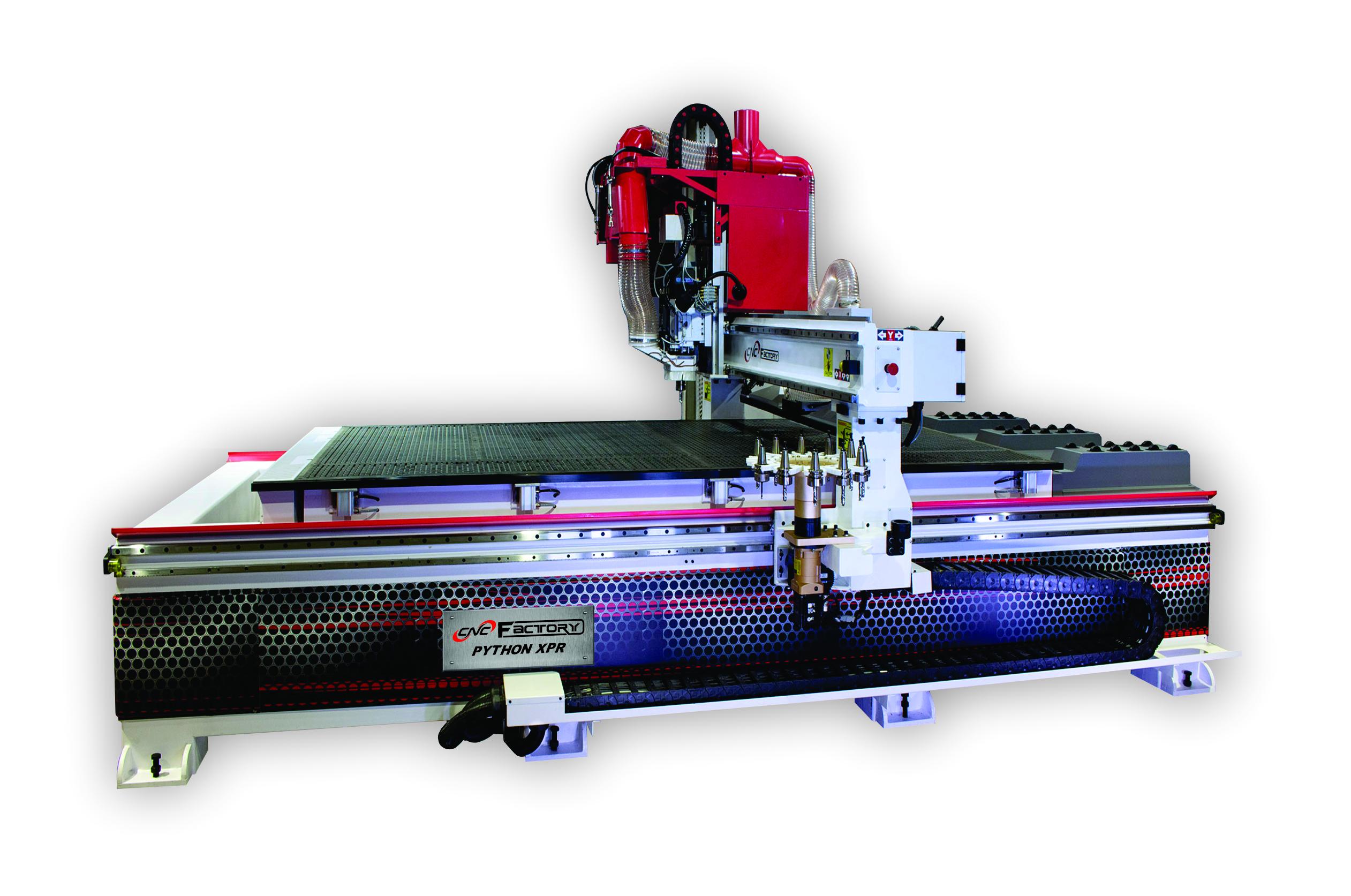 CNC nesting demonstrations will showcase powerful integration of software and driverless CNC technology.
 
ARLINGTON, Texas – CNC Factory, in partnership with KCD Software, will show how woodshops can achieve the full nesting capabilities of the Python XPR Driverless CNC machining center at Wood Pro Expo Texas.

CNC Factory plans to run continuous demonstrations of the Python XPR at booth #101 during both days of the show, March 12-13, at the Arlington Convention Center. The demos will highlight how the nesting center's integrated third-generation robotics for material handling and auto labeling, uniquely combined with KCD Software's CNC Commander software, allows one operator to process up to 50 sheets per cycle.

"Because of the Python XPR's driverless technology, the operator never has to touch the material," said Chris Corrales, director of operations for CNC Factory. "With one touch of the control screen, the machine automatically loads a full sheet of material, cuts the sheet, unloads the nested parts and cleans the spoil board. Using KCD Software, the machine prints part labels and a robotic arm sticks them on the respective pieces. In addition, the software instructs edges to be marked with secondary production needs, such as which side of the part gets edgebanded or where dowels need to be inserted."
While other design-to-manufacturing programs can be used to control the Python XPR's machining functions, only KCD Software has the Python XPR robotic printing built in ready to handle part labeling.  "For other software programs to handle both machining and printing of the machine's driverless technology would require dual controllers or upgrades from other software companies to embrace the power of 5th generation CNC machines," Corrales said. "With KCD's very powerful software working behind the scenes, it's as easy as sending one file to the machine. Other software products do not have that capability." 

In addition to continuous, ad hoc demonstrations of the Python XPR, CNC Factory will participate in the Running Machine Program at Wood Pro Expo. Presentations are scheduled for 11:30 a.m. and 12:30 p.m. on each day of the show, plus at 3:00 p.m. on March 12.

Wood Pro Expo is being co-located with the Cabinets & Closets Expo. Manufacturers of cabinets, closets and other wood products can learn more about KCD Software's design to manufacturing at booth #413. In addition to exhibiting, KCD Software is a sponsor of the Top Shelf Design Awards reception, a celebration of outstanding closet designs, scheduled for March 12 at AT&T Stadium, home of the Dallas Cowboys.
###

About KCD Software
KCD Software is developed for custom cabinetmakers by custom cabinetmakers. Core values of fairness, innovation and customer satisfaction drive KCD Software's commitment to making great design, price and manufacturing software for the custom cabinet and closet industries. The Development Team has been recognized by the Adex Award for Woodworking Design and the AWFS Sequoia Award for Innovation in Software Productivity for outstanding product development. Learn more at kcdsoftware.com.
 
About CNC Factory
CNC Factory of Santa Ana, CA, is North America's fastest-growing, value-priced CNC manufacturer. Each machine is custom built to exact industry standards that provide customers with more value and flexible purchasing options. CNC Factory is proudly 100 percent U.S. owned and engineered. Learn more at cncfactory.com.
About Cabinets & Closets Conference & Expo and Wood Pro Expo Texas
The Cabinets & Closets Expo & Conference (CCCE) is the annual national event for cabinet and closet professionals and is co-located with Wood Pro Expo Texas (WPE), a regional marketplace for the woodworking professionals. The events are organized by Closets & Organized Storage and FDMC magazines respectively, both part of Woodworking Network.


Both the Cabinets & Closets and WPE lead off with a separate full-day executive conference on Wednesday, followed by the two-day expo featuring woodworking machinery and supplies. Additional educational programming is offered on both days of the expo. Tours of local manufacturing plants and the popular Top Shelf Design Awards networking reception are also key components of the event.

The 2020 CCCE and Wood Pro Expo Texas are scheduled for March 11-13 at the Arlington Convention Center, Arlington, Texas.

For information about exhibiting, and sponsorship opportunities, contact Patrick Filippelli of Hall-Erickson Inc. at ccce@heiexpo.com or phone 800-752-6312. 
Have something to say? Share your thoughts with us in the comments below.