Made-to-order embossed wood, mouldings and rosettes
September 18, 2018 | 2:08 pm CDT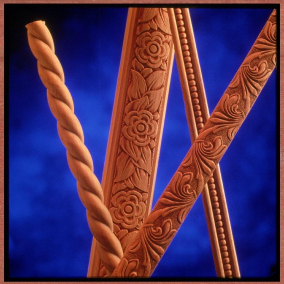 LANCASTER, PA -- A Lewis Manufacturing produces embossed wood, cut dentil, turned rope mouldings and rosettes. All production is domestic.  Most of its products are manufactured to order. This allows engineering flexibility — choosing from several hundred of our embossing wheels, combined with profiles from stock or proprietary designs developed by your design team. Manufacturing to order allows our customers to combine species, per style to reach the most efficient and economic production runs. We offer contract embossing and dentil cutting services and are happy to emboss or cut your engineered product. Some feel this gives more control of color and clearness
as well as increasing margins. Our products — embossed, dentil, turned rope mouldings and rosettes — are available in all Appalachian hardwoods, mahogany, alder, pine and bass.
The company's catalogue represents the unique mouldings and rosettes that they have produced for customers in the furniture, cabinet, casket, mantel, picture frame (the list goes on) industries over the years.

A Lewis Manufacturing will be exhibiting in Booth #101 at Wood Pro Expo Lancaster.  Click HERE for an updated exhibitors list.

About Wood Pro Expo
Wood Pro Expo is the regional show series that brings education, equipment, and supplies close to cabinetmakers and custom woodworking businesses around the country. It will include a strong educational program on best practices for shop production, and as well as an expo oriented to equipment and supplies geared to the small and medium size shops, including CNC basics, employee recruitment, finishing, lean manufacturing, business management, software, and shop safety.
 
Launched in 2014 in Baltimore, Wood Pro Expo was first held in Lancaster in October, 2017.  It returns to Lancaster October 18-19, 2018 and Charlotte March 16-18, 2019.
Have something to say? Share your thoughts with us in the comments below.