Impact of tariffs on wood manufacturing industries is direct and may be long lasting
January 2, 2019 | 11:25 pm CST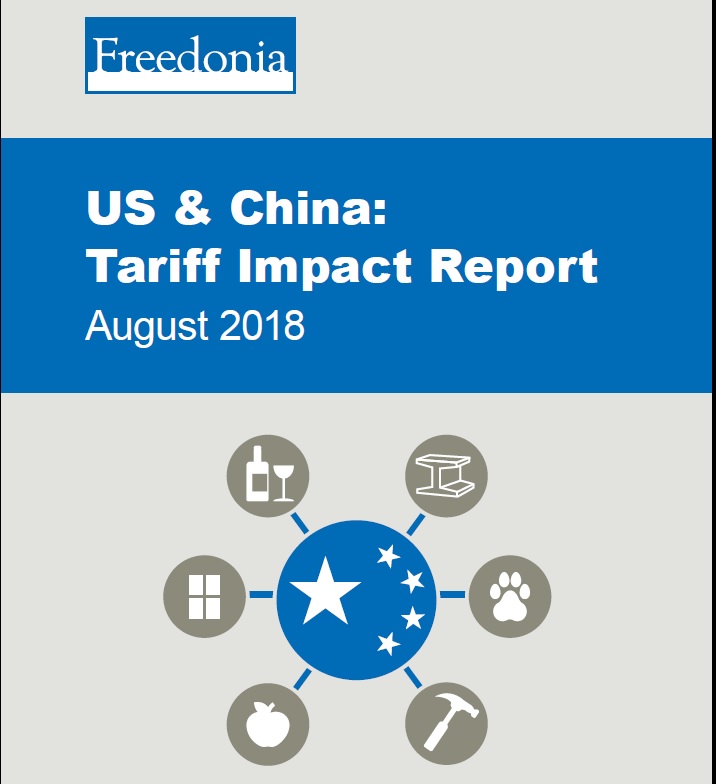 In recent white papers, research firm Freedonia Group outlines effects of U.S. tariffs on metal parts, fasteners, lumber, windows, doors, flooring and cabinets. Freedonia's John Sherwin will address tariffs at the 2019 Executive Briefing Conference, April 14-16 in San Jose.
This article is excerpted from Freedonia Group's White Papers on tariffs:
In July 2018, the Trump administration proposed a 10 percent tariff on $200 billion worth of Chinese goods—an amount China could not match even if it wanted to (U.S. exports to China totaled $129.8 billion in 2017). 
That proposal arrived on the heels of steep tariffs imposed on steel and aluminum imports from dozens of countries.  And the July tariff proposal came days after a 25 percent tariff took effect on $34 billion worth of U.S. imports from China. The action effectively voided all trade agreements between China and the U.S., according to the Chinese government, and we reach the brink of an all-out trade war between the two largest trading partners.
---
President Trump has since announced further intentions to levy taxes on all imports from China ($505.5 billion in 2017) and the possibility of increasing the level of all the tariffs on Chinese goods to 25 percent - though he has put that on hold for 90 days (until April 1). 
These threats have companies worldwide bracing for the impact on global supply chains, as some fear a trade war will lead to another global financial crisis. The U.S. is particularly vulnerable due to the inevitable retaliations its actions would engender.
The U.S.-imposed tariffs that are currently in effect target products central to China's "Made in China 2025" plan to overtake the U.S. as the global leader in high-tech industries. While they have been criticized as anti-competitive and bad for business interests, both in the U.S. and globally, they have been praised for their promise to countervail China's unfair trade practices, which include intellectual property theft, forced technology transfer, government-financed acquisition of foreign competitors, export tax rebates, and currency manipulation, among other things. It is hoped that the U.S. actions will mitigate its trade deficit with China, which stands at around $375 billion, and promote "Made in USA" products.
Analysts from the Freedonia Group contemplate the current realities and future possibilities of trade relations between the US and China, summarizing the potential impact of proposed and enacted tariffs on affected industries in both countries.
The Freedonia Group has a long history of analyzing US and global industries as well as trends in international trade. In addition, corporate researchers in Freedonia's Beijing office conducted interviews with Chinese market leaders to provide a ground-level view of how impacted Chinese companies are responding to the U.S. actions.
Here are two examples of the tariff impacts: 
Tariff Impact on Fasteners 
The steel and aluminum tariffs also carry significant implications for the US fasteners industry, which is an intensive user of foreign-made steel and aluminum. Because fastener companies primarily compete on the price of raw materials, US companies could lose share to foreign concerns as import costs for these metals continue to rise, or in some cases even go out of business.
In late June 2018, for example, Mid Continent Nail (Mid-Continent Steel & Wire), the largest nail manufacturer in the US, laid off 60 workers and announced the inevitability of its complete closure if it is not able to secure an exemption from the tariff, which – given the current backlog – could take months or years.
Further loss of business to foreign firms that can manufacture the same goods for lower costs is expected going forward, as is the continued offshoring of production operations currently based in the US. Mid-Continent Nail, for example, stated it is looking to relocate its manufacturing activities to Mexico, where it would evade impact of the tariffs.
Tariff Impact on Canadian Lumber
In November 2017, the Trump administration levied a 20.83  tariff on Canadian softwood imports (including pine, spruce, and fir), attributing the decision to claims by U.S. lumber producers that their Canadian competitors, due to Canadian government subsidies, possess an unfair pricing advantage that undermines competition. (Canada is currently appealing the tariffs through the World Trade Organization.)
Immediately after the tariff took effect, softwood lumber prices jumped, and they have remained high since. Longer-term anticipated results include:
• an estimated 7% increase in the cost of new home construction in the US (according to the National Association of Home Builders)
• surging profits for U.S. lumber producers, such as Georgia-Pacific
In May 2018, for example, the Random Lengths Framing Lumber Index hit the highest level since its inception in 1995, rising 30% from the previous year. Nevertheless, according to a May 2018 survey, 31 percent of single-family homebuilders reported a framing lumber shortage. Furthermore, as the additional costs are passed on, prospective home buyers in the US are expected to either postpone construction, opt for a smaller home, or buy an existing home instead of building, which will have an adverse effect on new housing construction.
But the effects transcend housing construction alone, with remodelers and manufacturers of flooring, cabinets, and related building and construction products purchased by both professionals and DIYers worried about the longer-term effects. For example, consumers may not be as willing to finance lumber-intensive home renovations given the higher costs.
There is no doubt that global trade relations remain very much in flux as a result of the escalating rhetoric on tariffs, and the impact is still uncertain for many industries. Some U.S. companies are already benefiting from recent actions, but others will be forced to raise prices, move production offshore, or – in some extreme cases – close up shop for good.
The Freedonia Group has a long history of analyzing U.S. and global industries, as well as trends in international trade. In its white paper, Freedonia analysts sift through the conflicting information surrounding this topic to summarize the potential impact on affected industries. 
Source: Freedonia Group
Have something to say? Share your thoughts with us in the comments below.