At Work on Cabinets & Closets 2013 Conference & Expo
November 19, 2012 | 3:42 pm CST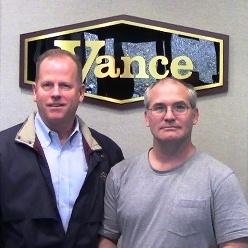 EDISON, NJ - Cabinets & Closets Conference & Expo is set to debut February 27-March 1, 2013, at the New Jersey Convention & Exposition Center in Edison.
The official annual gathering of the Association of Closet & Storage Professionals (ACSP), Cabinets & Closets Conference & Expo represents an expanded version of Closets Expo, which has been operated for eight successful years by Vance Publishing — the parent of Closets magazine.
Dave Skinner, board chair of the ACSP, along with member Mike Carson, visited the Vance Publishing offices in November for event planning sessions, meeting with Rich Christianson, show manager, and Steve Reiss, VP, to refine the agenda and educationl program for Cabinets & Closets Expo.
Have something to say? Share your thoughts with us in the comments below.