Thousands flock to KBIS, IBS shows
March 5, 2019 | 11:55 am CST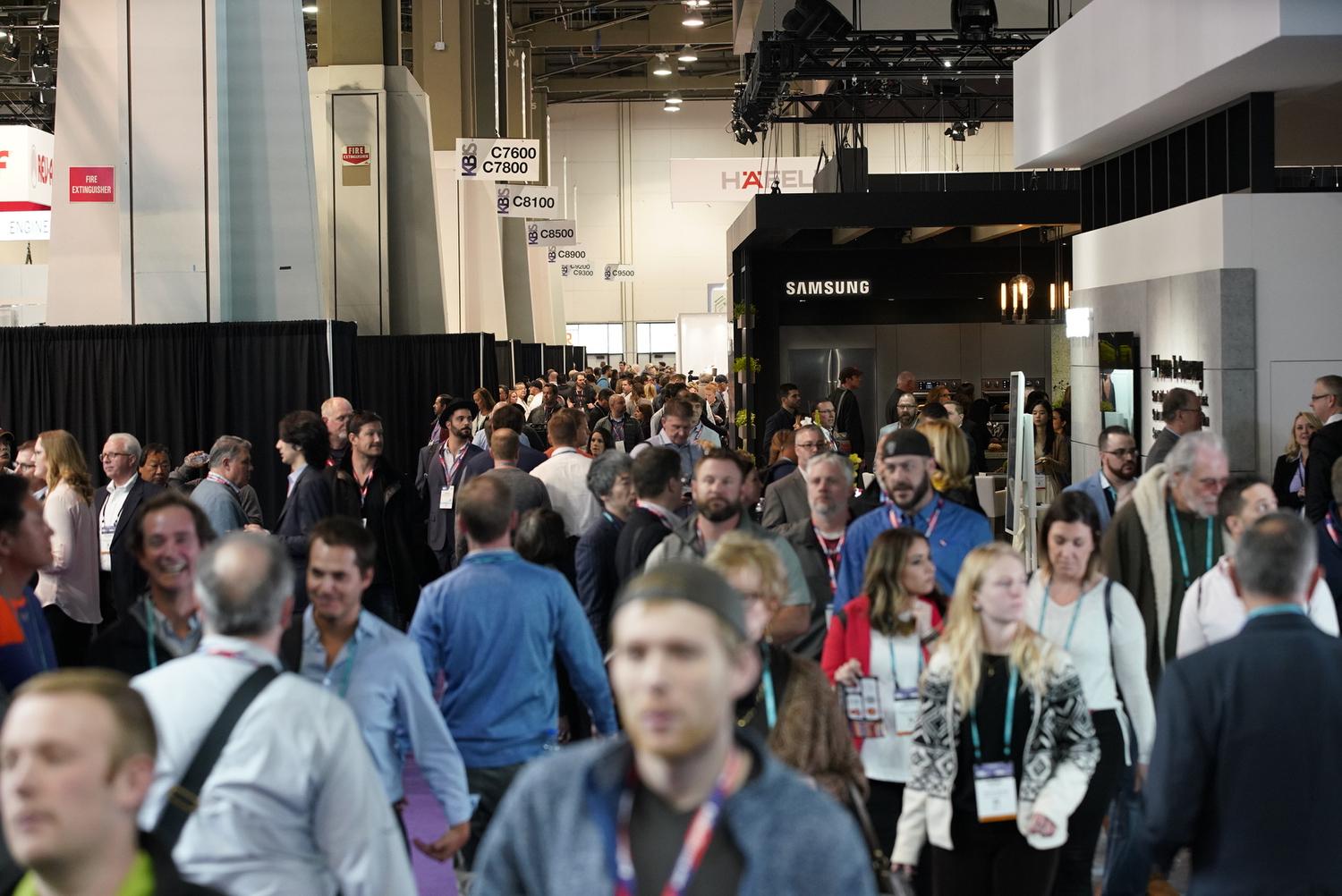 Photo By NKBA/KBIS
LAS VEGAS - The halls were often jam-packed at the co-located Kitchen & Bath Industry Show/International Builders' Show, as more than 100,000 cabinetry- and construction-related professionals streamed through the Las Vegas Convention Center to view displays ranging from cabinetry, software, hardware and accessories, to windows and doors, flooring, panels, plumbing and even motor vehicles.
Taking place Feb. 19-21, the two shows that comprise Design & Construction Week combined for more than 1 million net square feet of space and more than 2,000 exhibits, making them the largest of their kind in North America. Sponsored by the National Kitchen & Bath Association, KBIS covered 430,000 net square feet of space and featured 600 exhibitors. IBS, which is sponsored by the National Association of Home Builders, spanned across more than 608,000 net square feet and featured nearly 1,500 exhibitors.
According to show managements, early estimates indicate an increase of 30% attendance over the 2018 event, marking the sixth consecutive year of attendee growth.
"As the owners of KBIS and as an all-industry association, we are committed to producing a show that provides something of value for everyone," said Suzie Williford, NKBA executive vice president of industry relations and chief strategy officer. "The kitchen and bath industry remains strong. Our most recent NKBA research study expects growth to continue through 2020, so it is imperative that we provide not only a showcase for innovative products but professional development and networking opportunities. Our community of manufacturers, design professionals, technology integrators, showrooms and builders now have the momentum to carry them through the year."
Geoff Cassidy, NAHB senior vice president of exhibitions and meetings, shared a similar view. "As the International Builders' Show celebrates 75 years, it remains the premier event for the housing industry," he added. "With the largest attendance in 10 years, we're proving once again that IBS is the only place to experience such a diverse collection of innovative products, education sessions and networking opportunities all in one place."
Highlights at the show included a discussion on the state of the industry, hosted by NKBA and moderated by Fox News/Fox Business anchor Melissa Francis. Panelists on the discussion were: Dr. Markus Miele, executive director and co-proprietor, Miele Group; Kevin Murphy, CEO, Ferguson Enterprises; Nick Fink, president, Global Plumbing Group at Fortune Brands; and Mark Stoever, CEO, 2020 Technologies. Photo provided by NKBA/KBIS.
In addition to the exhibits, attendees could attend seminars and panels on a variety of topics, ranging from design and employment trends, to state-of-the-industry reports. Emphasis at both shows was also given to training and employment needs. An example of this was the collaboration of NKBA again with the This Old House team to kick off the 2019 Generation Next philanthropic campaign to encourage and empower young people to join the skilled trades. A panel discussion on Skilled Labor, moderated by Richard Trethewey, led into a Cheers for Trade Careers cocktail and raffle in support of the Skilled Labor Fund.
Closet systems were also on display at the annual event. Pictured is ClosetMaid
Awards & showcases
The Best of KBIS Awards yielded more than 120 entries. Winners were: Best of Show — Blade 3D Printed Faucet, DXV by American Standard; Kitchen Gold — Signature Kitchen Suite 48-inch Dual-Fuel Pro Range with Built-in Sous Vide, Signature Kitchen Suite; Kitchen Silver — HydroTap by Zip Water: Culligan International Co.; Bath Gold — Flotation Tub With Zero Dimension, TOTO; Bath Silver —PowderRain, Hansgrohe; Smart Home Technology — Flo by Moen, Moen Inc.; Outdoor Living — Kalamazoo Arcadia Series Outdoor Kitchen Cabinet, Kalamazoo Outdoor Gourmet; and Impact Award — FOTILE Sink Dishwasher, Ningbo Fotile Overseas Kitchen Appliance Co. Ltd. DBA Fotile.
 
New this year, the Salon by KBIS featured exclusive design-forward brands, the DMMTalks Lounge, KBIS THINK and the Lightovation Pavilion and Lounge, which featured programming with experts in illumination, resources from the American Lighting Association, plus an interactive virtual reality experience.
Also noteworthy, the Showcase for Living In Place brought attention and information to the importance of making all homes accessible, comfortable and safe, regardless of the occupant's current or future needs or age. A total of 15 presentations were centered on care for veterans, fall prevention in the home and technology for safer living in place. The Living in Place Institute also featured a product showcase featuring products by Monogram, TOTO, Rev-A-Shelf, Cosentino, Viega and Control4.
Announced by NAHB, the Best of IBS Product Winners were: Best in Show — Easy Connect Joining System by Andersen Windows Inc.; Best Kitchen Product —Cafe 4-in-1 Oven with Advantium Technology by GE Appliances; Best Bath Product —Redi Your Way by Tile Redi USA LLC; Best Energy Efficient Product — POWERHOUSE 3.0 Solar Shingle by RGS Energy; Best Green Building Product — Heatlok HFO by Demilec Spray Foam Insulation; Best Home Technology Product — Leviton Load Center Wi-Fi enabled Circuit Breaker by Leviton Manufacturing Co.; Best Indoor Living Product — Heat & Glo Foundation Series Luxury Gas Fireplace by Heatilator, Heat & Glo and Majestic (Hearth & Home Technologies); Best Outdoor Living Product — CAMO Drive by CAMO Fasteners and The Soho by Hampstead; Best Window and Door Product — Easy Connect Joining System by Andersen Windows Inc.; and Most Innovative Building Material Product — NTI GF200 Combi-Furnace by NTI Inc.
The 2020 KBIS & IBS shows, Design & Construction Week, will be held Jan. 21-23 in Las Vegas.
Have something to say? Share your thoughts with us in the comments below.