What does the future of design look like?
September 6, 2018 | 8:11 am CDT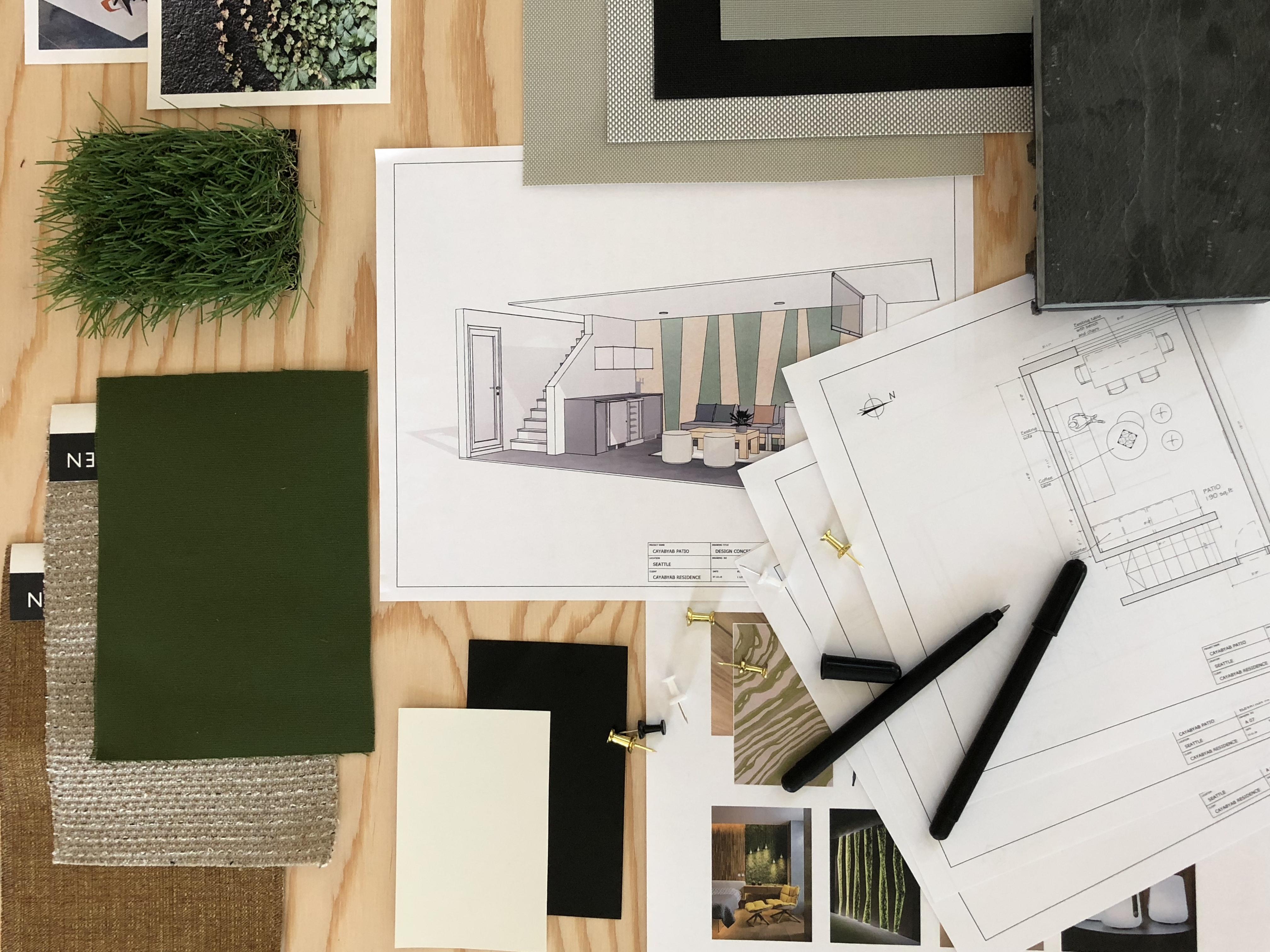 Photo By ULLE Studio
The future of design, particularly interior design, is a big question that has lots of implications. And it's not something "out there" or "over there" just because we're working in closets and millwork. 
Many of us work with designers as part of our processes and projects. And we often want to elevate the level of design in our own work to create more value and more beauty for the people we get to work with. 
So what does the future look like? Will consumers be doing everything online and not need (or want) us at all? Will software become so sophisticated that instead of talking about walk-in closets, we'll actually be "walking into them" via virtual reality (VR) and artificial intelligence (AI)?
I talked with several interior designers from all over the country to get their perspective on what the future of interior design looks like and here's what they shared:
The future of design/interior design can change dramatically with the touch of a technology button, whether that's an app, a piece of software or an innovative approach from a company that improves the design experience for the consumer, the designer or both. Apple is a great example. What do you see either right now or coming soon, that's exciting to you when it comes to merging interior design and technology?
"I'm concerned that technology is hampering people to use their imagination — to come to their own conclusions without relying on an app" shares Noelle Newell an interior designer and writer in Easton, Connecticut. 
Newell seems to land in the minority when it comes to concern over tech evolution. And while I empathize with those who are frustrated by tech (because there are many days when I am among them), tech is life now. Tech will not stop changing and evolving and we need to behave the same way.
Other thoughts were more positive, or at minimum, pragmatic. 
Designer: Cheryl Nagle Kees Clendenon of In Detail Interiors in Pensacola, Florida.
"No app (or tech) can replace what's in my head" says Cheryl Nagle Kees Clendenon of In Detail Interiors in Pensacola, Florida. "I think the innovation is in products that improved lifestyle, not necessarily the design experience. People want and need the expertise in dealing with complicated issues in the building arena, not as much in the decor. So it's the 'figuring it out' and experience, especially in communication with the trades that makes a difference" says Clendenon.
"My philosophy is that design without detailed communication about execution is simply a fairy tale. Good design is 40 percent creativity, 40 percent execution and 20 percent determination, to deliver an exceptional product and the grit to actually get it done," continues Clendenon.
Designer: Cheryl Nagle Kees Clendenon of In Detail Interiors in Pensacola, Florida.
Designer Janet Lorusso from JLL Interiors takes the approach that things like AI allow for even more creativity and a higher level experience for her clients. "It is SO much easier now to help clients envision the design. Using the tools is time consuming and expensive to produce, and certainly less charming than hand-drawn renderings, but still a wonderful communication tool.  I would love to think the next leap may be a holographic projection in the actual space so clients can stand in the designed space before it is done to see how it feels" says Lorusso. With some software programs and VR goggles, that can practically be done.
 Liza Jones from Liza Jane Interiors, Sterling, Virginia, also shares her thoughts on AI. "Artificial intelligence is very exciting right now.  One tool in particular (MyDomastudio.com) allows you to scan a room and the app will take all of the measurements for you within an inch.  The company sends you a CAD drawing of the space that can be downloaded and then manipulated.  You can also create a proposal, send it to your clients with product images included and they can check a box saying yes or no if they want to purchase/approve that."  
How do you sell and design differently for a Millennial client than you do for a Boomer client? What are the main or biggest differences?
"We don't have many Millennial clients," says designer Robin Fisher of Robin Rigby Fisher Design in Portland, Oregon. "The ones we do have are looking for lower pricing. They're not focusing on quality. And they want more information — warranty, maintenance issues, longevity, environmental impact," says Fisher.
And from another perspective, Deb Barrett of Soft Design Lab, with locations in Illinois and Nevada, shares that "Millennials expect contextual, authentic and personal design experiences. And they define personal differently than the Boomer. Personal can be new, used, upcycled, or one-of-a-kind. They also want to be more intimately involved in the process as co-creator, meaning they now have creative license and are becoming more demanding."
And then my favorite perspective, from Clendenon, who responds that her firm does not differentiate between its approach from Millennials to Boomers. "We approach all of our clients with the InDetail experience which is talent + experiences + a big dose of 'get it done' and a no nonsense talk. We are so forthright with all of our clients. After all, this is what they're paying us for. The only thing that might be slightly different is that if I know one of our clients is more mellow, I may take a mental Valium so I don't overwhelm them :)."
How has the way you get customers changed from ten years ago? And what do you think it will look like 10 years from now?
"Social media definitely plays a large role as a source of clients in today's' world. Word of mouth is simply not enough. Your business must have killer images, and a solid social media representation" says Julia Piterkina of ULLE Studio in Kirkland, Washington. 
Designer: Julia Piterkina of ULLE Studio in Kirkland, Washington.
"I think the design profession is contracting as we give up our traditional roles to the client," says Barrett. "As we bring the customer into the project process, we also give away our authority about design to other influencers and indirect competitors. Getting new clients takes a deeper dive and expertise. Frankly, we've gotten lazy. We've become more purveyors of product than design professionals. We also are no longer the gatekeeper to design" Barrett adds.
"Collaborations and new partnerships will form with outliers, indirect competitors and surprising players that will alter how we buy design. What has happened to the mattress category in two years comes to mind" she continues.
What tools do you like that make the design experience better for your clients?
"Believe it or not, my favorite tool is a pen and paper" says Clendenon. "But we also have a cool retail shop. I consider this a huge tool. Clients can see our creativity and also see an established business. So the store is my biggest tool. We immerse them into our world and the store helps build our brand of Kool Aid"
Piterkina offers, "We like doing digital as much as we can. It is great to see different tools, like Wecora, that help create digital mood boards, as well as allow collaborating with clients online. Also, tools like IVY have changed the way even the small interior design firms operate, allowing them to be more efficient and the whole process to be more streamlined." 
From a wider perspective, what do you think the future of design will look like?
"Uncertainty of the future will force practicality.  The future kitchen could incorporate a micro greenhouse.  Housing for many will be smaller + shared spaces will become more artful +  more important as a place for people to connect.
"People are more portable today. They don't want to put down roots yet. And people are living longer and creating more adventures for themselves versus establishing permanency" says Newell.
"I think design will have to be about the experience for each individual client; what jazzes them.  People are starving to see the 'we got this' look on someone's face and many are willing to pay if you are legit and can take this burden off of them," adds Clendenon. "I have seen the panic in a client's face, afraid to make a big mistake, and they need me. They know it."
Photos courtesy of In Detail Interiors and ULLE Studio.
Have something to say? Share your thoughts with us in the comments below.