Luxury kitchen designs create an experience
September 27, 2021 | 9:00 am CDT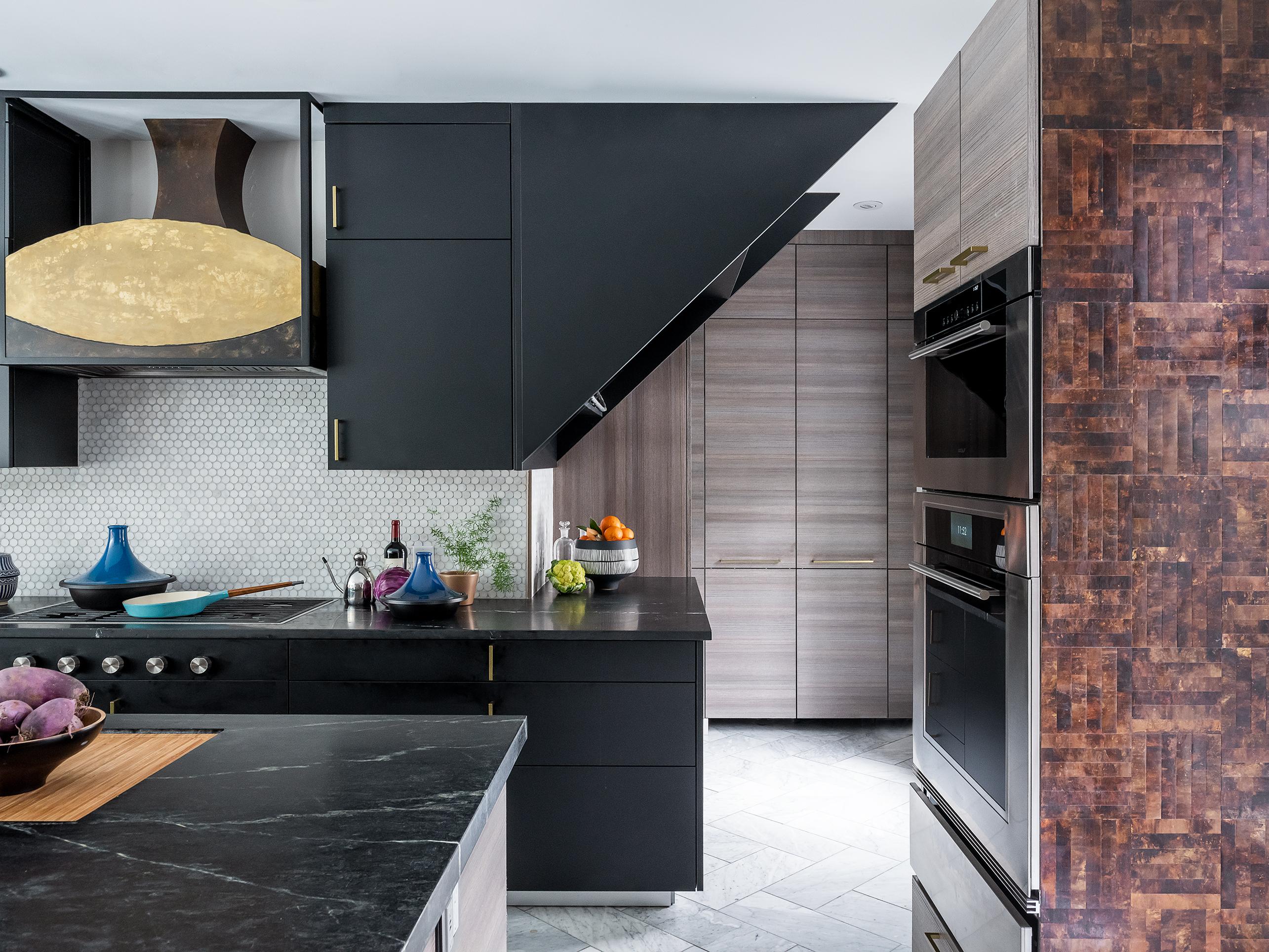 Photo By Brendan Flanigan, Brendan Flanigan Interiors Inc., Saratoga Springs, New York and Manhattan
When it comes to luxury kitchens, it's about more than just the total expense; clients crave the experience, according to the Luxury Kitchens research study released by the National Kitchen & Bath Association. A luxury kitchen is the confluence of authentic and original design, personal experience, and flawless function.
One of the goals of the research was to explore the luxury kitchen category to discover the difference between a luxury kitchen and a nice high-end kitchen; what luxury clients seek; and how designers attract clients at that level.
A key finding was that luxury is not necessarily defined by the expense of the project but is achieved by providing clients with an elevated living experience. According to the study, luxury happens when: proven designers navigate clients skillfully and efficiently; numerous possibilities are optimized (needs, preferences, values, the art, and the science, expertise, materials, products); options are intentionally curated and executed to deliver an elevated living experience, with less risk and regret.
"Luxury isn't a look," said Nar Bustamante, Nar Design Group, Sacramento, California. "It's not a product, buyer, budget, appliance. Luxury is a feel, it's an experience. It's a process. It's buying into a process that will deliver an outcome, with a client who is discerning, who knows it when they see it – someone who gets it." 
The study also defines luxury as both an art and science, using the left and right brain to integrate elements such as form and beauty with performance and optimization among other considerations. The elevated experience luxury clients seek to involve both tangible and intangible factors that integrate to enhance the way they live in an effortless manner.
Dipping into the layers of what creates a luxury experience, the study also noted that it is the intersection of a single inspiration such as a statement island or hood, plus the functionality of what you don't see like sculleries, hidden working pantries, or optimized storage, and craftsmanship – original artisan creations, attention to the tiniest details, etc.
One luxury client interviewed for the study said "luxury is about pampering – getting all the high-end tools and placing them in the right spot. How it looks, how it feels and how it operates for you."
Luxury designers
The study also looked at what it means to be a luxury designer and the type of experience that these individuals bring to each project.
Based on the people interviewed, luxury designers have 13 to 40 years of experience and come from diverse backgrounds – self-taught to design school, contractor to pre-med to management consultant, and second careers.
A typical kitchen project size for luxury designers ranges from $80,000 to $250,000 and the designers generally have the following certifications: NKBA CKBD, CMKBD; ASID, NCIDQ and CAPS, CKBR.
So, how does one find a luxury client? "You can't hunt luxury; they'll run from you," Bustamante said. "It's a tight-knit club. All they do is notice. You can't knock on their doors. You have to walk the life. Take incremental steps with each client, proving that you're the person, one client at a time. The work finds you."
The study does offer the following suggestions to help designers attract luxury work: 
Know thyself - Really analyze yourself and your portfolio to sharpen your story 
Know the client, define the roles - Know your clients better than they know themselves to build trust faster and tailor your service to their needs 
Refresh & reinvent - Fight complacency: continuous renewal is a discipline 
Build/leverage your resources - You're only as good as the resources you bring to each project 
Debrief and repeat - Honor the outcome and the growth of each project by debriefing success
Several designers surveyed provided additional tips from finding a niche to outsourcing.
"Storage was not the niche I wanted to be all about," said Sarah Robertson, AKBD, Studio Dearborn, Mamaroneck, New York. "I was passionate about millwork — crown moldings, cabinetry design, storage. Through social media, the storage kept resonating. I realized it when people kept coming back to me for my storage story. Have a story about what makes your work special to build your brand."
Vicky Serany, Southern Studio Interior Design, Cary, North Carolina, added the following on outsourcing your gaps/hiring to strengths, "Invest in a PR firm — they develop our overall strategy, place us on panels, in local media, on social media. Our projects have a 20-year life span at least, we have to be out nurturing relationships and contacts to find the next business."
Luxury clients
Luxury clients often share a common motivation – earned indulgence, whether they've worked hard and know what they want or have waited a long time for their "forever home." These clients know how they want to live in the kitchen, are not concerned about the expense, and are not going to cut corners because they know it will be worth it. They are also not concerned about resale value because their primary focus centers around tailoring the look, feel, and function of their kitchen to their exact lifestyle and life stage.
The following tend to be characteristics of luxury clients:
Discerning – have life experience and are well-traveled and educated
Collaborative – they are good listeners, have researched and prepared for renovation, and are creative and willing to analyze themselves and how they live in a space
Value and trust expertise – they value design and seek opinions, they trust the process and commit to reasonable timelines
Outcome driven – they have a vision and emphasize that vision over products and features, they have expectations of cost to outcome and are open to investing
"High-end seeks safety; luxury doesn't," said Brendan Flanigan, Brendan Flanigan Interiors Inc., Saratoga Springs, New York, and Manhattan. "If they don't like it, they'll rip it out. High-end consumers are about checklists and dollar amounts. Luxury is about fluidity."
But how can you tell if a client is truly a luxury client or just high-end? It's how they are positioned in the pyramid. According to the study, typical clients focus on the pieces and parts to arrive at a vision. Luxury designers start with a vision, develop it to the best outcome, knowing the pieces and parts are assumed.
"Luxury design starts where most kitchen renovations stop.  A faux luxury client is only interested in the fixtures — high-end appliances, certain cabinets. Real luxury clients know they'll get that. They want to know how you will deliver, how you will take care of them, and what they can expect from you," the study concluded.
To learn more about NKBA's 2021 Luxury Kitchen study and the toolkits, resources, and best practices offered, visit nkba.org.
 
Have something to say? Share your thoughts with us in the comments below.