Hardwood distributor names its '2023 Shade of the Year'
December 14, 2022 | 10:44 am CST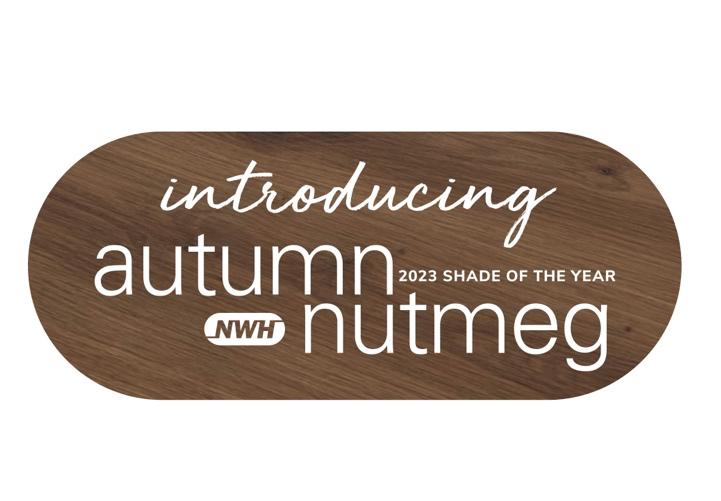 FRISCO, Texas – NWH, a manufacturer and supplier of hardwood lumber to North America, Europe, and Asia, named the shade, Autumn Nutmeg, as the NWH Shade of the Year for 2023, marking the first time the company has made the distinction.
Autumn Nutmeg is a warm brown hue with a red-orange undertone that combines well with dark blues and grays. It also complements lighter greens and purples to produce an energetic palette. The shade is well suited to an array of different hardwood species, textures, and finishes, that can provide a layer of depth and richness. It complements the natural beauty of Alder, Maple, or Poplar wood grains.
"NWH's passion is hardwoods, and we're uniquely connected to the furniture, cabinet and flooring industries," said Todd Walker, long-time industry expert and NWH senior manager of business development. "This connection allows us to predict trends and identify changes of what's attractive to consumers."
The company's selection of Autumn Nutmeg is in line with the growing biophilic design movement. "As we learn more about the positive impact biophilic design has on health and wellness, more designers are choosing to bring nature indoors," said Walker. "An Autumn Nutmeg shade showcases the wood's natural characteristics and helps designers bring people closer to the material and closer to the Earth."
"The Autumn Nutmeg shade is a symbol of warmth and comfort, it offers calm in a time of great change," said Walker. "As opposed to the whites and paint trends of years past, this rich shade invites people to slow down, relax and spend time in place and help form deeper connections."
NWH believes the Autumn Nutmeg shade will remain on trend for at least three to five years, so designers can create spaces that will leave their clients with no regrets.
To learn more about Autumn Nutmeg and see it in action, click here. 
Have something to say? Share your thoughts with us in the comments below.