Finalists selected for #YoungWoodPro contest
March 28, 2022 | 6:06 pm CDT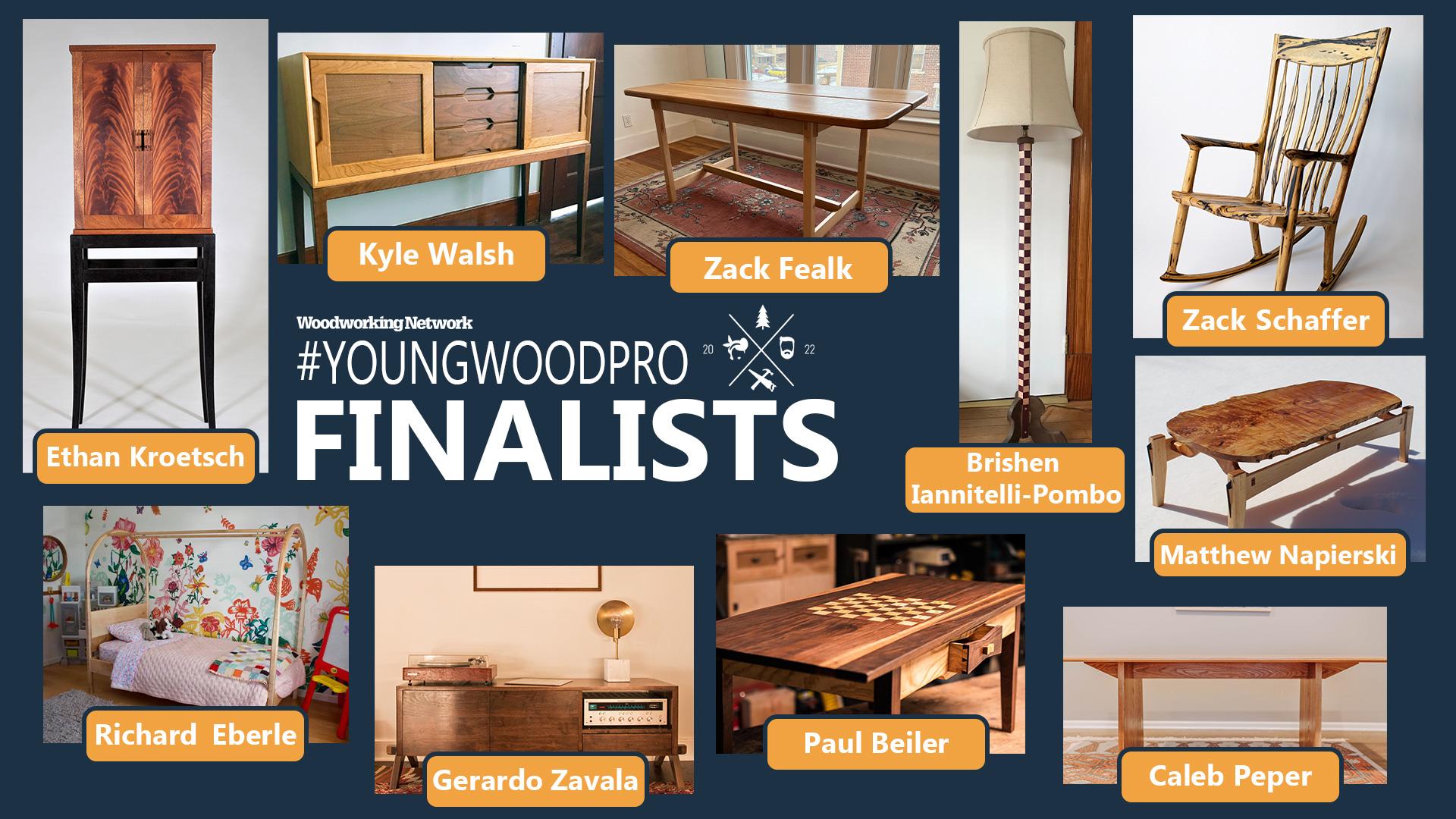 The future of design and craftsmanship in the woodworking industry is a bright one, judging by the entries to this year's Young Woodworking Professionals competition.
The contest recognizes outstanding projects and the young wood pros that create them. Entrants were between the ages of 18-35, (by year's end 2022) and are professional woodworkers.
Ten finalists, as selected by you, the WoodworkingNetwork, will be further judged by a panel of expert judges to determine the ultimate winner. The winner will receive a $500 monetary award and will be featured on WoodworkingNetwork.com and profiled in an upcoming issue of FDMC magazine. 
The ten finalists, are: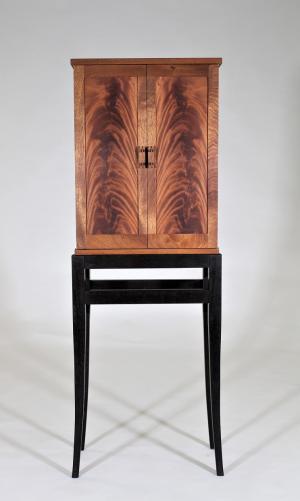 Name: Ethan Kroetsch 
Company or school: Conestoga College
Date of Birth: 07/11/2000
Project Title: The Kroetsch Cabinet
Project Notes: This cabinet on a stand was inspired by famous woodworker James Krenov and his cabinets on stands, and my high school shop teacher. I had originally planned, and 3d modeled, a George Nakashima table over the course of one semester in school, but 2 weeks prior to starting I decided to restart my whole project. This meant that I had to start from scratch, an idea followed by numerous sketches, then 3d modeling, shop drawings, bill of materials. Then, I could start building, once school started.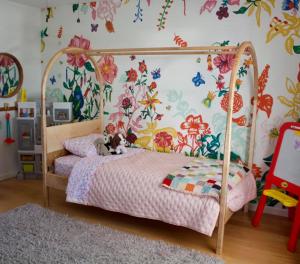 Name: Richard Eberle 
Company/school: Richard Eberle Furniture & Design LLC 
Date of Birth: 10/30/1987
Project Title: Finn's Canopy Bed 
Project Notes: My favorite project that I have ever worked on was a bed for my daughter. Recently, my little girl turned 3. I wanted to build her a "big girl bed" as she calls it. I didn't want to follow a trend; I wanted to design and make a bed that would be fun for a little girl's room, but also elegant enough that she would want to keep it as she grew up. It was truly a labor of love.

Name: Brishen Iannitelli-Pombo 
Company/school: Self-Employed 
Date of Birth: 06/17/1989 
Project Title: Hexagonal Floor Lamp 
Project Notes: The photos included in this submission display a floor lamp that I designed and created over the course of several weeks. The idea for this project struck me after my girlfriend expressed a desire for a floor lamp next to our couch. The idea to use hexagons to design and build this lamp was inspired by nature, as they are simple, aesthetic shapes that often appear in natural environments all around us. Some of my favorite examples include the work of honeybees in the form of their honeycombs and also in snowflakes and ice crystals.
Name: Paul Beiler 

Company/school: Paul's Woodworks
Date of Birth: 07/01/2000 
Project Title: Coffee table 
Project Notes: I made this one with walnut and ash that I got for free off my neighbor's reject pile from his sawmill. Plus, some pieces of firewood that I cut some of the legs out of. The wood certainly isn't of the highest quality, but I did what I could with what I had. I didn't have enough of walnut pieces that were long enough for four legs though, so that's why I extended one with ash via the 4-way impossible dovetail.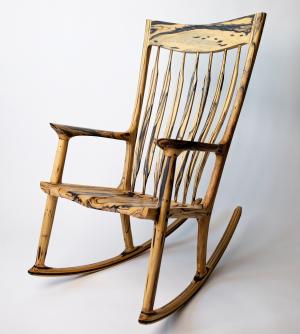 Name: Zack Schaffer 
Company/school: Schaffer Furniture 
Date of Birth: 09/22/1989
Project Title: Black and white ebony Maloof inspired rocker 
Project Notes: Maloof inspired solid black and white ebony rocking chair with gabon ebony accents.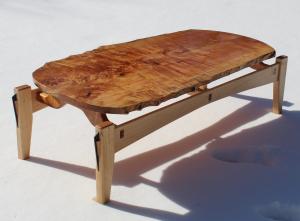 Name: Matthew Napierski 
Company/school: Keiichi Kagu LLC 
Date of Birth: 08/21/1987 
Project Title: Tea Table 
Project Notes: A Japanese tea ceremony inspired coffee table. The book-matched figured maple top is paired with a maple base and wenge accents. Embellished, contemporary tusked mortise and tenons were used along with more traditional flush cut double wedged mortise and tenon joints.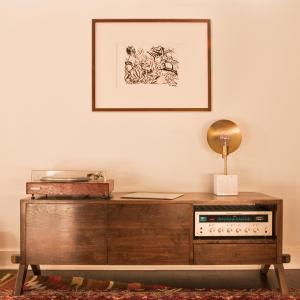 Name: Gerardo Zavala 
Company/school: ZVL Studio LLC 
Date of Birth: 12/21/1987
Project Title: Aura Media Console 
Project Notes: This work celebrates and combines two of the most significant interests in my design career; furniture and audio. As it has been apparent in recent years, vinyl has made a comeback as an audio format. Vinyl turns the listening experience into physical engagement, and this piece amplifies that into a gratifying ritual. From opening the cabinet to select a record, to the dropping of the needle. The Aura Media Console acts as the catalyst for the entire experience to come together in beautiful fashion and gives every component its rightful place.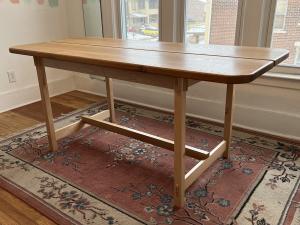 Name: Zack Fealk 
Company/school: Sam Beauford Woodworking Institute 
Date of Birth: 10/30/1990 
Project Title: The Gathering Table 
Project Notes: I wanted a table that was soft to look at and sturdy to last years. The aprons are interlocked with a castle joint and the stretchers are locked in with a double wedged through mortise and tenon. The wedges are walnut for a dramatic accent. The table top itself is split into two and made from a 1-1/2" thick piece of white oak.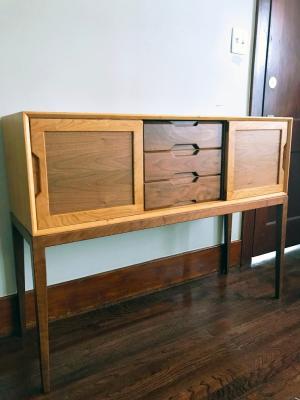 Name: Kyle Walsh 
Company/school: Sam Beauford Woodworking Institute 
Date of Birth: 09/27/1989 
Project Title: Modern Sideboard 
Project Notes: This midcentury inspired sideboard is constructed of solid cherry and walnut, with features including wrap-around grain, bookmatched veneer sliding doors, and three drawers with recessed finger pulls. There is a variety of joinery such as mitered corners, dovetailed drawers, mortise and tenon, and dowels. This piece took approximately 100 hours to complete.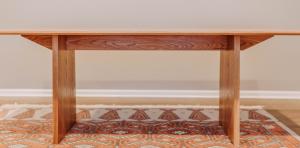 Name: Caleb Peper 
Company/school: American Modern Furniture Company 
Date of Birth: 02/18/1991 
Project Title: LoAnn Dining Table 
Project Notes: This white oak dining room table features a hand planed relief on the underside to lighten up the look and feel. The selection of the joinery supports the motif both aesthetically and functionally. More specifically, a mortise bridal joint connects the legs to the apron and floating tenons connect the legs to the tabletop. The design was influenced by Scandinavian and modern farmhouse styles. Named in honor of my grandma LoAnn who knew how to load the dinner table with good food and love.
Have something to say? Share your thoughts with us in the comments below.