Custom woodworker's tables flow with 'edgy' design
By Kylie Shea
October 20, 2021 | 10:33 am CDT
Craftsman, owner and operator of Fort Wayne Industrial Revolution, Lee Hoffmeier has learned a lot of tips and tricks over the years producing his custom-designed wood products.
Hoffmeier, who is also a full-time engineer and member of the National Guard, recounted how he first became interested in woodworking. "I had an industrial-looking apartment that had exposed brick and black iron pipe. It was a very cool setting, and I didn't have a coffee table or an end table," Hoffmeier said. After spending "a decent amount of time looking on Etsy, Pinterest, etc. for ideas," he said, "I found this cool live edge and raw material-looking vibe that matched the industrial setting to my apartment. I thought that was neat, but I just wasn't ready to dabble in making a whole table.
"Fast forward three years. I purchased a home and I wanted one of those live edge tables with epoxy in it. So, I thought to myself, 'I'm going to try this myself.'" Just like any other craftsman, Hoffmeier knew his vision, and through trial and error created exactly what he wanted.  "My cousin ended up selling me my first slab. I did the research and bought good products to produce what I wanted. I still have that first table!"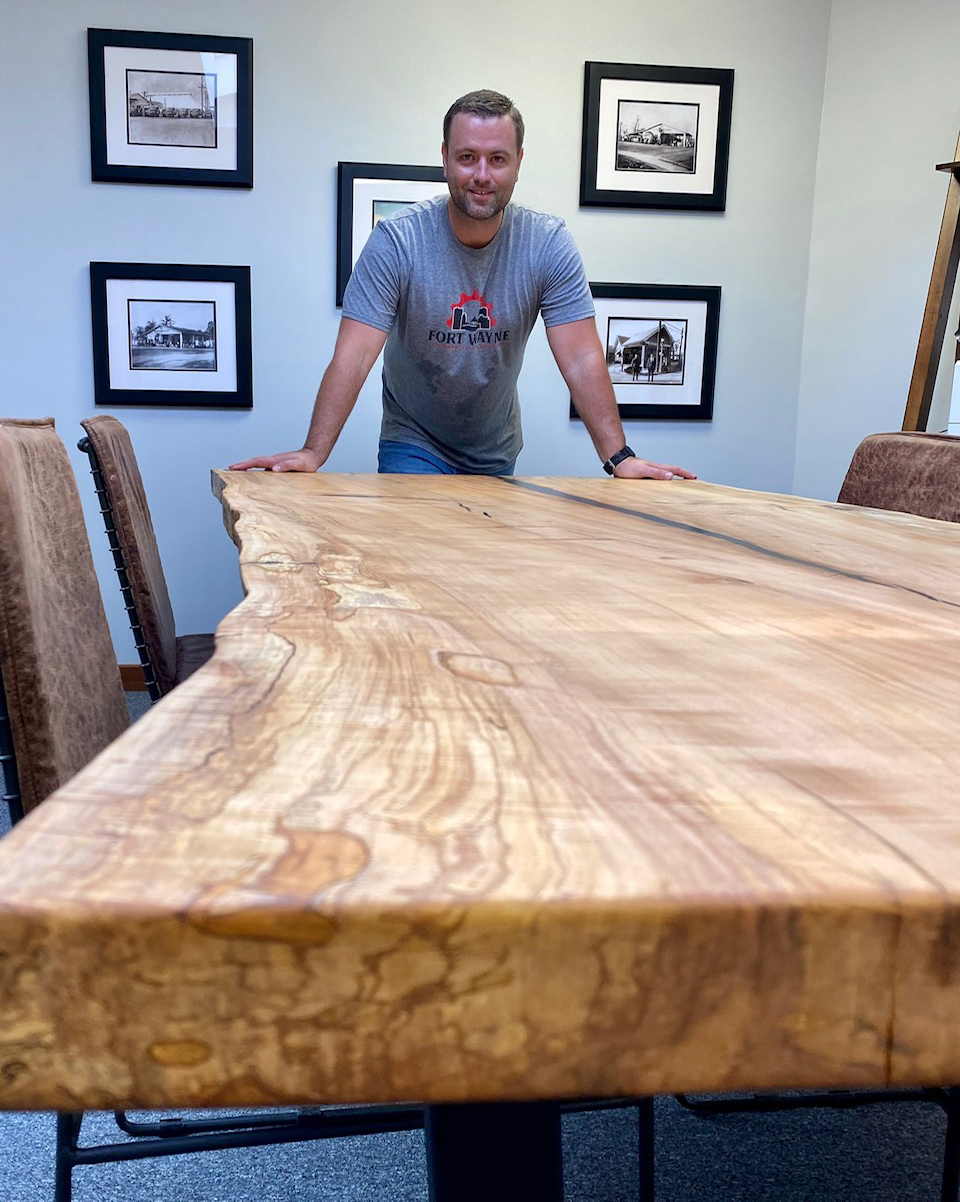 Buoyed by the excitement of building his own furniture, and the experience growing up of working in his father's construction business, in 2017 Hoffmeier established Fort Wayne Industrial Revolution, a custom table manufacturer based in Indiana.
That first project has led to many others. "I like to have my customers come to my house for consultations. That's where we do our first consultation, as we are sitting at my first product – I think it's a full-circle moment."
The creative process
Hoffmeier's custom table creations take hours of dedication and a crafty hand to get the final look that he accomplishes. "First, the client gets a hold of me, usually through social media. Then we do a very brief initial consultation; this process must start with a meeting."
Initial details are hammered out during the first consultation. Hoffmeier will ask: What species of wood is preferred? Do they want the table to include an epoxy feature? What is the desired length and width of the project and the space it needs to fit into? Will there be table extensions or leaves? Do they want a live edge? Do they want it oval, square, triangular, rectangular, etc.?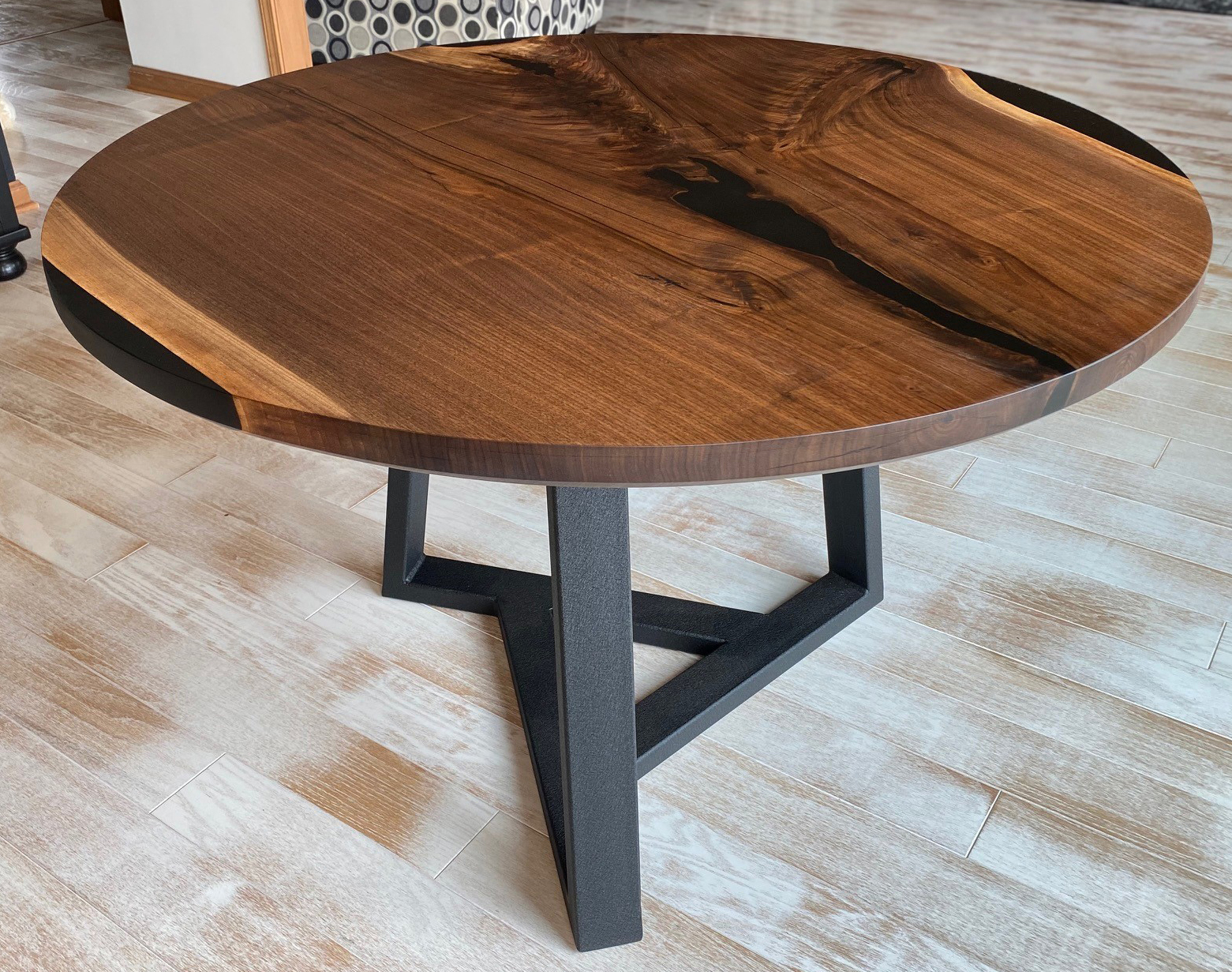 Hoffmeier also understands the worry of cost and budget. He attempts to ease their uncertainty by going over details of the project and explaining to the customer that he must know exactly what they want before they go over budget to understand the determining factors of price.
"There is an abundance of questions that you must ask your client because your client may not even be aware of all the details. They're just thinking, 'I need a table.' No craftsman is a mind reader, so I push for a lot of details."
Hoffmeier continued, "I typically ask the client to look through my Instagram and/or through other creators' Instagram pages. If they see something that they like, then they can screenshot and send the picture to me. When we discuss size, I often suggest they get a tape measure or a cardboard cutout on the floor. This is to lay their dimensions out and get a visual representation of what that size might be."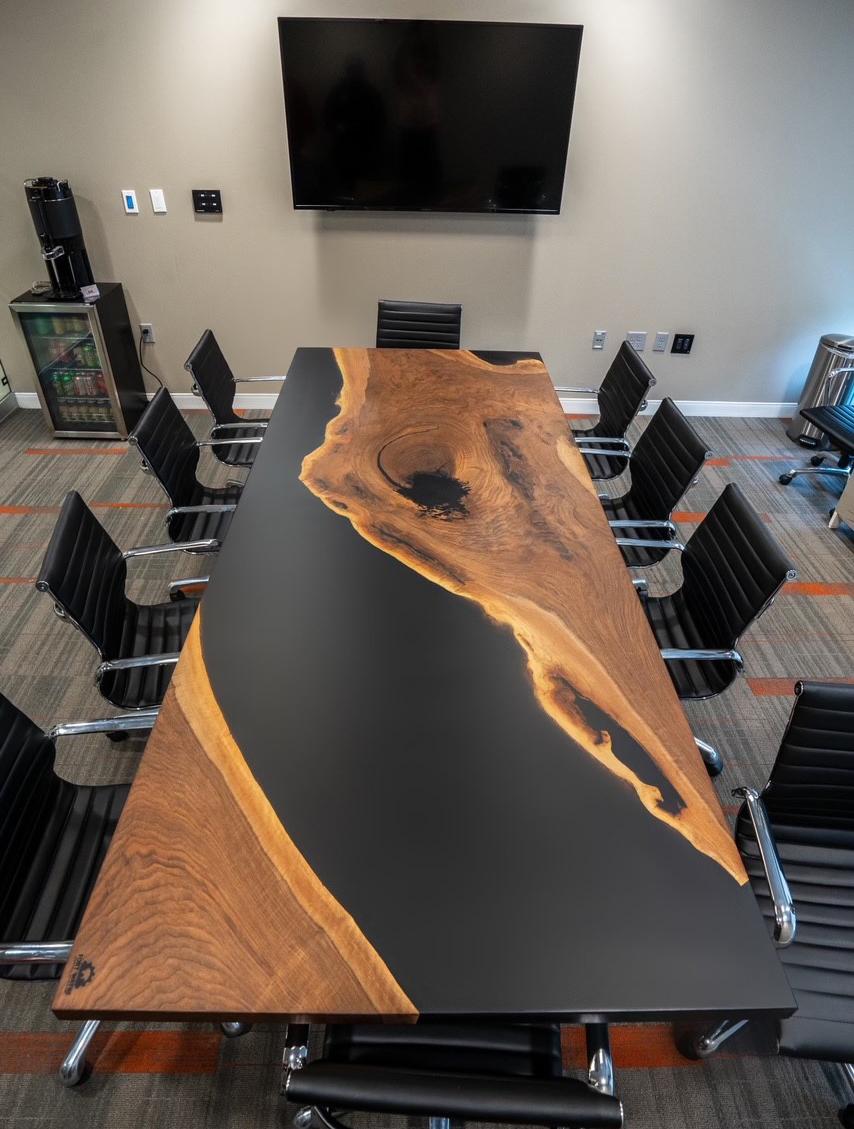 Crafting the custom table
Hoffmeier then begins the process of creating his pieces. "I go out and do my sourcing so either it's local, online, or by phone calls. Sometimes, I can even bring my client (if they are local) to my supplier, and they can individually pick out what slab they want. That has worked out well for me, my clients, and my business."
For example, he said, "I had a client in Southern Indiana that wanted a 30-foot conference table. The only place I could find 30-foot slabs was out of state. There were complications in getting these slabs. In the process of problem-solving, the client and I realized that we could use individual slabs that were 15 feet long. We created something truly unique, and the client loved the outcome."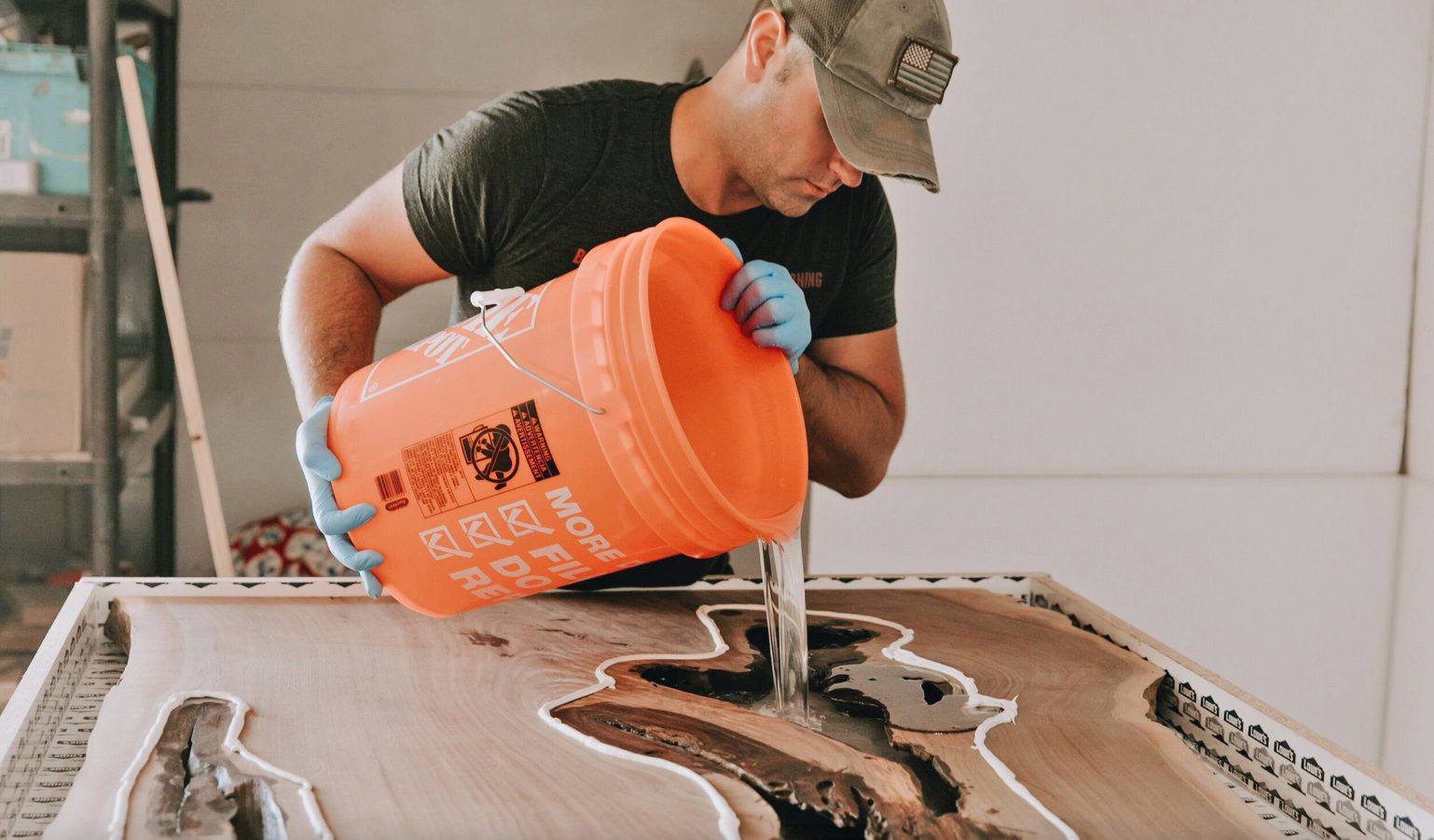 Once the wood slab is selected, Hoffmeier cuts it to the desired size and shape. "After that is done, I build the form for the epoxy and double-check to make sure I am sealing off all the corners; otherwise, epoxy will leak everywhere. When mixing the epoxy, it creates many bubbles [so] I let my bucket set for like 10-15 minutes before I pour. I'll come back every five minutes and pop the bubbles because just I want those to come to the surface as much as they possibly can to eliminate the imperfections before I pour."
After pouring the SuperClear epoxy, he will wait 10 days for it to cure. During that time, "I use a flame to take out the bubbles, some people use a gassing chamber, both work fine. After the 10 days, I pull off the mold and wait a few more days before I take it to the wide belt sander. Most epoxy companies determine 3-7 days after a pour is safe, but sometimes I'm pouring 30 gallons, so I like to give it extra time to cure."
He added, "The way I deal with epoxy depends on the result that the client wants. For example, if it's a transparent-looking piece, I seal all the edges, wait for the epoxy to settle, then pour and flame. This process also depends on the pigments you use. When you pour a liquid pigment that is transparent, you're going to see the bubbles. If you use the metallic pigment and go transparent, the microbubbles are hidden a bit more. The liquid transparent pigments are really what give trouble to a lot of people – I am careful when popping bubbles." He also keeps fans on it, which helps cool the epoxy.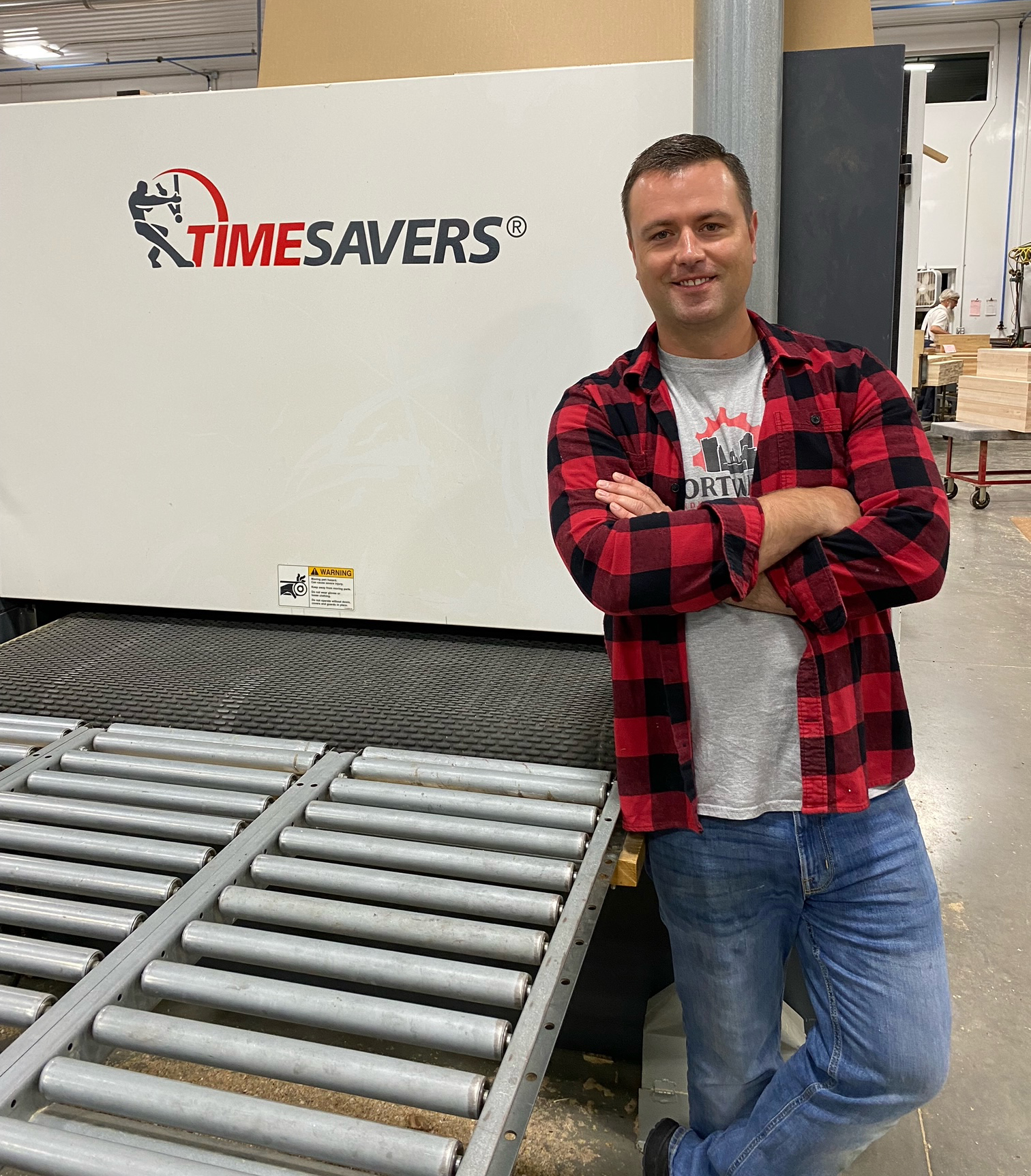 Sanding is the next step in the process. Acquired a few years ago, the Timesavers 3300 Series is a workhorse at Fort Wayne Industrial Revolution. Hoffmeier typically starts with a 120 grit on the Timesavers, although he said, "I can backtrack a little bit to 100 grit on my sander just to get those lines out.
"I like to get a uniform finish, so I do a random orbit in between doing a water pop. When you water pop, you must wait about 20 minutes and revisit the wood to see if there is any raised grain. You must be very diligent about this because it is more probable to pop when you put oil on it. By the time I get to the 180-grit area, it feels so smooth," he added.
"When the table has a nice-looking finish that is very clean, I move on and put the C channels on underneath for additional support around the edges. Then I go into the process of oiling, which needs to be done at one time."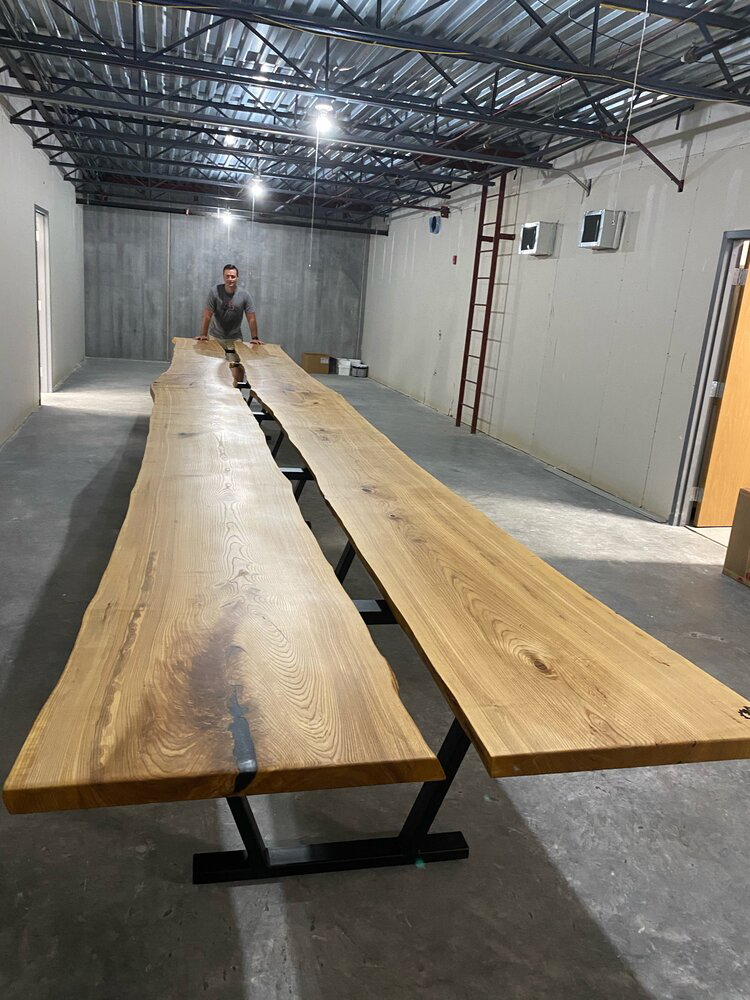 He typically uses Rubio Monocoat oil for the process. "I oil the bottom side first and wait for 15 to 20 minutes, then I buff it out and repeat on the other side. I do not touch the oil at all within 24 hours because if you touch oil before it is done curing, it leaves fingerprints," he explained.
Hoffmeier will usually deliver the projects to customers himself, rather than use a service. "I typically refuse to ship my products because of the uncertainties of environmental factors. It could sit outside under the sun and heat or the bitter cold, or in humidity. Temperature can affect a finished product."  
The challenge: Making design dreams a reality
Every business owner has a challenge in the process of making their products. For Hoffmeier, this challenge is the consultation with the customer. Hoffmeier said he believes this is the most important step to zero in on the customer's vision for their piece and details are very important to make sure that the customer is ecstatic about the product.
"The consultation [tends to be] the most challenging part of the process," he said. It's where my customers get a great feel for me, the process, and their vision. This is the step where they determine if they will end up moving forward with the process."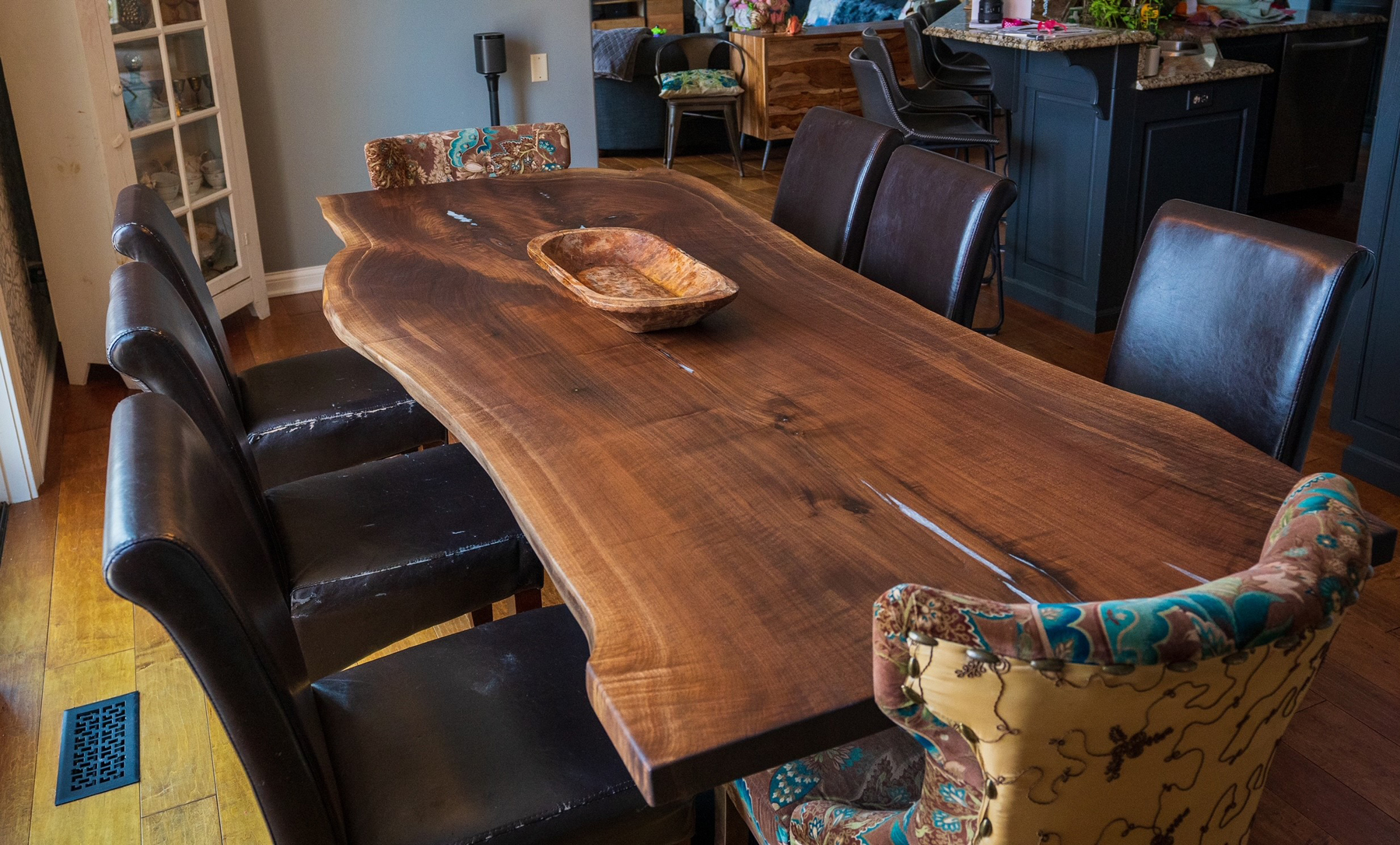 He added, "Sometimes they want a dining room table and the very first question they want to say is 'How much?' Then I must push for them to answer questions like: Do you want darker woods or lighter woods? Are you looking for a color combination? Or do you have something in your house you're trying to match? All those things help me factor out exactly what they are looking for and assist me in determining an estimate."
Hoffmeier related an example: "I had a client contact me because they had a sculpture that was made in Italy. They wanted that white sculpture to match the wood of their table. That was the look they were going for, and I had to tell them that I do not bleach wood, but I can stain it white. I won't paint it white either. It was hard for them to understand that if you bleach it, you're going to potentially ruin the structural integrity of the wood fibers. Bleaching it means that you're technically chemically burning it."
He continued, "Consultations are sometimes difficult, because of the vision they want. Each piece is 100 percent customizable. The customization is made up of the species of, the color of epoxy, leg configurations. There are just so many things that must be asked because if you don't ask them, then they expect something that wasn't discussed."
This attention to detail and customer needs is what sets Hoffmeier apart from his competitors. He dedicates his time and effort to making the product perfect before it leaves his shop to go to a new home. Hoffmeier's experience and expertise also help guide clients into a higher quality product that could last for decades if cared for correctly.
Fort Wayne Industrial Revolution is a company built on expertise, customer experience, and a passion for woodworking. Hoffmeier has constructed his business to produce the customer's vision, letting the customers assist in the process, yet not lowering his standards for a product or technique that lessens the structural integrity of the project. For more on the company and its custom tables, visit fortwayneindustrialrevolution.com.
Source: Kylie Shea is a marketing specialist with Timesavers Inc. For information on Timesavers and its sanding technology, contact 800-537-3611or visit TimesaversInc.com.
Have something to say? Share your thoughts with us in the comments below.