Kayak floats Young Wood Pro winner
March 16, 2018 | 10:33 am CDT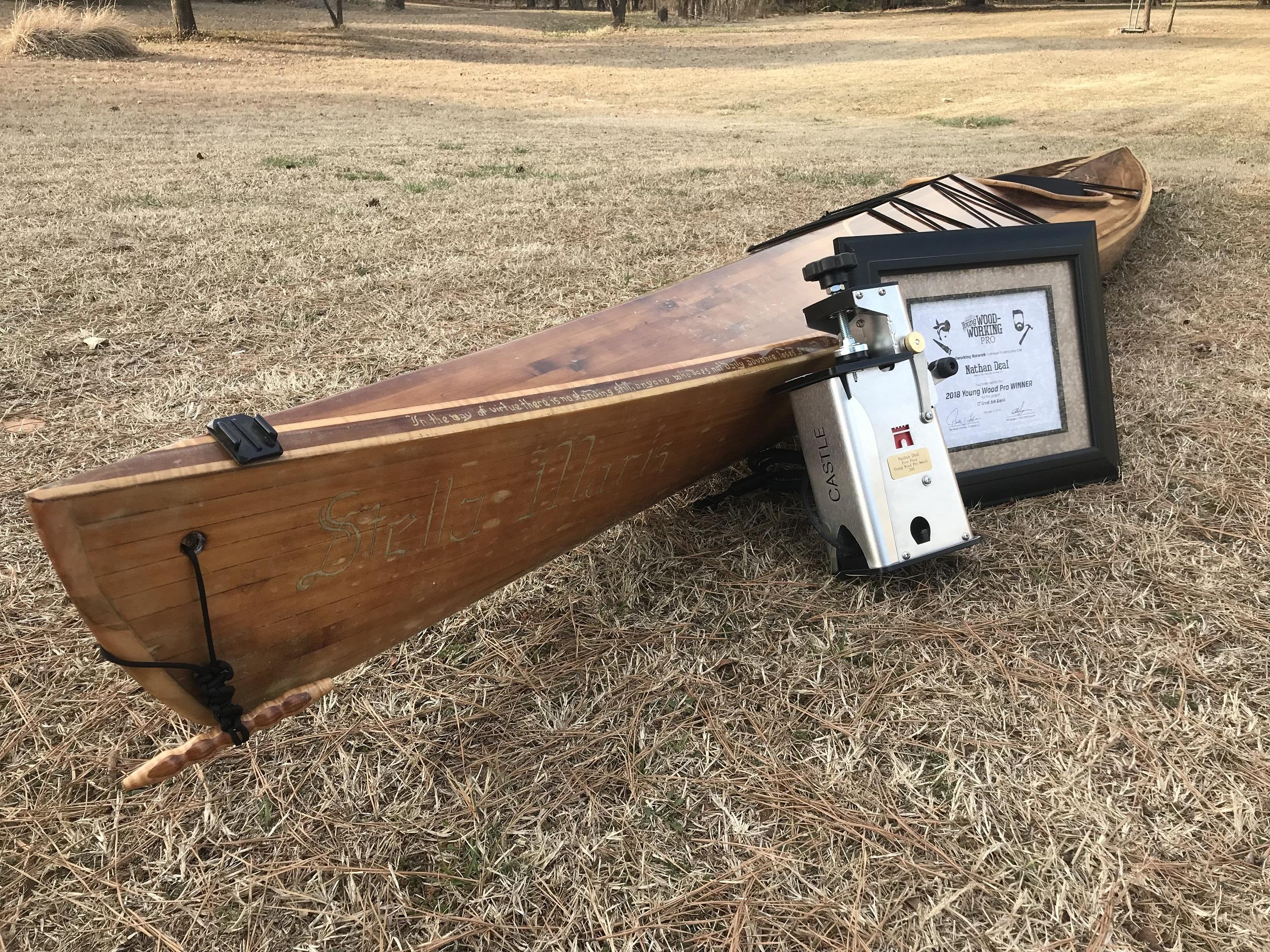 When we asked woodworking professionals under 35 to enter their work in our Young Wood Pro online contest, we were amazed at the variety and quality of projects submitted. Finalists ranged from kitchens and cabinets to turned pens and even a cradle made from a baby grand piano carcass. But it was an elegant kayak that sailed (paddled?) away with the top prize.
2019's Young Wood Professionals contest deadline for entry was extended through January 6th - you can enter simply by posting a photo/description of a recent project to Twitter/Instagram/Facebook with the hashtag #YoungWoodPro (more information available here).
Nathan Deal, a 27-year-old woodworker who operates Against the Grains Art in Norman, Oklahoma, said the 17-foot-long Great Auk Kayak he entered in the contest was the first boat he'd ever built. But it turned out spectacularly with western red cedar strips accented by curly maple.
Deal said the most challenging part of the project was the huge learning curve because he had never built a boat before or done such a large fiberglass project.
"It had always been a dream of mine to have my own kayak," he said. "I decided to take a plunge, but it was a huge learning curve." He said he did a lot of research, reading a lot of books, and he particularly based his project on boats done by Nick Chase.
Construction took about a year of working on weekends, Deal said. "The most challenging part of it because of the huge learning curve, was I'd never done such a large fiberglass project before," he said, adding that it was also a challenge to do all the hand-tool work involved especially in finding the right angles required by the boat.
A close-up of the cockpit shows some of the intricate angles that made the project particularly challenging.
Deal learned woodworking in a vocational technology program, but then he left for missionary work before trying to launch his woodworking business about a year and a half ago. Most of the work he does is more conventional cabinetry, such as kitchen remodels and built-in projects such as entertainment centers. "Everything is custom," he said.
Reflecting his religious commitment, the kayak has a few special details. At the boat's stern, there is a scripture verse from Matthew 28:20, "Behold I am with you always until the end of the age." At the front of the kayak is a quote from St. Bonaventure: "In the way of virtue, there is no standing still. Anyone who does not daily advance, loses ground. If one does not conquer, one will be conquered."
The stern of the kayak is decorated with a Bible scripture from Matthew 28:20.
This year's Young Wood Pro contest attracted more than 60 entrants who submitted photos to the Woodworking Network Facebook page. Five finalists were chosen based on the number of likes the photos received. Then a panel of editors from the Woodworking Network staff judged the finalists to pick Deal's kayak as the winner.
In addition to being featured in FDMC magazine and on the Woodworking Network website, Deal also received a framed certificate and a portable Castle pocket hole machine, which he will surely find handy in his more conventional custom cabinetry projects.
Yes, the kayak actually floats, as shown here. Deal, standing at the stern in this picture, said he always dreamed of building his own kayak.
Have something to say? Share your thoughts with us in the comments below.