Results of the 2016 Cabinet & Closets Conference & Expo survey
June 20, 2016 | 9:48 am CDT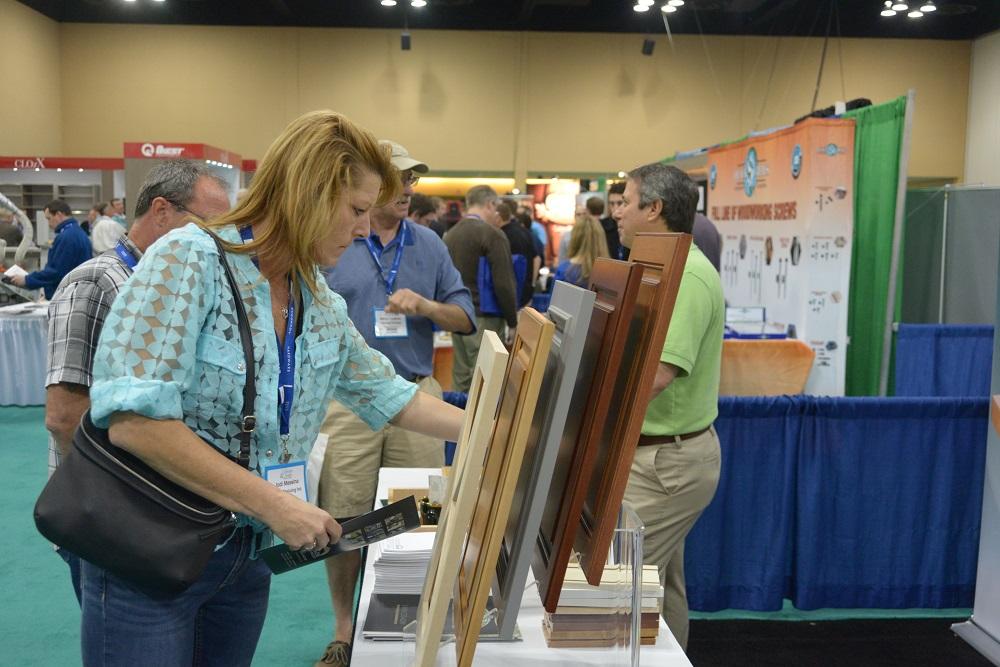 CEDAR RAPIDS, Iowa - The 2016 Cabinets & Closets Conference & Expo held March 22-24 at the Pasadena Convention Center in Pasadena, California was a resounding success with a significant increase in attendance and size. Show attendance shot up 24 percent compared to Cabinets & Closets Expo 2015 in Chicago. And total square footage for the Southern California event, held at the Pasadena Convention Center, increased by 28 percent, including 30 first-time exhibitors.

Woodworking Network surveyed attendees of the successful event and here are some of the highlights:

Approximately 65.79 percent of the attendees for the 2016 Cabinets & Closets Conference & Expo said cabinets was their primary industry segment and 55.26 percent said closets. (Editor's note: respondents could choose more than one category so percentages may equal more than 100 percent). Approximately 13.16 percent identified other industry segments (all, surface design, restoration, repair & remodeling, distributor, and shelving, storagewalls).

When asked to describe their primary product or service category the most prominent phrase in the word cloud was cabinet manufacturing and closet cabinetry with remodeler and storage systems registering greatly as well.

Attendees can also be classified as industry veterans with 70.27 percent having 10 years or more experience working in their primary product or service category. 16.22 percent have 5-9 years of experience.

Small companies represented about half the attendees and medium to large companies represented the other half. Approximately 57.89 percent came from companies with less than 10 employees, 26.32 percent were from companies with 10-50 employees and 15.79 percent represented companies with more than 50 employees.

A majority of the attendees described themselves as having primary purchasing influence at their companies. More than 95% either have the final say or recommend products to purchase.

When it came to how far 2016 Cabinets & Closets Conference & Expo attendees traveled to reach this year's event, 47.37 percent said they traveled over 100 miles, 42.11 percent traveled between 25-100 miles and 10.53 percent said they traveled less than 25 miles.

According to the surveyed attendees, their top reason for attending the 2016 Cabinets & Closets Conference & Expo was to see new products – approximately 47.06 percent picked it as their number one reason for attending.
2017 Cabinets & Closets Conference & Expo
Cabinets & Closets Conference & Expo 2017 will be held April 11-13, 2017, at the Renaissance Schaumburg Hotel and Convention Center, located in Schaumburg, IL (Chicago).

Plans have already started for an even more robust conference program and plant tours in 2017. To stay up-to-date on the latest industry and show news, please check out the Cabinets and Closets e-newsletter sent every Thursday.

For more information, visit www.cabinetsandclosetsexpo.com.
Testimonials
"Great event! Learned a ton, and discovered new products and trends in the industry. The seminar and classes were helpful - especially the FDMC pricing survey discussion!" Zach Scane, Operations Manager, Scane Custom Cabinets

"Very impressed, with what is on offer in terms of software product and also Closet accessories. We have since made a purchase of software due to my visit to the expo the trip from new Zealand was well worth it."

"I'm starting my own business and needed to hook up with vendors who sell the items I want to offer. My company is Closet Time."

"Primarily, the main benefit of participating in an event like this is to expand our awareness of what other leaders in the industry are doing and get energized for positive changes in our businesses. It was great to get around and see what is happening in the closet industry and evaluate the possibilities."

"Must attend closet show of the year! Lots to learn, and see." Shaun Oriold. Owner. Closet Envy Inc.

"Worth repeating came away with many ideas."

"The small size allowed for good interactions with vendors and networking with attendees." Bruce Hennig CEO Sawdust Ltd.

"As a small business that is just getting started, and a first time attendee, I found the conference sessions extremely valuable. I picked up a lot of great info, and I found it reassuring that the thoughts I have, for the direction I want to go, seem to be on the right track." Kyle Argall Owner KMA Carpentry, LLC

"The design and product knowledge gained at this years show was immeasurable. I am already using the new techniques I learned, and some of the new products in my designs. I can't wait for next year!" Wendy Scott Designer Sophisticated Storage Solutions

"Show was very well planned. Great location in Pasadena." Don Silva Territory Manager Value Hardware
Have something to say? Share your thoughts with us in the comments below.