Innovate Home ORG launches as a new home storage firm
May 4, 2016 | 11:35 am CDT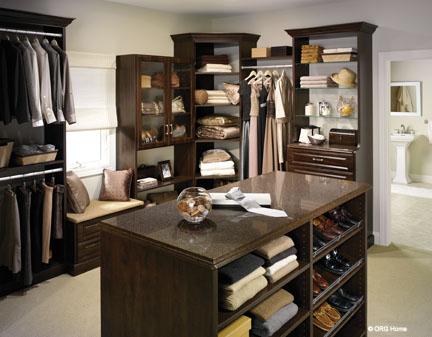 Photo By Innovate Home ORG
Innovate Home ORG is a new home storage and organization business that launched April 25, 2016, in Columbus, Ohio. However, owner Mike Foti is no stranger to the remodeling industry: He also owns Innovate Building Solutions, which has locations in Columbus and Cleveland, Ohio, and supplies building related materials such as glass blocks, and windows and doors.
But what prompted Foti to become a dealer for Home ORG products from The Stow Company – one of the largest home storage and organization companies in the industry – was a chance meeting with a closet company at a local builder event.
"I had looked into getting into the closet business 8 or 9 years ago," Foti says. "I did a little of bit of research and met with a few people and then just got on to other things and didn't return to it. Then, about a year ago, I saw a company, that was selling and manufacturing closets, at one of my builder events. It was a networking night for our builder group. And I thought 'You know, I better look back into that'. It was really that vendor being at that show that made me want to dig into it more."
Foti then met with representatives from that company as well as another but after meeting with a third closet manufacturer, The Stow Company, he decided to become an ORG dealer.
Innovate Home ORG operates as a division of Innovate Building Solutions, but it has a separate website.
"In talking with people it struck me that it is a very niche industry. So, to really establish that site it's probably best not to have it get lost on the [Innovate Building Solutions website]," Foti explains.
Building showroom space
Foti plans to show several ORG Home displays in his current showroom. He created a design for how to incorporate the new products into the existing building materials displays.
"There will be a corner unit and a couple of displays of floor-mounted units and then there will be some wall mounted product with double hang and single hang and then there will be a garage cabinet," he says. "We're not going to be able to show everything. But we will show most of it for people who want to come in and [see the products]."
When it comes to staffing, Foti says he will have dedicated designers for Innovate Home ORG because the business will benefit from having someone solely focused on it.
However, he has to get everyone up to speed with training first, so in the short run, he and another long-time employee who works in inside sales will take the lead. But his goal, after the business is up and running, is to have a full-time manager oversee it.
Even with Foti's extensive business experience – he purchased Innovate Building Solutions, which started in 1977, from his father in the 1980s – he realizes that "just because you've been in business for a long time does not automatically guarantee success." So, he has been looking at new avenues.
"My goal is to connect with people and to network," he says, "and another goal is digital marketing. My gut feeling is that is going to be important for this type of business given it's clientele. Our focus is first and foremost going after the consumer. I am hopeful that the skill set that I got from my existing business will help. It's an increasingly important way people are finding you by using different digital forms – whether it's a blog post or social media, a website or video – my goal is definitely to use digital content to help us succeed."
Have something to say? Share your thoughts with us in the comments below.