Family garage has something for everyone
June 13, 2019 | 8:26 am CDT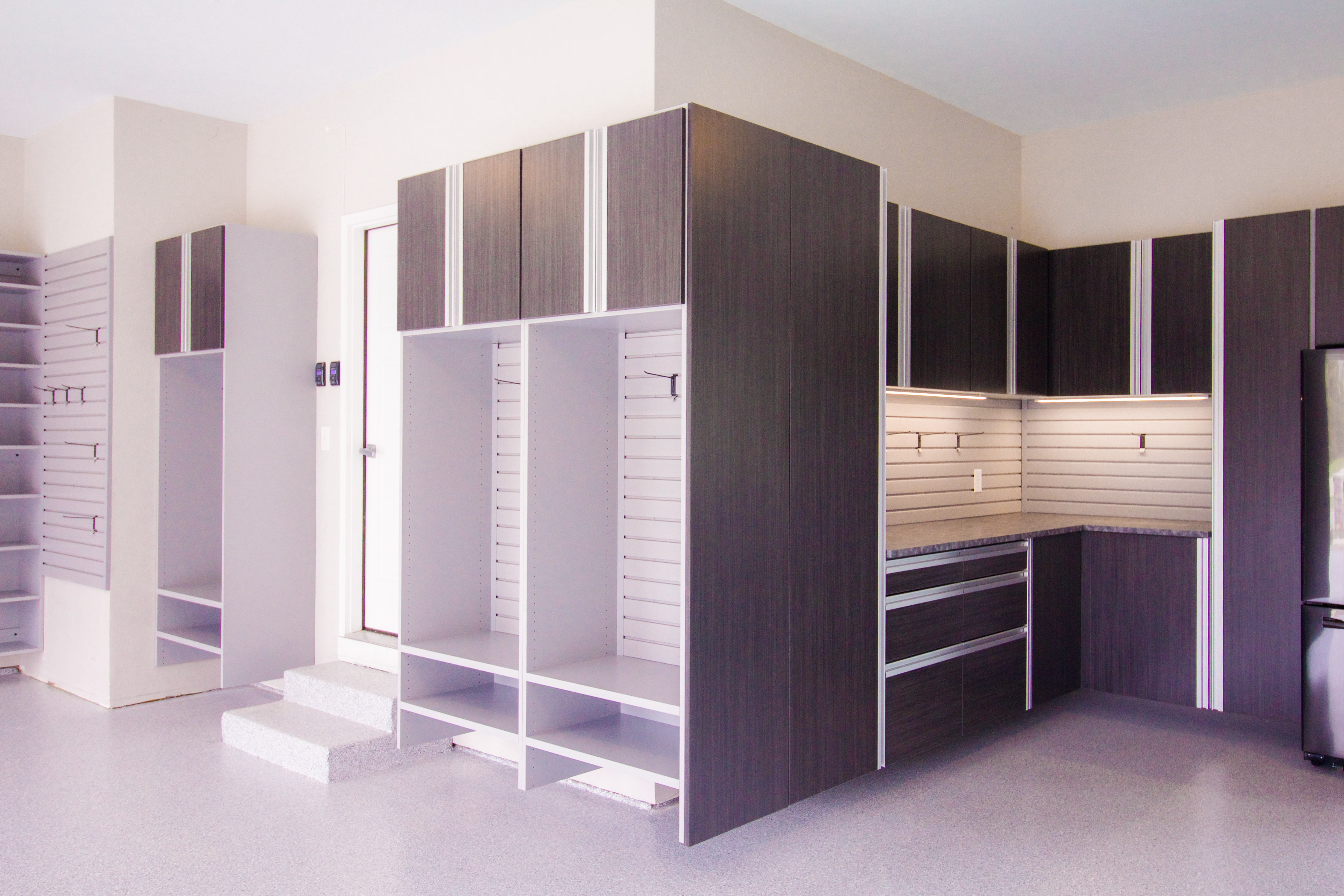 Photo By Innovative Spaces / EncoreGarage
Designer Erin Stopczynski, Innovative Spaces / EncoreGarage, located in Granger, Indiana, won honorable mention in the 2019 Top Shelf Design Awards, Garage under 600 square feet category, for the project "Family Garage."
Here's how Stopczynski described the project:
Project description
This project had a long list of needs. With a very active and sporting family, each person needed their own locker cubby near the house. Each space incorporated, room for outdoor shoes, hanging sports bags and gear, muddy and snowy boots directly on the floor, and storage behind doors above. 
Additional shoe storage was needed, for cleats, and sports shoes that currently overflowed the mudroom. Dad wanted his corner of the space to include a large counter top, room for tools and related items. Keeping the chemicals up high and out of the reach of little hands was also a must. As this corner would often be used as a hang-out space with his friends, close proximity to the refrigerator was required, along with some upgraded lighting. Keeping some open space in the area for a large poker table was also addressed in this back corner.
Additional storage behind doors was required for the grilling cabinet, with the necessary selection of tools and charcoal. In addition to each locker unit near the house, each family member has their own cabinet near the French doors leading to the backyard and pool area. 
More recreational sporting items such as yard games, sidewalk chalk, kites, and stored here. Slatwall was utilized on both sides of the garage to accommodate the larger items such as the despised but required snow shovel, rakes, and brooms, in addition to the bikes and more sports gear.
 At the upper most area of the slatwall metal shelves were installed for storage of seasonal house decorations which also required their own space. Santa and his reindeer reside most of the year in plastic storage totes, looking down on the active family. 
The job was given a modern two tone look with all cabinets and components done in a solid light grey, and the doors and drawers in a darker wood grain. Extruded handles and a swirl counter top, complete the look. 
The entire job was installed in two and a half days. This was preceded by our company also installing a super easy to clean Flex-Core epoxy flooring system. The entire project including the flooring was completed in under a week.
Project construction details
 The project had a number of details that had to be worked through before installation. With cabinets wrapping in a continuous format around an inside and outside corner, special consideration was required for the out of square corners. Blind cabinets were utilized in the upper and lower cabinet areas, for the inside corner. 
Also having everything off the floor, with 24-inch deep cabinets hanging off an outside corner, required all cabinets to have a fully integrated 3/4-inch back for strength. Relocating the refrigerator and having power for the undercabinet lighting required coordination with the electrician.
Materials used
Handiwall wall panels, Hafele LED lighting, TFL cabinets and panels, and maple butcher block
Equipment and/or software used
OrgDesign 
Have something to say? Share your thoughts with us in the comments below.