The Container Store redesigns flagship store with focus on closets studio
June 28, 2018 | 8:45 am CDT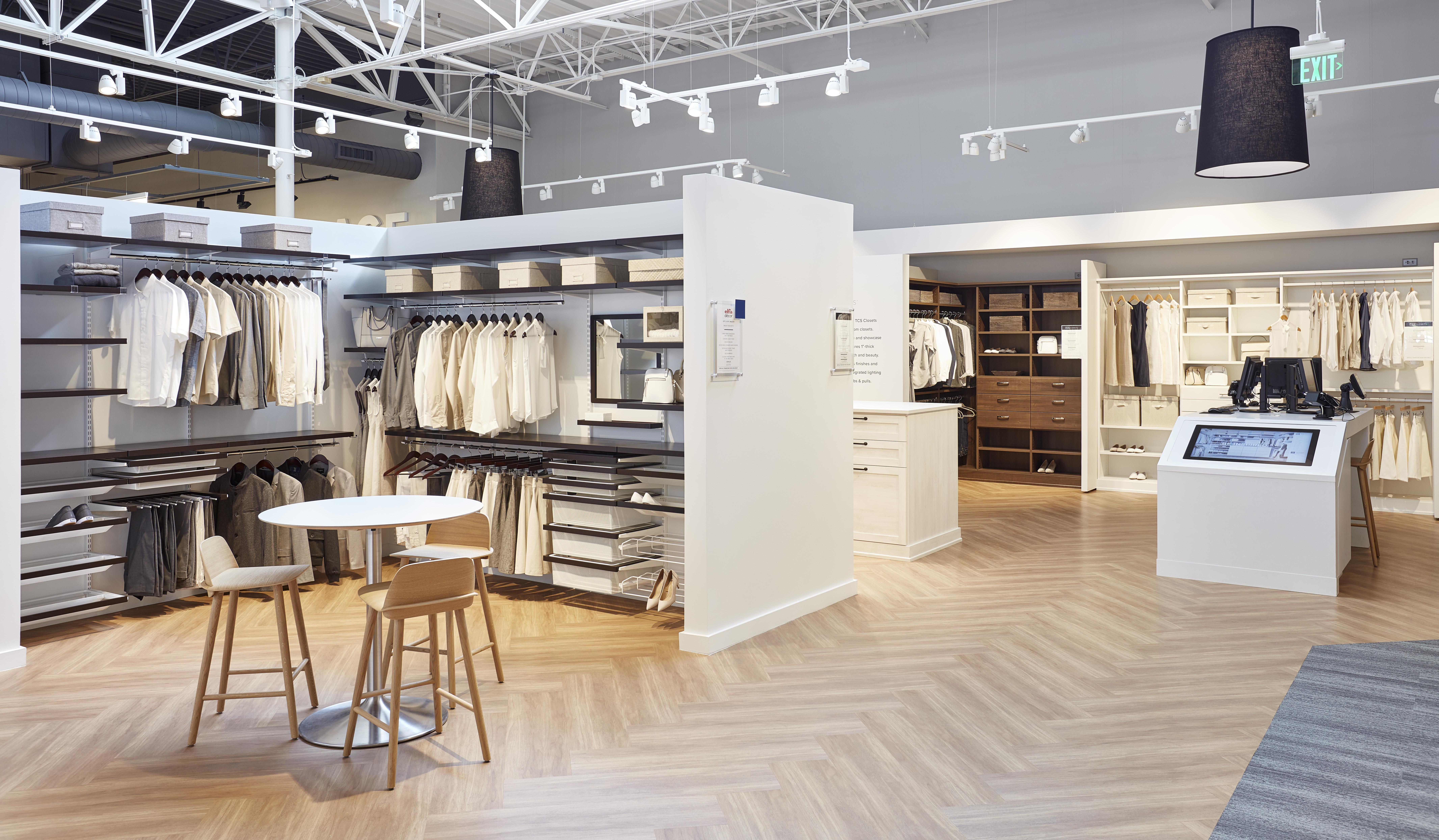 Photo By The Container Store
COPPELL, Texas - The Container Store, a retailer of storage and organization products, redesigned its flagship store in Dallas into a concept store with a significant focus on its custom closets line. 
The Next Generation Store concept is a result of extensive consumer research conducted in partnership by The Container Store, strategic design and architectural firm, FRCH Design Worldwide and digital innovation agency, MJD. It brings to life a customer experience that offers a balance of convenient and unique digital resources combined with personalized service to deliver on the brand's purpose. The innovative new concept will serve as a test and learn environment to determine elements for eventual rollout to new and existing locations.
The Container Store Next Generation Store entrance.
"Our purpose as a brand is to help our customers accomplish their projects, maximize their space and make the most of their home. In order to help them achieve those goals you'll see a focus across all of our channels on making it easier to find the solutions they want and need," said Melissa Collins, chief marketing officer for The Container Store. "The Next Gen Store plays a key role in bringing our purpose to life and continuing to cultivate meaningful relationships with our customers."
The architectural design breaks the store space into manageable areas that naturally pull the customer through the store and make it easier to navigate. Ceilings were lowered to make the store more inviting, rows of shelving were removed to improve sightlines, and new flooring, as well as enhanced lighting, were implemented to create a more approachable and comfortable environment.
There are interactive screens at the Custom Design Centers showing more examples of "real" closet spaces for customers to peruse.
Part of the new architectural design includes a Custom Closet Studio
The Container Store's new Custom Closet Studio features higher ceilings, closet vignettes allowing customers to visualize possibilities at every price point. It is an elevated and more comfortable experience featuring a new hospitality component, including a seating area where customers can review an inspiration book and gather ideas for their own spaces, the company says. There are also interactive screens at the Custom Design Centers showing more examples of "real" closet spaces for customers to peruse.
In addition to the Custom Closets Studio, new merchandising is reflective of a real home kitchen or office space to allow shoppers to get a sense of how products might work in their own homes. Small and large project solutions are highlighted throughout the store to show how one might begin a project or maximize their space in an area they had not yet considered organizing.
The technology components in the store were finalized after many rounds of customer testing, which showed that customers' biggest hurdle in beginning a project was feeling overwhelmed. The store features 18 digital screens supporting customers as they shop, featuring everything from inspiration and tips to an interactive design tool and even a new proprietary digital experience called The Organization Studio. The Organization Studio was developed exclusively for The Container Store and is currently only available at the Next Gen Store. It allows customers to upload a photo or video of their organizational challenge online, describe the challenge, and set an in-store appointment to meet with a store Organization Expert. The Organization Experts will then present the personalized solution they developed for the customer free of charge and with no purchase commitment.
"We know that countless retailers are building digital tools and using them to innovate the shopping experience, but combining the human element with technology is when things really get powerful," said Val Richardson, vice president of real estate at The Container Store. "The Organization Studio offers the convenience of an online experience and marries it with a personalized in-store engagement that offers a curated solution created by a real person."
Have something to say? Share your thoughts with us in the comments below.