Closets in multifamily projects are an opportunity for all
May 26, 2022 | 11:54 am CDT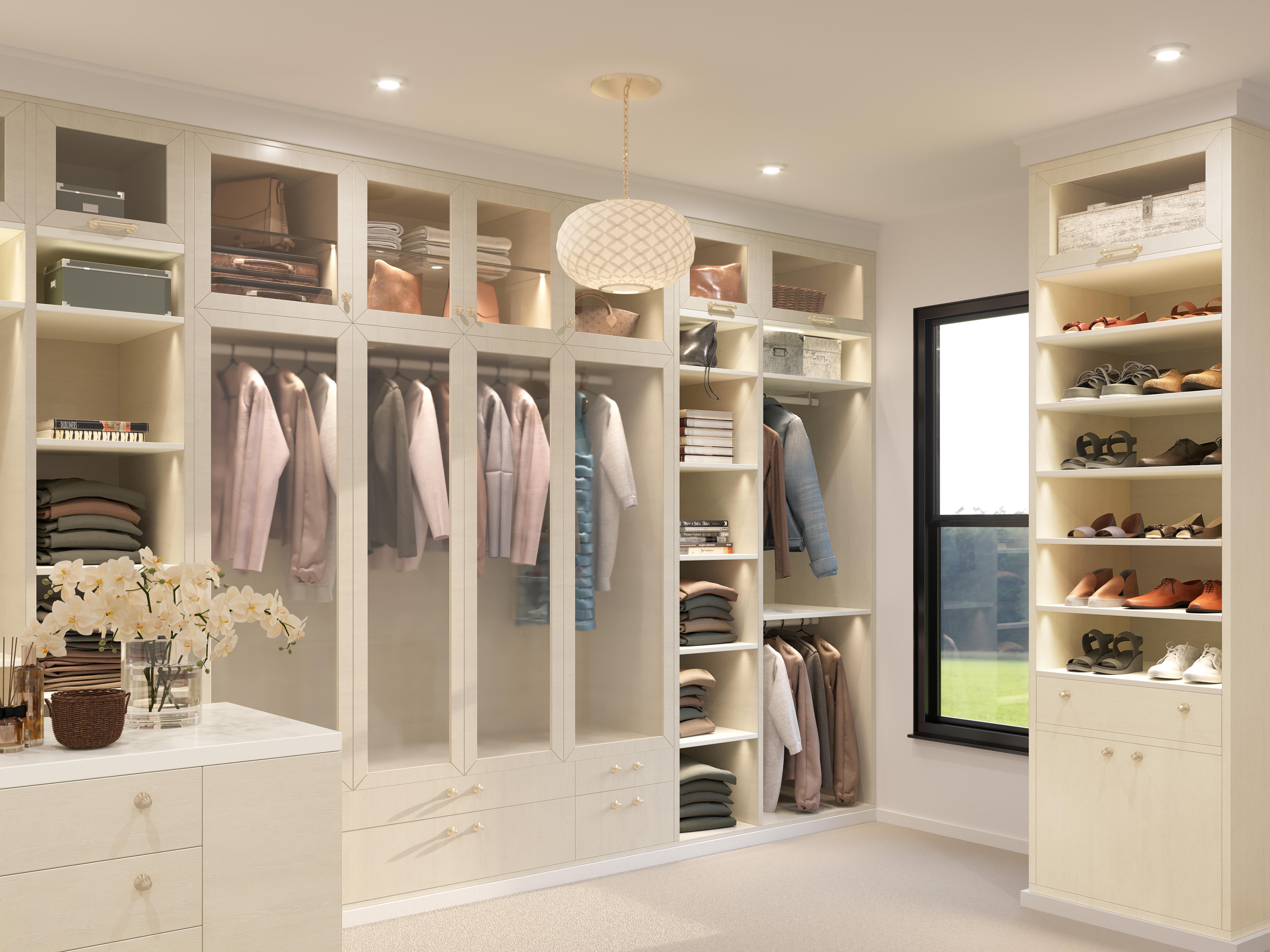 Photo By Egger Wood Products
Four perspectives on storage trends and advantages in the booming multifamily market. Here are a few of the competitive advantages:
Developer LZ Ventures
The real estate market in downtown Madison, Wisconsin, is positively thrumming. Growing tech companies, the UW campus, and retirees drawn to lifestyle amenities like great dining, gorgeous parks, and access to five lakes within the city's limits are keeping multifamily housing developers beyond busy. 
The state capitol square sits on a hill smack dab in the middle of an isthmus separating two of the bigger lakes and is the site of the largest producers-only farmer's market in the country, as well as outdoor concerts, food, art, and music festivals. 
Also on the isthmus is the UW campus and downtown district, so real estate is at a premium. 
LZ Ventures has developed niche upscale apartment buildings in cities like Madison. Partner John Leja says closet systems give his company a competitive advantage in an unexpected segment: renters of smaller units. 
"We're building a nine-story apartment building four blocks from the capitol, with 148 living units and 1,226 square feet of commercial space. This building, The Continental, is going to stand out in that area because it looks more like an old-school residential building in Central Park East on a side of Madison where too many glass-and-metal rectilinear buildings look like they all came out of the same design catalog."
Leja says The Continental will have the best views in the area, and rents will reflect that. But to seal the deal and help quickly fill the building when it opens in the fall of 2022, he's strategically including reach-in closet systems. 
"While we couldn't justify the costs of closet buildouts in every unit, I think it's worth it in the studio apartments," says Leja. "Small reach-in closets, with drawers, pullouts, and overhead tilt-up cabinets like you find in an RV. They offer quite a bit of storage in a very compact area and allow tenants to avoid cluttering their bedrooms with extra pieces of furniture."
Most of the materials in The Continental's closets are MDO with embossed woodgrain laminate surfaces for their strength, durability, and availability. 
"I think our studio units are going to rock, and the closet organization and extra storage are key," says Leja. "This is a new approach for us, but in my experience, adding these kinds of amenities has always given us a competitive advantage. As a developer, I always try to stay a little out over my skis!" 
ROI up to 11x: Clozzits
"As we were starting this business in 2018," said Clozzits President Jim Monk, "I was sizing up the multifamily market with an entrepreneur's eye, thinking, 'What can be done to upgrade existing apartments? What hasn't already been thought of?'"
It didn't take long for Monk to answer his own question. 
"Renters today, be they downsizing boomers or ambitious millennials, need and value accessible, organized storage," said Monk. 
"Boomers like my mother, well, they have a lifetime supply of everything," says Monk. "And millennials are focused on fewer higher quality things that last longer, with some exceptions where they allow themselves to indulge — like 'sneakerheads,' who probably have more shoes than they know what to do with. 
"At the same time, apartments are getting smaller, creating storage issues. So, it didn't take long for us to see that organized closet systems could be a differentiator and worth an extra $25 or $30 a month in rent increase. They can also help fill vacant apartments faster as a differentiator to other properties."
Clozzit's clients typically expected an ROI within the first three years. 
"Some aren't even thinking about a rent increase; they're already doing pretty well in this market; they just want an amenity that gives them a competitive advantage that helps them fill up fast, add value long term, and positively impact the NOI [net operating income].
"Our clients tell us they're typically seeing a return of nine to 11 times on every dollar they invest with us." 
Monk says property owners look at added amenities as "just another thing that can get damaged," so Clozzits builds mostly using birch plywood laminated with white melamine – simple, durable, and easy on the installation crews. 
"We originally thought MDF would have been our go-to substrate, but in a lot of southern states, we're installing in walk-up buildings, and crews were wearing themselves out just carrying materials up the stairs. And I have to say, with freight costing almost as much as the materials, lighter product helps us stay competitive."
Monk says laminated plywood also means maintenance crews — already understaffed and overworked — won't have to touch up paint in closets when apartments turn. 
Indeed, the Clozzits model is designed around convenience and installation speed during tenant turns. 
"We need to be able to plug in preassembled closet components quickly. Our products can usually be fully installed in two hours, look brand new, and bring that 'European style' to any kind of property. Efficiencies are going to continue to play a larger role as we confront a lack of skilled labor — in some cases, any labor at all — in many of our markets."
Clozzits continues to innovate. The company is experimenting with moving away from post-and-cam system joinery to a system of pin-and-lock fasteners. 
"Installers will be able to literally pop or tap components into place, which will improve our installation efficiency by 40%." 
Relationships built on trust: Modular Closets
"We took the custom closets concept, where people are paying $10,000 for a closet, and made it modular; it's right in our name!" says Modular Closets' Moe Feder. 
"Owners are coming around to the idea that while closet systems are worth $15, $40, or even $75 more per month, they play a big role in renting apartments faster. If you're charging $2,000 to $3,000 per closet like we are, renting that apartment one month earlier – there's your ROI right there."
Feder says that while Modular designs with many different designs in TFL materials, approaching developers requires a little tact. 
"If you show the designer 7,000 different finish options, they're always going to pick the nicest one. Then the developer is going to say, 'we can't afford it.' So, for this market, we show them white or grey TFL – with a woodgrain texture – and three or four basic modules. That's it, very simple, and that's what the owners are looking for. That, and quick in-and-out installation."
Modular uses TFL from Tafisa and Egger for both its multifamily and custom closets because it's easy to keep clean and lasts for years. 
"We're very focused on efficient, clean manufacturing," says Eli Mosak, who oversees production. "We're serious about getting great edges with our edgebanding machines, so we test extensively for edge chipout of the melamine design surface and choose the board that work best with our system. Consistency is the key; we've figured out the glue, we've figured out the edgebanding, and we just do that over and over and over." 
"This kind of quality is what our clients expect," says Feder. "And it's key to my side of the business, which is building and maintaining relationships with these developers – because they're always going to be building more buildings. That's what they do!"
Pushing boundaries: Bella Systems
"We see some of our multifamily client using a custom closet as an incentive, saying, 'If you sign a 24-month lease preconstruction you'll get a free custom closet package," says Joe Lonardo of Bella Systems. "And then what we sell to the developer is the flexibility built into our designs, to replace components easily, add drawers, or completely refresh the space. We're there to support them in attracting and keeping tenants." 
Lonardo says Bella offers a third option, between wire systems and trim carpentry, built mostly with TFL from Tafisa and Egger. And because they're set up for custom closets, some of their clients come to them for amenities like home office spaces and murphy beds…even combinations of both.
"Most of our business in multifamily is in white TFL, no surprise there. I'd love to see other designs and colors come into the mix, and we're showing them, multifamily skews conservative, for obvious reasons." 
"For a closet company to make it in multifamily you've got to take on the role of educator, show developers how this is going to help them sell faster and at higher rents, and even keep tenants longer. It's a lot easier than 10 years ago, but it still takes building and maintaining relationships based on education."
 
Have something to say? Share your thoughts with us in the comments below.