Closet firms think outside the box
November 11, 2020 | 11:38 am CST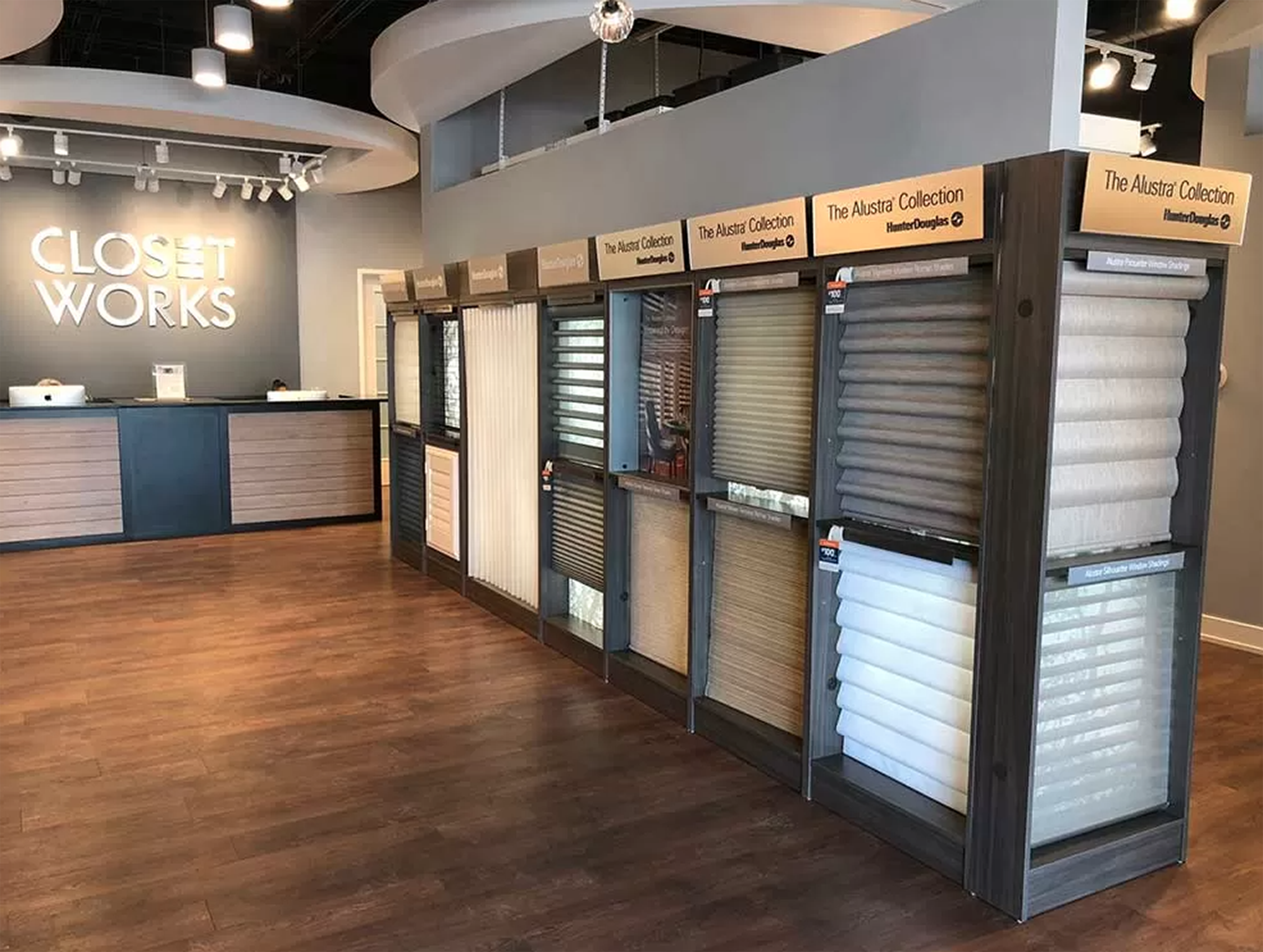 Photo By Closet Works
Closet designers and manufacturers are utilizing a whole-home approach to meet the needs of today's clients, offering new and expanded product categories, services and multi-channel sales opportunities. 
Running the gamut from e-commerce launches to painting services, custom window treatments and more, these solutions enable design and organization professionals to not only extend, but also deepen their relationships with customers.
What follows are some of the strategies put in place by home organization professionals to grow their businesses.
E-commerce accessories 
Among those launching e-commerce accessories lines is California Closets. The line, California Closets Essentials, makes its debut with eight product categories and more than 150 private-label items.
 Included is an exclusive collection of premium hangers, bins, watch winders, mirrors, plus a wide assortment of luxe vegan leather valet and smart-storage accessories, as well as jewelry boxes and stackable trays with the patented LusterLoc technology. The items are offered in a pre-selected range of sizes, materials, and colors that complement California Closets' best-selling finishes.
The company said it aims to provide a comprehensive brand experience for its customers by becoming a full-service resource. "This is just the beginning of many highly-considered merchandising and product initiatives designed to set our brand apart," California Closets SVP and Chief Merchandising Officer Jill LaRue said in a statement. 
Painting franchise
Steve and Lori Newman, owners of the Deerfield Beach, Florida, Closet Factory franchise, were awarded the first franchise from Neighborhood Painting Masters last year. Neighborhood Painting Masters is a home services franchise brand that serves the painting-related needs of homeowners and business customers for both interior and exterior projects.
 According to Steve Newman, this move is an evolution of his current business. "We are in over 4,000 homes a year and are constantly being asked for painting company recommendations," he said in a statement. "We want to be that painting company."
The Closet Factory franchise also offers a state-of-the-art manufacturing facility and showroom. The company employs more than 100 people.
Sliding doors
Located in Miami, Florida, Armadi Closets not only offers innovative custom closet solutions but also designs and manufactures custom sliding doors that the company says, "blend seamlessly with the surrounding room." 
A development team of interior designers, architects and engineers work together to create sliding closet doors based upon cutting-edge European technology, the company said.  
This innovative system features unique styling that is suitable for every home and storage location. Using one slim profile, 10 different door designs can be created. The many different textures and colors available also can make the doors a unique reflection of the homeowner's personality, according to the company. 
Along with its location in Miami, Armadi also has stores and distributors located across the country as well as in Central and South America. 
Window treatments 
Custom window sheers or blinds aren't just for the main living areas of a home. They can even enhance a walk-in closet, says Closet Works. 
Located in Elmhurst, Illinois, Closet Works offers custom window treatments from Hunter Douglas, with a display of options in its showroom.
Window treatments can transform the appearance and function of the home by improving energy efficiency or adding that finishing touch. In closet spaces, good window coverings also serve to provide privacy, and protect clothing and furnishings, all while adding a touch of refinement. Hunter Douglas plantation shutters can even be used as closet doors.
Closet Works said its custom organization systems, combined with the selection of window treatments, deliver solutions for the whole home.
Exclusive partnerships
Two well-known home organizing brands have launched exclusive partnerships with The Container Store to sell organizing accessories. 
Joanna Teplin and Clea Shearer of The Home Edit, located in Nashville, Tennessee, launched a product line with the company last year. The line features approximately 70 products, including items for the pantry and vanity.
"Our focus on increasing relevancy with our marketing and merchandising alliances resulted in the successful 2019 product and marketing partnership we forged with The Home Edit," Melissa Reiff, The Container Store chairwoman and CEO, said in a statement. 
Just announced in October, Marie Kondo, KonMari Media, will launch an exclusive co-branded collection of organizing tools with the company. Available January 2021 the sustainable line will include more than 100 items.
Marie Kondo and the professional organizers of The Home Edit have popular shows on Netflix as well as best-selling books and merchandise.
Have something to say? Share your thoughts with us in the comments below.