Car condos are the new man caves
By Susan Lorimor
May 8, 2019 | 1:13 pm CDT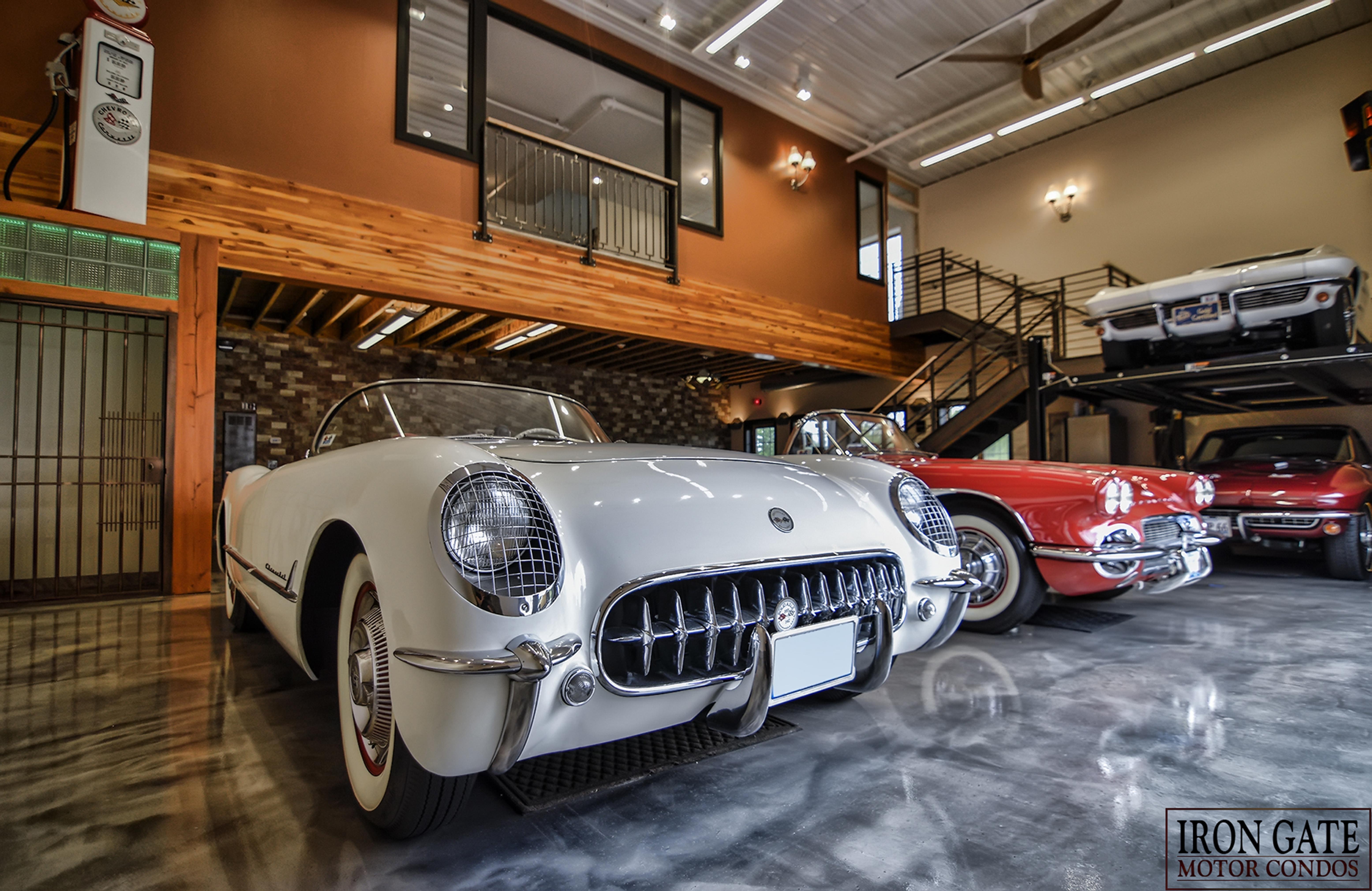 Photo By Iron Gate Motor Condos
In July 2018, Andrew Johnson and his wife Laura of Spring Grove, Illinois, drove about 70 minutes from their home to attend a Coffee and Chrome car show at Iron Gate Motor Condos. At Iron Gate, enthusiasts house or display anything, from their 1941 Cadillac two-door fastback to limited edition Bentleys and Aston Martins.
A month later, the couple decided to purchase a condo for their car; by that October, they had closed on it. 
Iron Gate Motor Condos is more than a garage; it's a place where enthusiasts of all stripes can gather.
Iron Gate is one of a number of communities that have popped up across the country, where enthusiasts can purchase a "car condo" for their automobile. More than just garages, some condos in the gated community at Iron Gate for example, include bathrooms and kitchens for entertaining, as well as hot tubs and an endless pool; one even includes a basketball court.
Johnson and his wife are customizing and building out their own condo; they hope to have it completed in June. Each condo is essentially a storage unit, complete with radiant floor heating, drywall, sprinklers and plumbing. The smallest units at Iron Gate are 20-foot by 40-foot and fit four to six cars. A larger unit on the 45-acre property can fit 30 cars.
Some condos at Iron Gate include kitchens for entertaining, as well as areas for exercising and working out.
Iron Gate also includes 15 acres of retail space. The retail space and 187 car condos are part of phases one and two of the development; developer Tom Burgess says he hopes to have them wrapped up by 2021. 
For Johnson, Iron Gate provided an unexpected community that he quickly wanted to be a part of. "I thought it would be for the elite... that they had expensive cars and needed them [to be stored] in an expensive environment," he says. "But when my wife and I went to Chrome and Coffee, it was so not that."
Owner Tom Burgess says the car condos at Iron Gate are more than the typical man caves, "they are family caves."
Johnson says that those at the car show simply wanted to bond over their shared interest in cars. "They were welcoming of all enthusiasts," he explains.
The welcoming nature of the community is exactly what Burgess, who is also a developer of light industrial buildings, wants people to see. He planned Iron Gate to be family friendly, with philanthropic events to benefit Cal's Angels, a local nonprofit that grants wishes for children fighting cancer and raises funds for cancer research. Burgess smiled when he told how one day children helped by Cal's Angels came to Iron Gate and car owners gave them rides in their vehicles.
"There are no man caves here," Burgess said. "They are family caves."
In addition to kitchens and bathrooms, some of the units at Iron Gate include couches and Murphy beds so that car owners can stay overnight. That is what Johnson and his wife plan to do once their condo is built-out. "It's just far enough to feel like we've gone away for the weekend," he says of the distance from his home to Iron Gate.
For Burgess, the inspiration for Iron Gate came from a few sources. In 2007, he built his own car condo. It included space for his vehicles and his office, but he said something was missing: There were no other car guys around. He also grew up with a father who was a car enthusiast and supported the younger Burgess' efforts to build a community for like-minded individuals. A framed photo of Burgess's dad in a 1955 Mercedes 300SL hangs in the conference room of the Iron Gate development's office.  
Additionally, Burgess knew that car enthusiasts often were missing one of three things – the right car, the money to buy the car or the place to store the car. Burgess is helping ensure that enthusiasts have the storage facility they want. "Once you get the genie out of the bottle and [solve the space problem], then watch out," he says, adding that a little self-control may be needed to curb continued purchasing of cars.
And, when a community member adds another vehicle to their car condo, it is cause for celebration, as if the car is a symbol of achievement that others at Iron Gate understand.
There is no pretense among owners, Burgess adds. "They're very humble. These cars are rewards for working hard and succeeding," he says, adding that cars owners have gone through their own struggles, and their automobiles are an acknowledgment of the hard work.
So, when an enthusiast at Iron Gate buys a new one, his fellow community members celebrate. "It's not, 'Oh, that must be nice'," Burgess says.
Burgess has even become a co-owner of at least one high-end car with one of his friends because they both wanted the car in question. That way, they can both enjoy it. After all, it's not going to get many miles on it, he adds.
Burgess also seems to thrive off of the community and providing it for other car enthusiasts. He talks about trips they have made to the Montreal Grand Prix for the Formula One race and a Scottsdale, Arizona, auto auction, among others. 
For his fellow community members and the public, Burgess has also included the retail space at Iron Gate. Retailers include a Chicago Motor Cars dealership, Brighton Auto Detailing and Soundz Plus, which installs car stereos, remote car starters and back-up cameras. Also at the community is Fluid Motor Union, a luxury automobile performance and repair facility and Empire Motorsports, which customizes automobiles. Those businesses will soon be joined by those that do the following, according to Iron Gates' website, irongatemotorcondos.com: restoration and fabrication; window tinting and clear bra protection; car repair and painting services; and performance and specialty parts.
While the retail space is a way for Burgess to provide services, the core of the community are the car enthusiasts and their condos - the combination of which fuels and fulfills a passion for a new and unique storage option.
Have something to say? Share your thoughts with us in the comments below.