Cabinet company gets garage tough
November 29, 2022 | 12:33 pm CST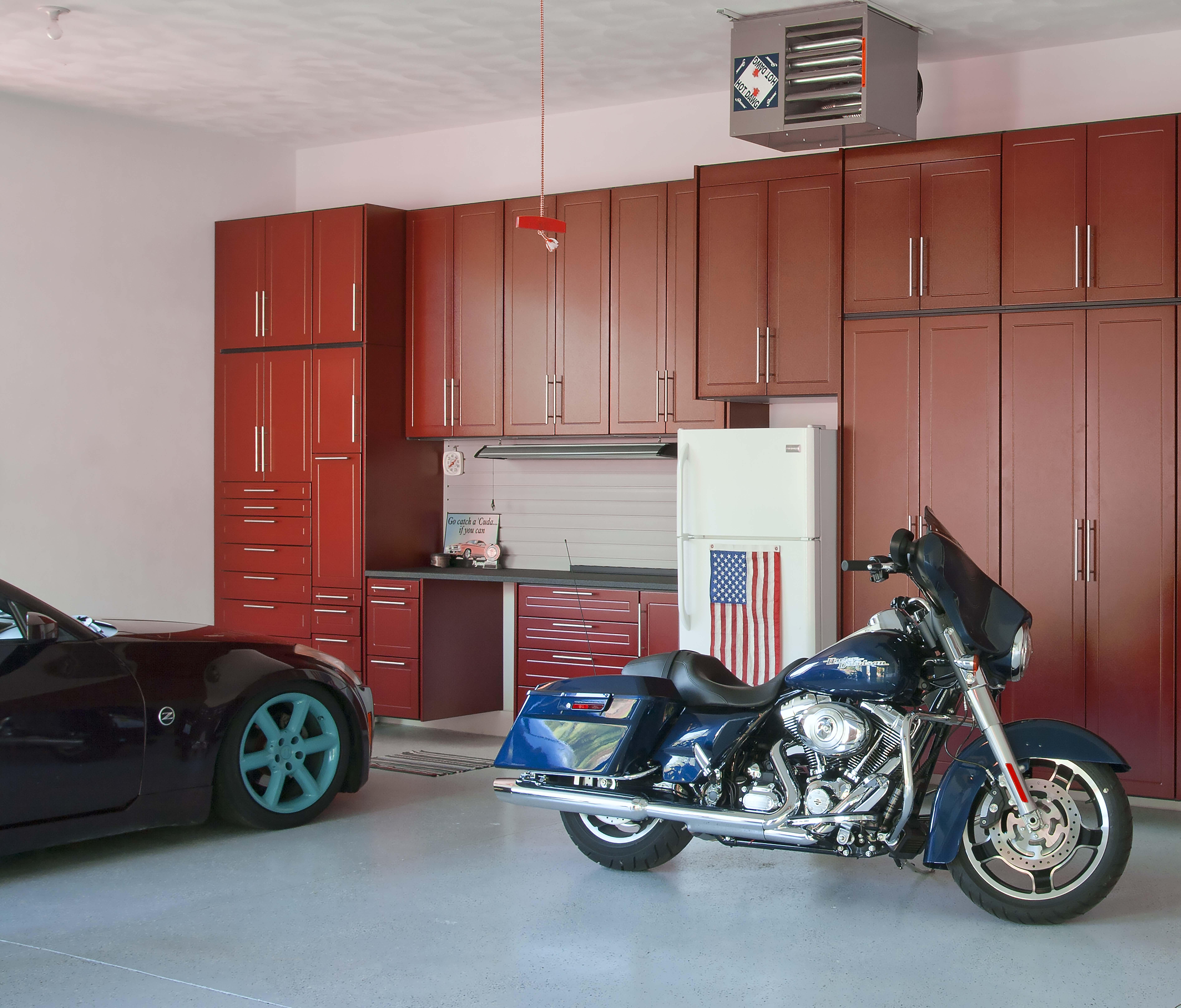 Photo By RedLine Garagegear
Garages can be tough places. On one day, they can be tundra cold and dry. On another, Sahara hot and humid. And those are just the environmental elements. Garages are places where oils and fluids and other chemicals spill, where the occasional ding from a car, motorcycle, bicycle, or another mode of transportation can mar a cabinets finish. Sometimes, garages can be the site of a dusty woodworking operation.
Garages, indeed, can be tough places. So, in 2004, when Troy Greenberg, owner of Greenberg Casework Co. in South Beloit, Illinois, established a new company focused on cabinetry for the garage, he knew the cabinets would have to be tough. 
What he came up with were cabinets with a durable finish and wall-hung design that Greenberg said can withstand almost anything the typical garage (and homeowner) can throw at them. 
A new concept
Greenberg had been building and finishing custom cabinetry, casework and store fixtures for nearly two decades using traditional liquid-coating finishing methods when he had a moment of clarity that would fundamentally change how his company worked. 
That epiphanic moment came when he saw a sample of powder coating on a wood-based substrate. It was beautiful and it was durable. "The first thing I thought is 'man, this is what we need to do.'"
"To be quite frank," said Greenberg.  "I never intended on having powder coating here. As crazy as it sounds, and this is 100% accurate, I saw this and immediately thought, 'this is what we need to do the perfect finish for a garage environment.'"
The new company was RedLine Garagegear, and it was founded to produce cabinetry for the garage. Greenberg liked the quality of the powder-coated wood so much that at first, he sent his doors, which were made in-house, to another company for powder coating. 
"I believed in powder coating before we powder coated. When we couldn't do it ourselves."
Within a few years, the company was doing its powder coating in-house and now offers 12 powder-coated garage cabinet colors.
Today, it is one of only a handful of cabinetmakers utilizing this technique.
Powder coating is applied to all exterior component surfaces including doors, drawer fronts, and side panels. As a Redline Garagegear brochure puts it, "It's just one of the ways these cabinets were designed specifically for the garage environment."
But, getting to the point where the company could powder coat in-house was a challenge, a real learning experience. In some respects, it was as much an evolutionary process as it was a revolutionary process.
Coating with powder
Powder coating is applied as a free-flowing, dry powder that, once cured, creates a durable finish that Greenberg said won't fade over time and is generally impervious to all things that a garage cabinet may face.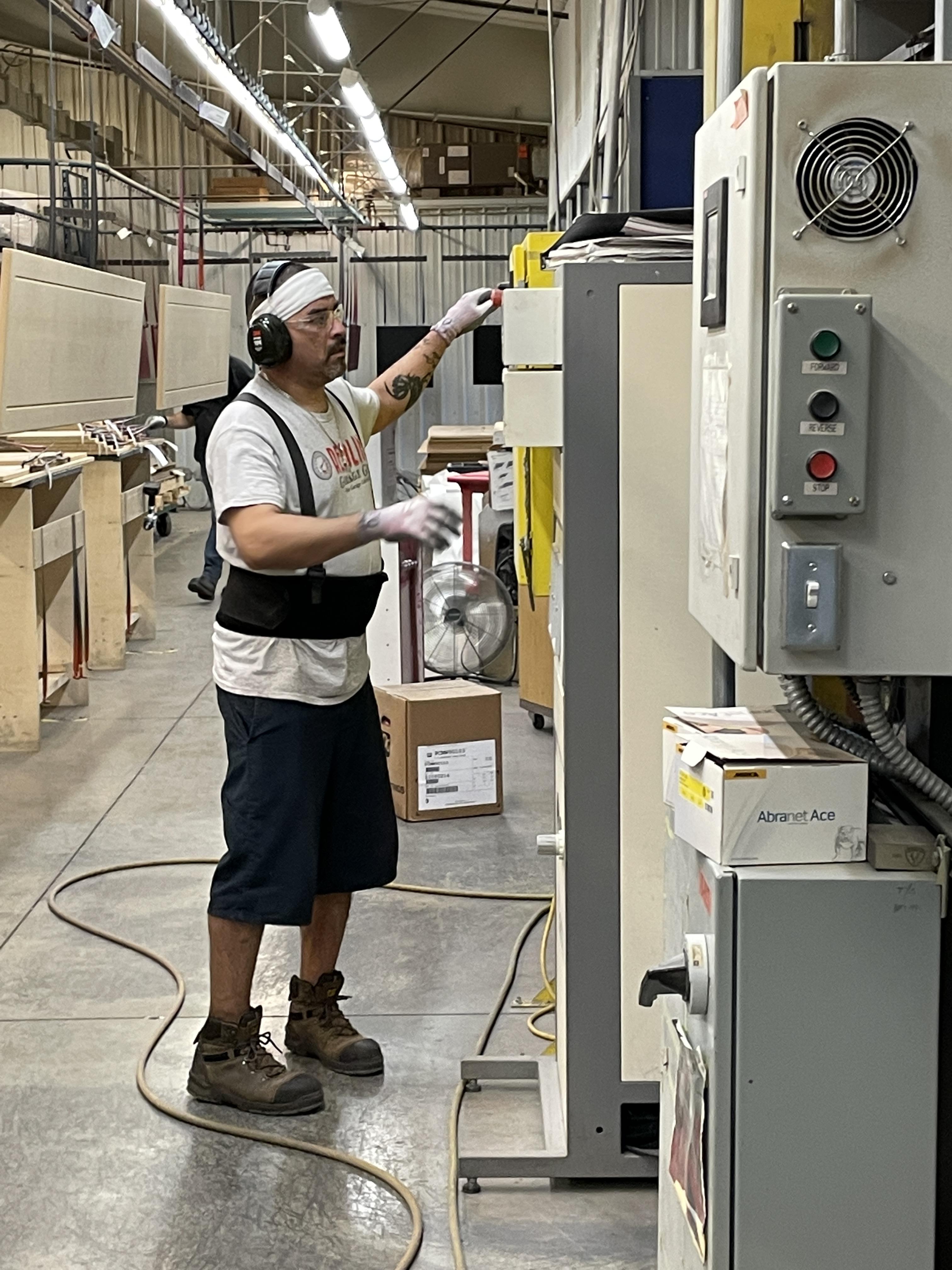 The powder coating process, in general, is not that unique. Metal powder coating, in which the powder is electrostatically drawn to the metal, has been in use for decades. It is on many of the everyday home appliances found in kitchens across the world.
 
"The process is pretty similar to metal. At least the way that it looks. We preheat the raw board, spray it, and then it goes to a curing oven just like metal does."
The ovens are quite a lot different, however. Redline Garagegear uses catalytic infrared heat that produces radiating heat by an infrared source in a direct line of sight to the board, as opposed to a convection oven that is produced by hot air.
The other major difference between the two is that wood is non-conductive. "With metal, your ground in it, and that metal will carry that ground."
Evolution 
The decision to go all-powder coating might have been an instantaneous no-brainer, but the actual migration to bringing the process in-house took a little bit more time.
Understanding powder thickness, spray gun control, application amounts, moisture content, and a host of other small, but vital, details had to be understood. 
"We hand sprayed for two years before we had an automatic system built," said Greenberg. "And I'm thankful that we did. If we would have bought an out-of-the-box system for our powder coating it would have never worked for us, we would still be fighting that thing."
During this evolution, they encountered a variety of issues such as learning how to counter outgassing problems whereby entrapped gasses were released through the powder coating during curing and creating pinholes. Or problems with picture framing when excess powder will build up on the edges. Too much powder might create issues like orange peel or sag; too thin, and you might be able to see the substrate through the coating.
Those two years of trial-and-error of experimentation taught them how to overcome many of the issues through counter electrodes and better spray gun control. It also helps that advancements were made in the powder and MDF which is the primary substrate used for powder coating. 
The time was right
After this two-year indoctrination, they had a custom automated system built by WolfRayet.
Once doors, drawer fronts, and side panels are cut-to-size and machined utilizing CNC equipment and a beam saw, the components are moved to the finishing room.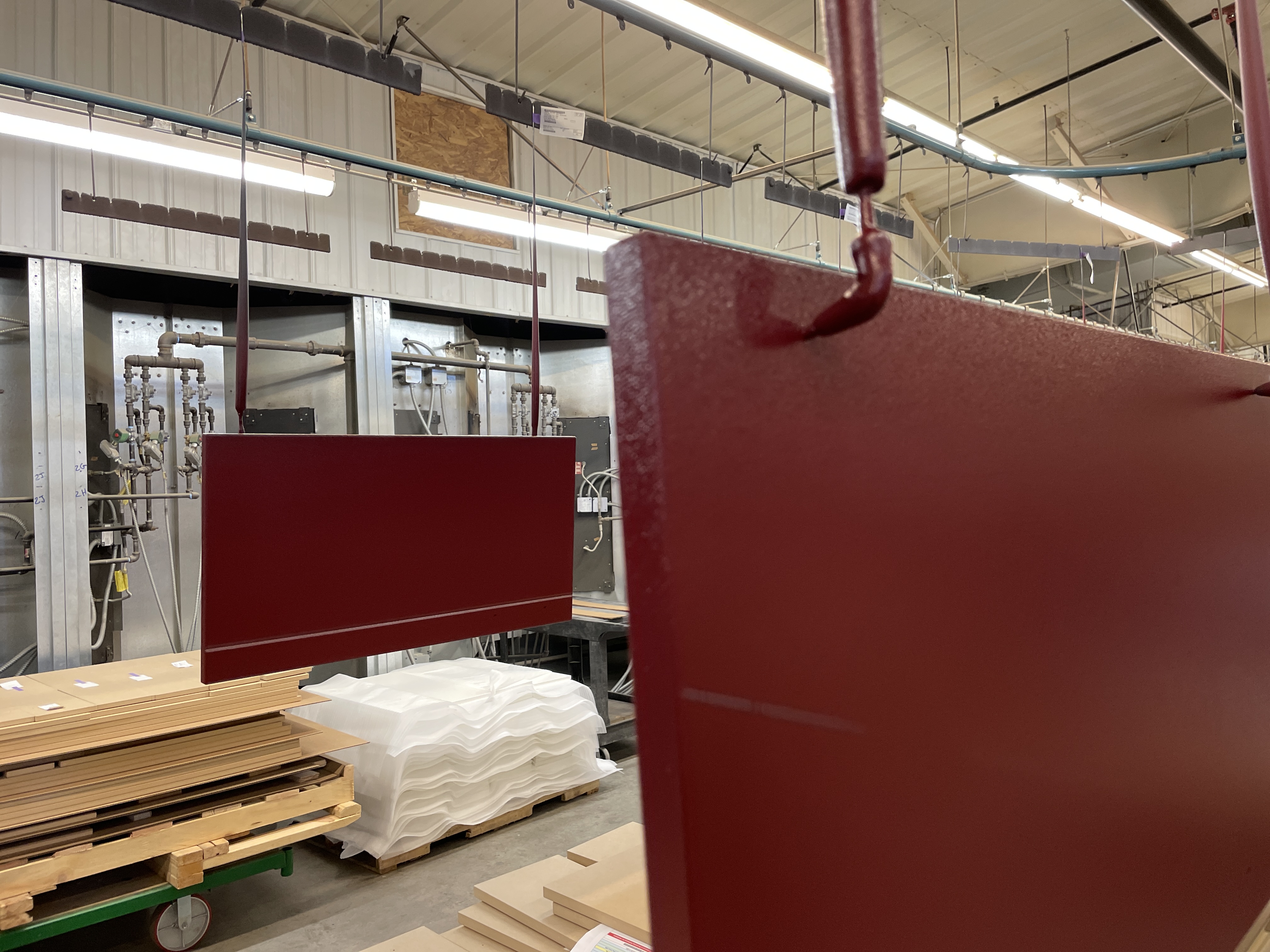 All parts are hung vertically for spraying and very quickly -- literally minutes -- the parts are preheated in one oven, coated by dual spray guns on either side of the board, and cured in a seemingly never-ending part flow.
"It's pretty amazing," said Greenberg. "When everything is said and done. The coating is great and done fast. I mean, 'how do you argue that?' I don't think you can?" 
As the board enters the oven it goes through a preheating process that takes about three minutes. The board is preheated to about 140 degrees surface temperature. 
"As opposed to a convection oven in which you're heating the whole board, with this oven, you're only heating the surface of the board and it doesn't take long to heat the surface with catalytic infrared."
Heating the board's surface draws up moisture to the surface and the moisture is what carries the ground and allows the powder to "stick." 
"We're relying 100% on static electricity," said Greenberg. "If we put it in too long and dry that board out, it is like throwing sand up against a wall, it's not going to stick, and the only solution to that is you throw away the part and start over."
As the now preheated board exits the first oven, it traverses to the coating application step. Here, the precise amount of coating is applied in various amounts based on the size of the part. 
The components will pass through light curtains that alert the systems' PLC as to where the parts are in space to determine when to start spraying. 
Two spray guns, one on the front side and the second on the back, will start spraying in a vertical spray pattern while the board passes between them. 
"On the front side, we spray 'outside the box, and we have counter electrodes that neutralize the powder from the backside so that it doesn't wrap around the face, and we don't get that picture framing problem."
The company practices spraying to waste meaning that it sacrifices some transfer efficiency for the sake of speed. "We are not reclaiming this powder, but our transfer efficiency is in the 70% range," he said. "If we had had a booth that could have a transfer efficiency of 90 plus percent, we would gain some efficiency there. But the problem is that we would lose all of our time. Time for us is critical."
After coating, the component makes its way through the curing oven and then exits to wind its way through the finishing area to cool.  
It eventually meets up with the remaining components such as the drawers and hardware and then prepped to be shipped out for dealers, contractors, and installers who will put the cabinets in garages around the country. 
Powder-coated and ready to withstand the rigors of the modern garage.
Learn more at redlinegaragegear.com.
Have something to say? Share your thoughts with us in the comments below.