Best-selling luxury materials in custom closet designs
March 16, 2022 | 11:18 am CDT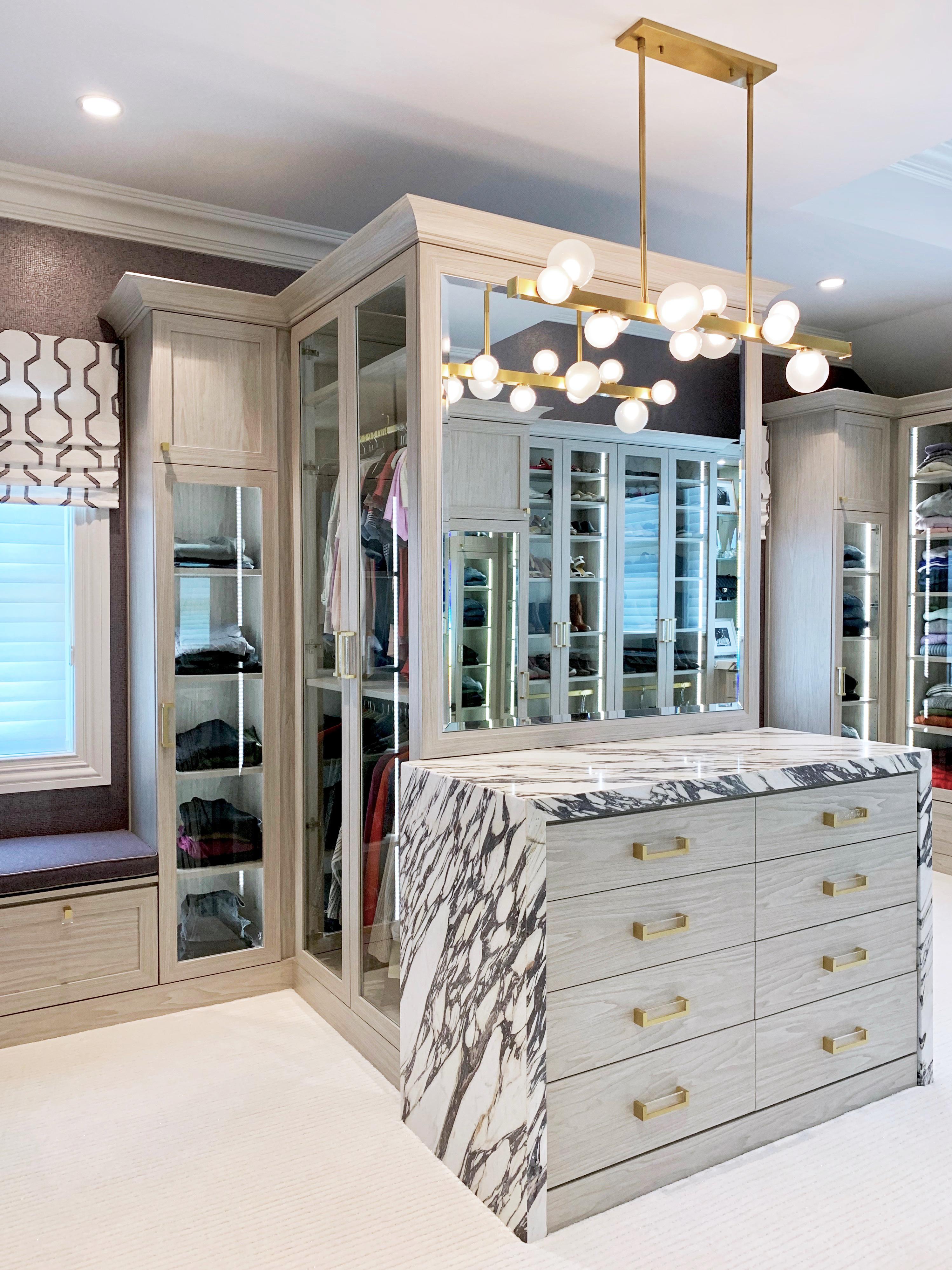 Photo By Boutique Closets and Cabinets
Let's say you're lucky enough to catch Wendy Scott for a few of her rare, unbooked minutes. You start to ask her what's trending in her upscale closet projects, and you don't get to even finish the sentence. 
"Leather! It's leather." 
Scott, Master Storage Designer and co-owner of New Jersey's Boutique Closets and Cabinetry, LLC with Patty Miller, has had the pulse of high-end closets in New Jersey for 15 years, and if she says leather is a thing, then it's a thing. 
"Leather migrated from the handles to the drawer fronts, and now we're also using it on doors, countertops, and shelves, mostly as feature pieces. You can have it for flooring, too. It's more durable than you think, and it comes in a bunch of different patterns. Crocodile, in all these great colors, was first, but now we're getting asked more often for Shagreen. It's insane!"
Scott gets her leather from Eco Domo, who, among other things, laminates leather and reconstituted leather to a range of doors, drawers, and horizontal surfaces so Scott can give her projects that extra slap of excitement her clients pay her for.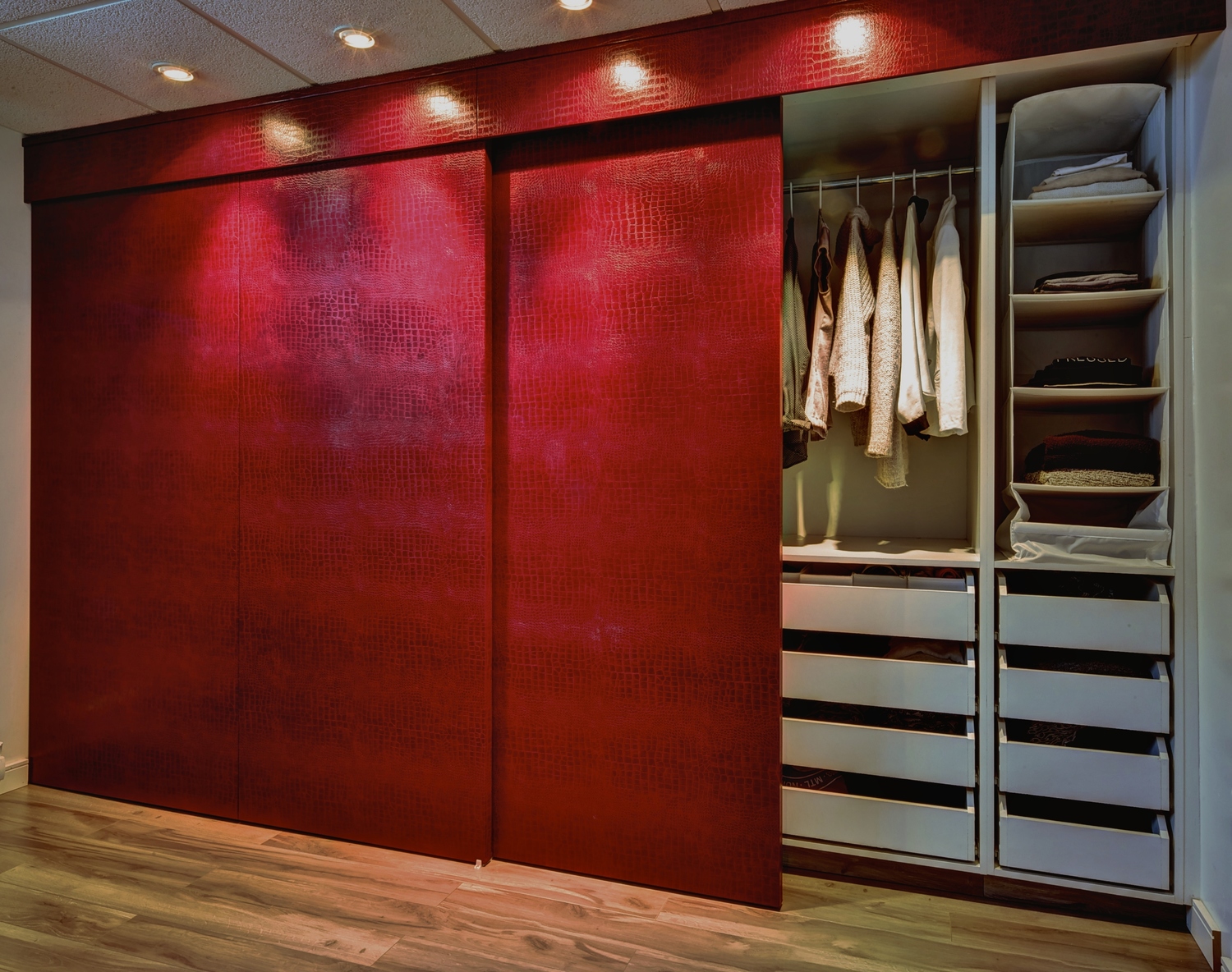 "I've got two leather closets being installed over the next two weeks, and both Patty and I are quoting leather right now. I know there are some great vinyl and 3DL materials out there, but for right now people just want leather."
Unless they want stone, that is, which is Boutique Closets' second-best selling luxury material. 
High-character stone
"So, Wendy, what's hot right now in sto-..?"
"Zebra. Zebra in a natural stone." 
 
According to the Internet, "Zebra stone is a combination of quartz and basalt occurring in a bold, zebra-type pattern. It is also referred to as zebra agate or zebra jasper."
According to Scott, "People are really drawn to the funkiness of zebra stone because it's so natural and unpredictable. The same goes for engineered stone…people like that it now has movement that feels organic, so much more natural than before."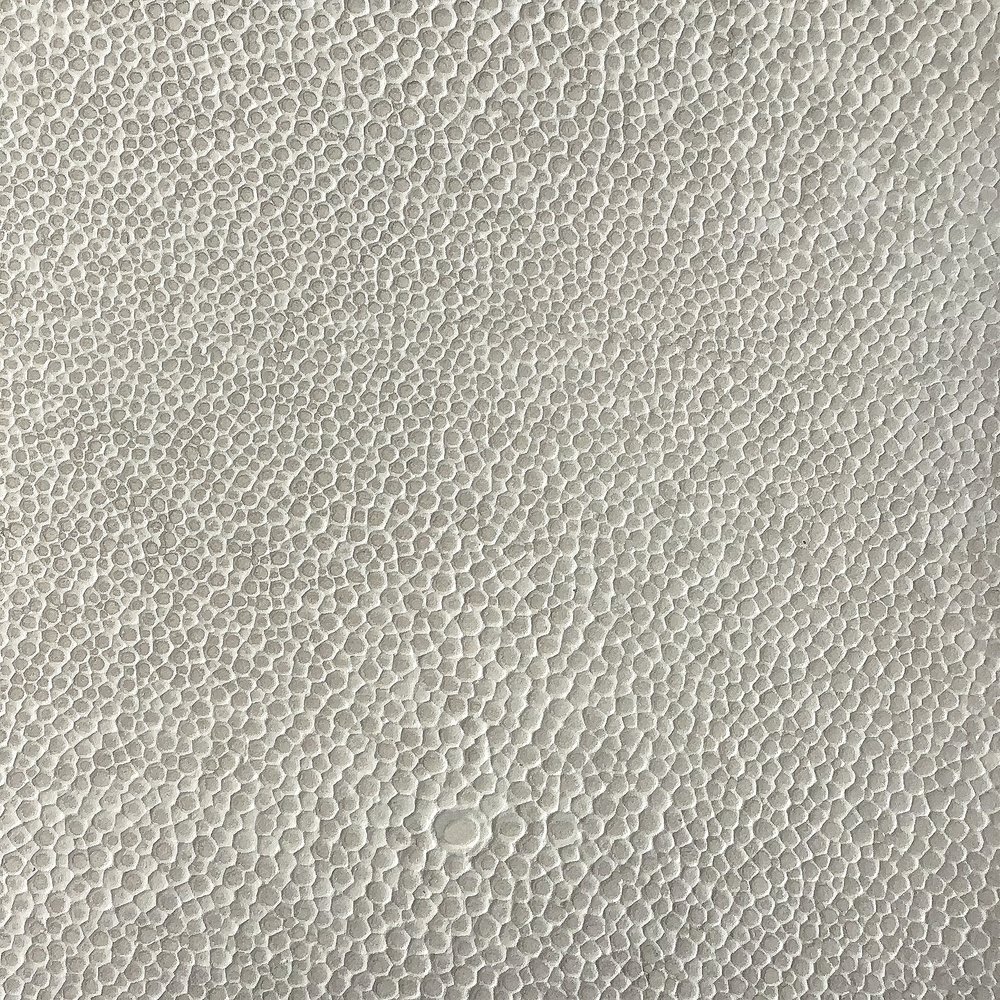 Natural feeling TFL
"That's also what's going on with thermally fused melamine right now. When they first started putting woodgrains on TFL, they were very linear and manmade looking, not bad, but not very realistic. Then they started lining the woodgrains and the textures up, and now the texture moves with the grain. You look at these surfaces, and you can't tell if it's 'real' or not."
Laminate surfaces make up the bones of most closets, and most of those laminates are TFL, Scott says. 
"It's the first choice, it looks great, and it's also the least expensive option. Lately we've been loving Uniboard's TFL colors, and the newest Tafisa colors have just come out. Those are our two heavy-hitter TFL suppliers, and they've really stepped it up with designs and textures that look so natural. Our clients love them."
A great complement to TFL is 3DL, which is a little thicker and wraps around edge details for a nice, seamless look in woodgrains and stones. In solid colors it's much more consistent and less expensive than paint, Scott says. 
"This is what we see coming to the forefront in 2022," says Christina Relyea, director of sales and marketing for JB Cutting, a major supplier of 3DL components to the closets and other industries. "This is a high-gloss white job we did with Boutique Closets, with white gloss 3DL from Riken and our 3DL robust shelves in Alfatherm 3DL that match Tafisa's 'VIVA!' textured TFL in Sunday Brunch."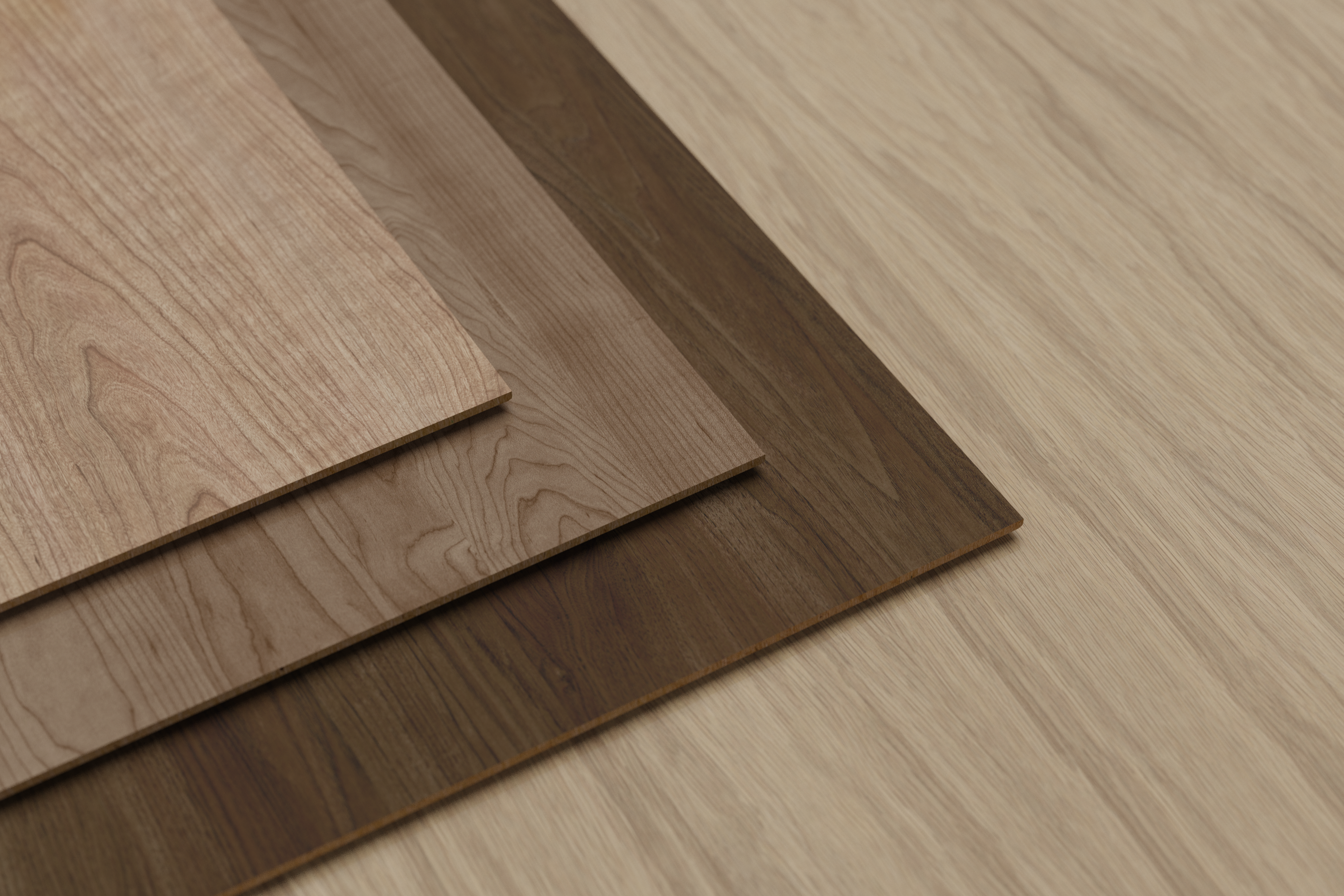 For clients that want a finished veneer look, KIRI is a brand-new printed paper-based veneer alternative that stains and finishes just like wood, from Toppan. It avoids the waste of natural veneers – up to 90%! – reduces material costs and is more environmentally friendly that real wood.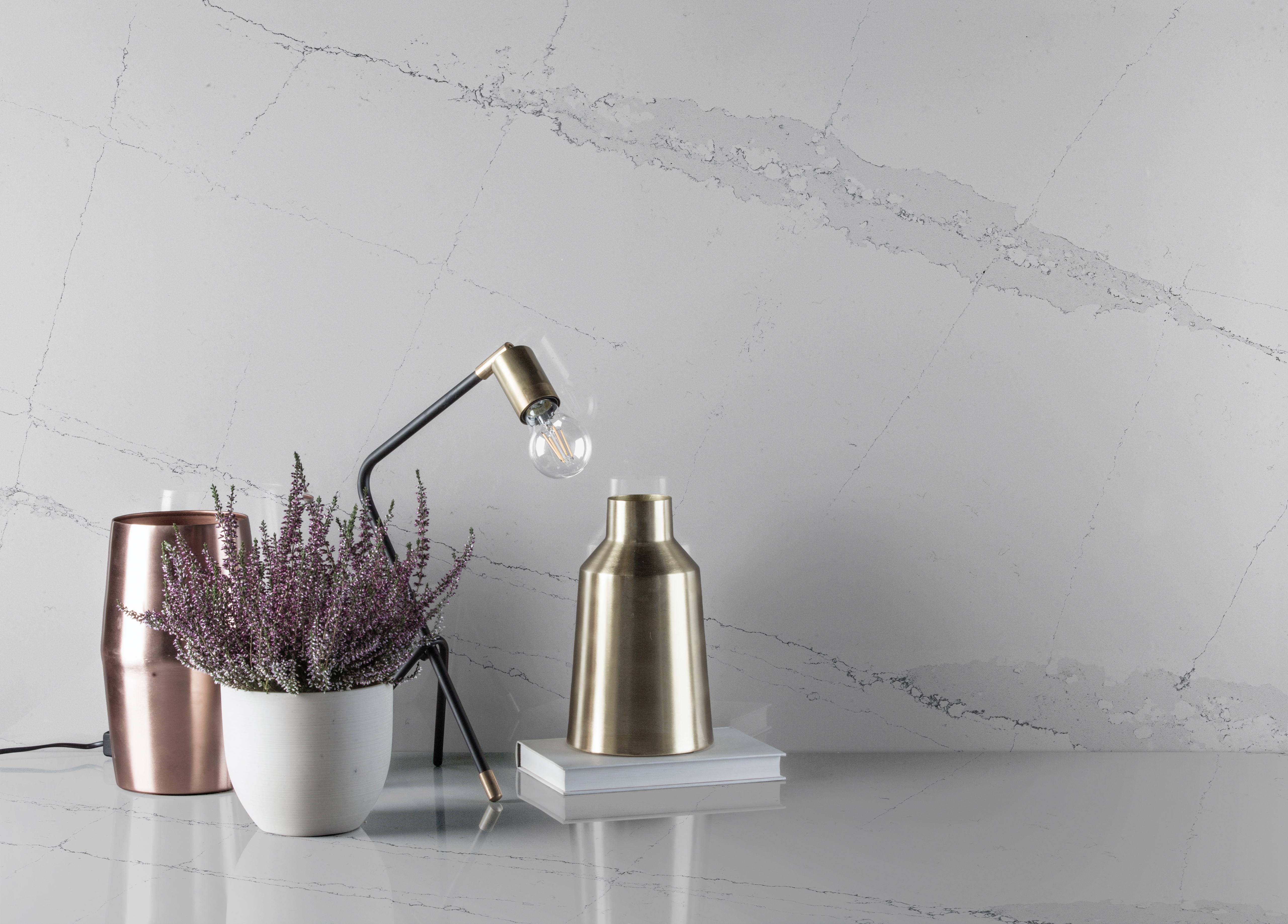 Bold, organic character from Cosentino's Silestone engineered stone. The bluish tone in the interior of each of its veins gives it a modern touch that, in combination with its avant-garde geometric directionality, makes it one of the most urban and modern designs in the collection. Silestone is now made with Cosentino's "HibriQ" process, a more sustainable approach using recycled content and water, and renewable energy.
Rich, robust 3DL
"We're actually using quite a lot of 3DL on what I fondly call our 'fatty' shelves, adjustable robust shelves made out of thermofoil. They have mitered fronts, and they look pretty rich. I really like the soft, matte anti-fingerprint finishes you get in 3DL."
Most of Scott's 3DL laminated components come from JB Cutting and Northern Contours. From 3DL, the material range rises to veneers, and then we're back to stone and leather.
'Everything's doable'
Scott and Miller have mastered mixing materials for customers looking for the best. 
"Right now, we have some people looking for high gloss, and not just on vertical surfaces, so we're exploring our options for that, what kind of edgebanding that requires," says Scott. 
"Combining matte and gloss also makes a statement if done correctly. 
"Everything is doable if you have a broad palette of materials," she adds. "'Boutique' is in our name. We don't like to say 'no.'"
Editor's note: Kenn Busch, founder of Material Intelligence, will deliver the afternoon keynote on Day 3 of the Closets Conference, with a presentation titled, "Material trends and sustainability." He will discuss the latest trends in surfacing materials and their innovative uses.  
In addition, Busch will discuss his "Climate Positive Now" initiative, which advocates for the inherent environment-friendly nature of the wood products industry. "Wood is nature's perfect carbon sink. Trees absorb carbon from the atmosphere as they grow. Half of the chemical makeup of wood is stored carbon, which isn't released until it decomposes or burns. Composite wood panels store more carbon than is released in their production. This is the definition of climate positive. For every sheet of particleboard you use, 40 lbs of carbon are removed from the atmosphere. MDF (medium-density fiberboard) sequesters 43 lbs of carbon." 
Learn more at MaterialIntelligence.com and ClimatePositiveNOW.org. Both websites are resources for designers and architects. 
 
Have something to say? Share your thoughts with us in the comments below.