4 home storage tips to help customers stay organized in 2016
By Jerry Egner
January 4, 2016 | 9:32 am CST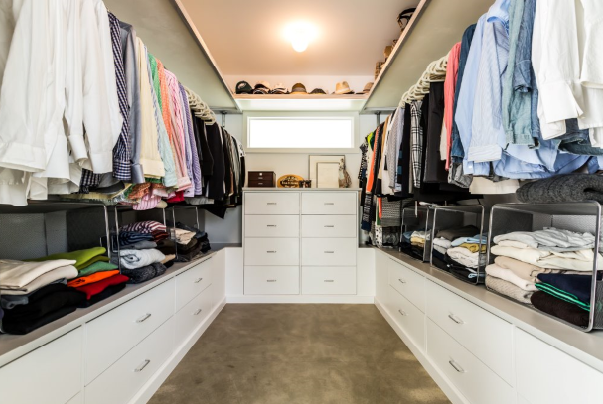 Photo By Closets By Design
Every year, one of the top New Year's resolutions is to get organized. This year, Closets by Design is providing tips to help homeowners keep that resolution. Expert insight and professional organization systems installed by Closets by Design are helping consumers get organized for 2016. The company's professional designers provide thorough in-home consultations to help clients keep their lives uncluttered by focusing on their functional home needs.

Design experts encourage local residents to focus on the following tips to keep the whole home organized going into the New Year:

THE BEDROOM CLOSET: At least once a year, you should give your closet a complete cleaning. Wash or vacuum the floor and dust the shelving and walls of your closet so your space is clean. After the closet is dust bunny-free, efficiently store your summer clothes away for the season in clear containers while also re-organizing the space to make room for bulky sweaters, coats, and boots. Consider adding multiple tension rods at different heights and install hooks to utilize vertical space.

DECORATION STORAGE IN YOUR SPARE CLOSET: Having a systemized plan for storing holiday décor can prevent damage and eliminate frustrations when the next holiday season rolls around. Be sure to wrap anything sharp and seal it with removable blue tape as a safety precaution. It's also important that you remove batteries from animated figures to avoid corrosion or leakage and to ensure that they are fully functional the following year. Control unruly cords with cable ties and place them in their own basket. Lastly, don't forget to label everything to make next year decorating a breeze!

THE PANTRY: Start by tossing out expired food. Next, donate food you don't want as well as appliances you haven't used in over a year to clear out space. Make sure all items are within reach; a popular feature that allows for easy access of hard to reach items is a pull-out shelf with a lip. Instead, install shelves at least a couple inches above the ground or make sure perishables are in tightly closed containers. Don't forget to make use of the back of your pantry door. Mini shelves on the doors take up hardly any space and can serve as an easily accessible spice rack.

THE GARAGE: Safety-proof your garage with organization. Keep items that may be more dangerous at a higher to reach place and make sure sharp objects are not easily accessible. Additionally, applying an easy to install garage floor covering will help with traction to prevent slipping, and is easier to clean up. Make sure all of the odds-and-ends, such as sports equipment, paint cans, tool boxes, etc., have their own place in labeled storage containers to make room for bulkier items such as lawn or snow equipment.

For more information or a free in-home consultation to discuss your design desires and functional wants, contact your local Closets by Design.

About Closets by Design
Since 1982, Closets by Design has built a reputation as a leader in the closet organizing and storage remodeling industry. From no obligation in-home consultation to custom tailored designs to the highest quality product construction, Closets by Design emphasizes a commitment to complete customer service and total customer satisfaction. The concept began offering franchise opportunities in 1997 and currently has 44 territories across the United States and Canada. Closet by Design offers franchise opportunities in large exclusive territories. Closets by Design has been ranked in Entrepreneur magazine's top 500 franchises as a leader in the home organization category. For more information, please call 1-800-377-5737 or visit www.closetsdesign.com. Interested franchisee candidates can visit www.closetsbydesign.com/franchise-opportunities.
Jerry Egner is president of Closets By Design Franchising Inc.
Have something to say? Share your thoughts with us in the comments below.