2022 closet industry research
November 29, 2022 | 1:53 pm CST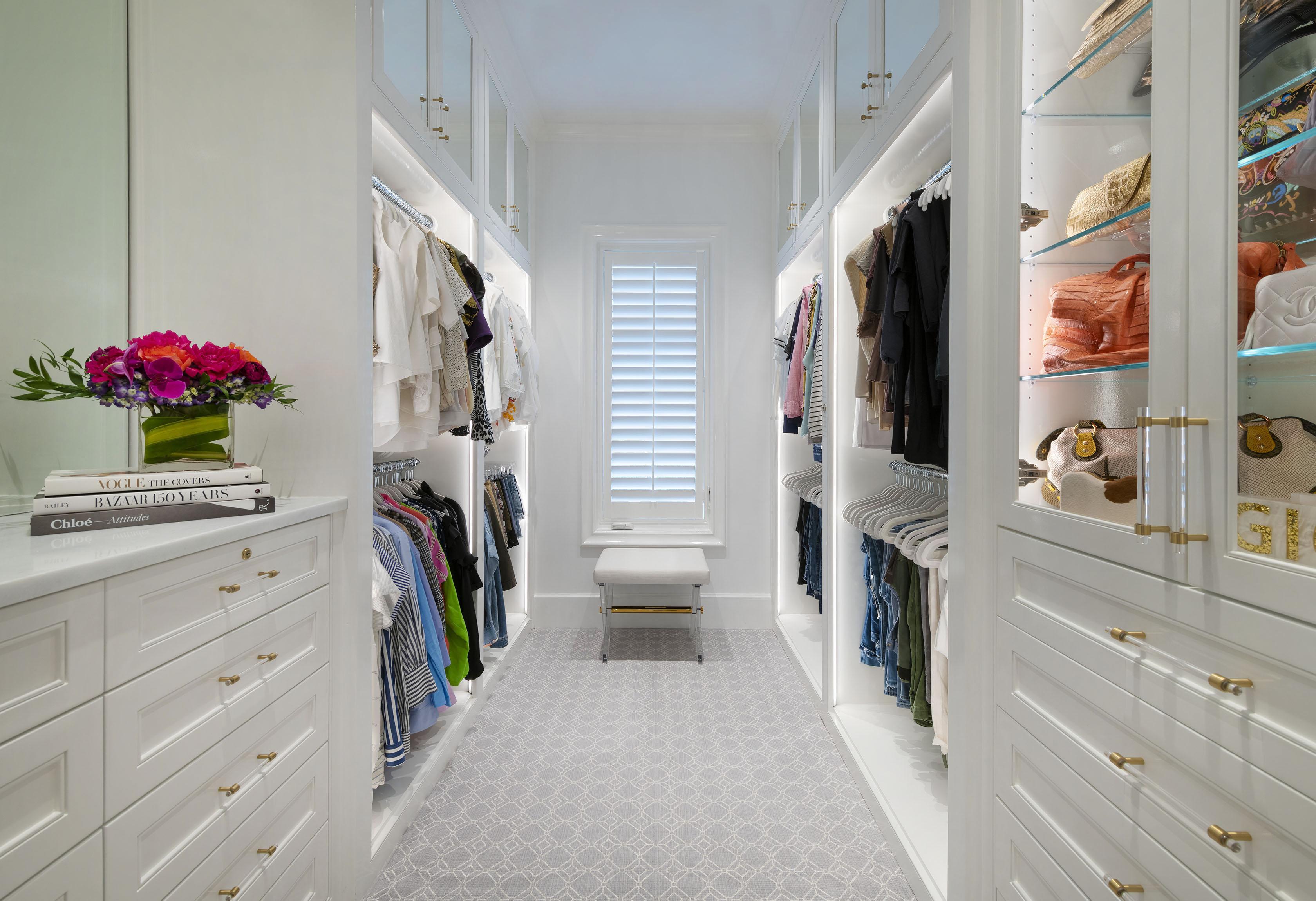 Photo By Kathleen Jacobson, The Couture Closet
Closets & Organized Storage conducted its 2022 State of the Industry report to provide a look at the marketplace and to get readers' thoughts on the current year as well as predictions for 2023. 
Overall, while participants are projecting 2022 sales revenue to increase, those expectations dipped slightly from predictions in 2021. Sales expectations for 2023 also dropped below 2021 and 2022 numbers. 
The study also showed that an overwhelming number of respondents increased prices in 2022 as many had predicted would happen in the 2021 survey. Approximately 97% of companies surveyed increased prices (up 7 points over 2021 predictions) as the industry dealt with several challenges, including supply chain disruptions, inflation and lingering impacts from the pandemic.
The following results of the survey conducted earlier this year are based on 108 responses which represent a 8% margin of error with a 90% confidence level. Approximately 79% of respondents were from independent closet companies, 15% were franchises and 6% were retailers. Of the participating companies, 42% manufacture their own products, 23% manufacture some of their products and 35% do not manufacture. The primary products sold by the respondents include closets and organized storage (56%), residential or commercial cabinets (19%), garage organization (10%), custom woodwork (9%) and other wood products (5%); results do not total 100% due to rounding.
Survey findings include:
2021 gross sales 
Anecdotally closet companies have reported robust business over the past two years. And the gross sales reported by respondents bear that out — a little over a quarter (26%) reported gross sales of $499,000 or less; 23% reported sales of $500,000 to $999,999; 24% reported sales between $1,000,000 and $2,999,999; and 27% had sales of $3 million or more.
2022 sales expectations
Approximately 58% of respondents said they expect sales to be better in 2022 versus 2021; 18% expect sales to be much better; 16% expect sales to remain the same; and 8% expect sales to be worse. Last year when participants were asked to predict 2022 sales, approximately 64% expected better sales in 2022 compared to 2021; 23% anticipated much better sales, 10% expected sales to remain the same and 3% expected sales to be worse. 
When it comes to 2023 sales revenue, approximately 46% expect sales to be better; 30% expect sales to remain the same; 12% expect sales to be much better; 11% expect sales to be worse and 1% expect sales to be much worse.
Popular projects & upgrades
The five projects that grew the most in 2022 were primary bedroom closets (83%), garages (45%), pantries (38%), home offices (32%) and laundry rooms (18%). In 2021 the top five projects in order were closet systems, home offices, garages, specialty products and kitchens.
Top upgrades for closets include drawers (92%), hampers (58%), cabinet lighting (55%), self-close (52%), jewelry tray inserts (44%), and shoe cubbies (41%). Garage upgrades in demand include cabinets (83%), slotwall (70%), workbenches (67%), countertops (58%) and shelves (54%).
For many of those projects melamine and/or laminates were by far the most used material at 75%, followed by solid wood/veneer 16% and other 9% (includes specialty finishes like mirrors, leather, glass, metal at 4% and wire at 5%).
Pricing on the rise
In the 2021 survey, 90% of respondents said they planned to raise prices in 2022. The 2022 State of the Industry reports that an even higher number (97%) actually raised prices this year. Approximately 3% said prices remained the same. 
On average, closet firms reported the cost of a master walk-in closet in 2022 as $6,934 and the average cost of garage solutions as $7,192.
When it comes to design fees, 93% of closet firms do not charge for consultations on the first appointment. Of those that do charge, 80% prefer a flat fee and 20% charge by the hour.
New construction versus remodeling
The number of participants reporting new construction projects saw an increase (42%) versus 58% for remodeling projects. In 2019, the number was 37% new construction versus 63% remodeling.
When asked what type of building projects would have the most growth in 2023, multi-family projects saw an increase compared to past years, but single-family residential took the top spot at 69%, followed by multi-family residential at 17% and public buildings, healthcare and retail coming in at 7%, 4% and 3% respectively.
Marketing
Approximately 40% of survey participants said they allocate 1-4% of their gross sales to marketing. Of the strategies used, 64% cited website/online videos, 54% used customer referral programs, 54% social media, 32% showrooms, 22% inside sales force, 20% trade or home shows and 19% email. (Respondents were able to choose more than one category.)
Compensation for sales/designers and installers
Approximately 42% of respondents pay their sales/designers straight commission, 32% salary and 26% salary plus commission/bonus. When it comes to compensation for installers, a majority (53%) pay hourly, 17% by the job, 18% by job cost and 12% pay installers by other methods, including salary, hourly plus bonus.
Challenges
Top concerns for the industry include inflation, labor shortages, training and supply chain disruptions. Approximately 46% of respondents said inflation is affecting closing ratios due to downsizing jobs, delayed start dates and lower leads and call volumes.
When asked how they are countering these challenges and if they are still ongoing, several respondents said the following:
•    Still battling constantly increasing costs but trying to roll with it as best as possible.
•    Still going on, had to adjust my contract so that people will pay their bill even without accessories.
•    Always on the lookout for a new employee and pay 10% more than the market. Tripled our inventory, but that takes a lot of cash; and with all of the new employees, training so we are all pulling in the same direction is like herding cats.
•    Finding multiple suppliers. Extending installation schedule further out; and monitoring employees on an individual basis.
•    The supply chain issues are ongoing. Acquiring staff and keeping them has been a challenge. We have really dialed in on hiring the right people and training them so that there is opportunity to move up.
•    Networking and more networking! It's always something new to learn and amazing people who are willing to share how they got through hard times. Staying connected and joining a supportive group like ACSP.
•    Doing some modifications to the materials rather than wait on lead times. Tuesday training every week. Bonus for referrals we hire that stay 90 days.
For more, visit woodworkingnetwork.com/closets.
 
Have something to say? Share your thoughts with us in the comments below.