Schedule set for 2024 Closets Conference & Expo
November 3, 2023 | 3:31 pm CDT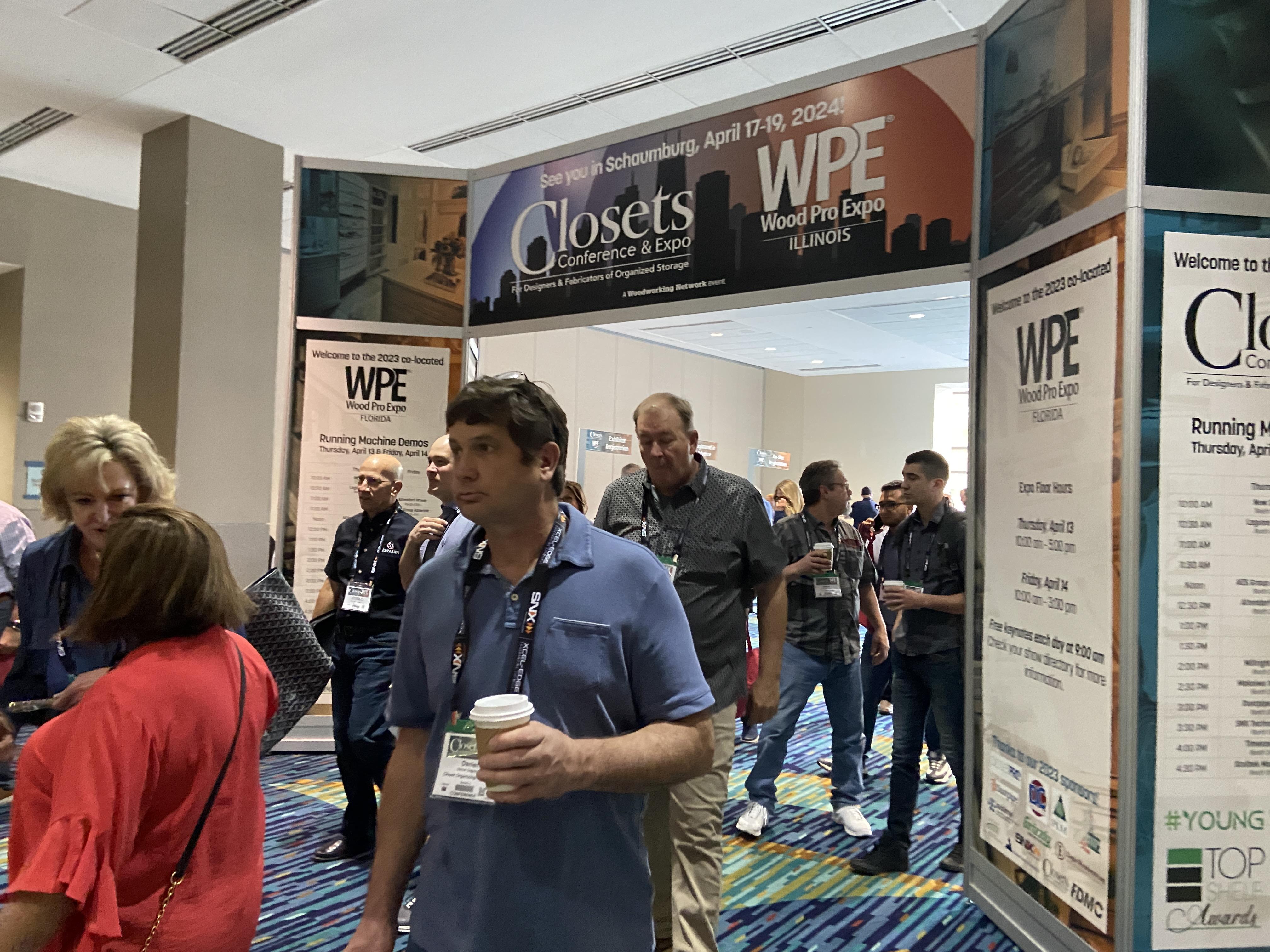 SCHAUMBURG, Ill. - Closets Conference & Expo 2024, co-located with Wood Pro Expo Illinois, promises to be an exciting event with a variety of sessions and activities designed to help professionals in the closets and woodworking industry stay on top of the trends, technologies, and strategies for success. 
The event has grown year after year as new suppliers and vendors develop new products to serve the multi-billion-dollar closets, garage, and organized storage industry. The 2023 event in Palm Beach attracted more than 1,200 attendees from 41 states and five countries.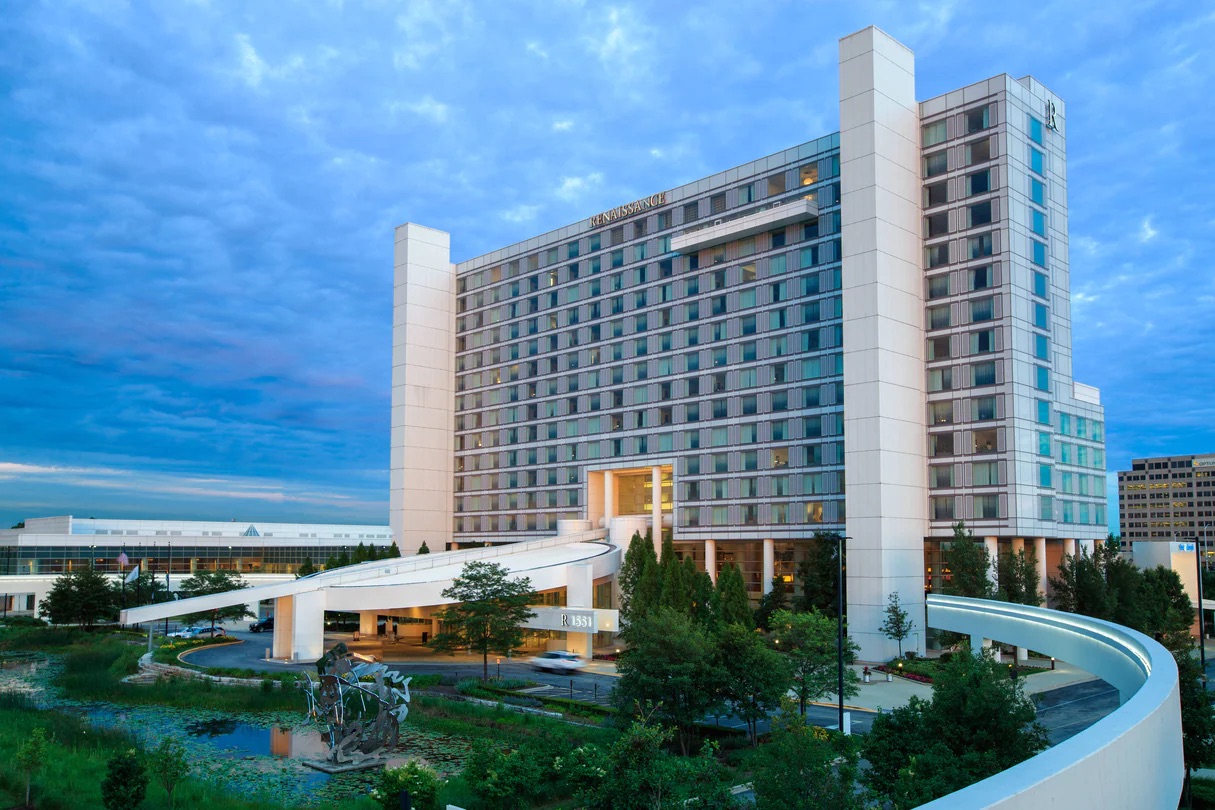 The 2024 conference will be held April 17-19 at the Schaumburg Convention Center, with a lineup of prominent speakers on tap. Here's what you can expect:
Day 1: Wednesday, April 17
The first day of the conference kicks off with a breakfast sponsored by Pennsylvania Lumbermens Mutual Insurance Co. and an opening keynote from Daniel Eisenbarth from the Robbins Research International, Inc. Day-long sessions, which are divided between the Closets Track and the Wood Pro Track, allow attendees to choose sessions tailored to their specific interests.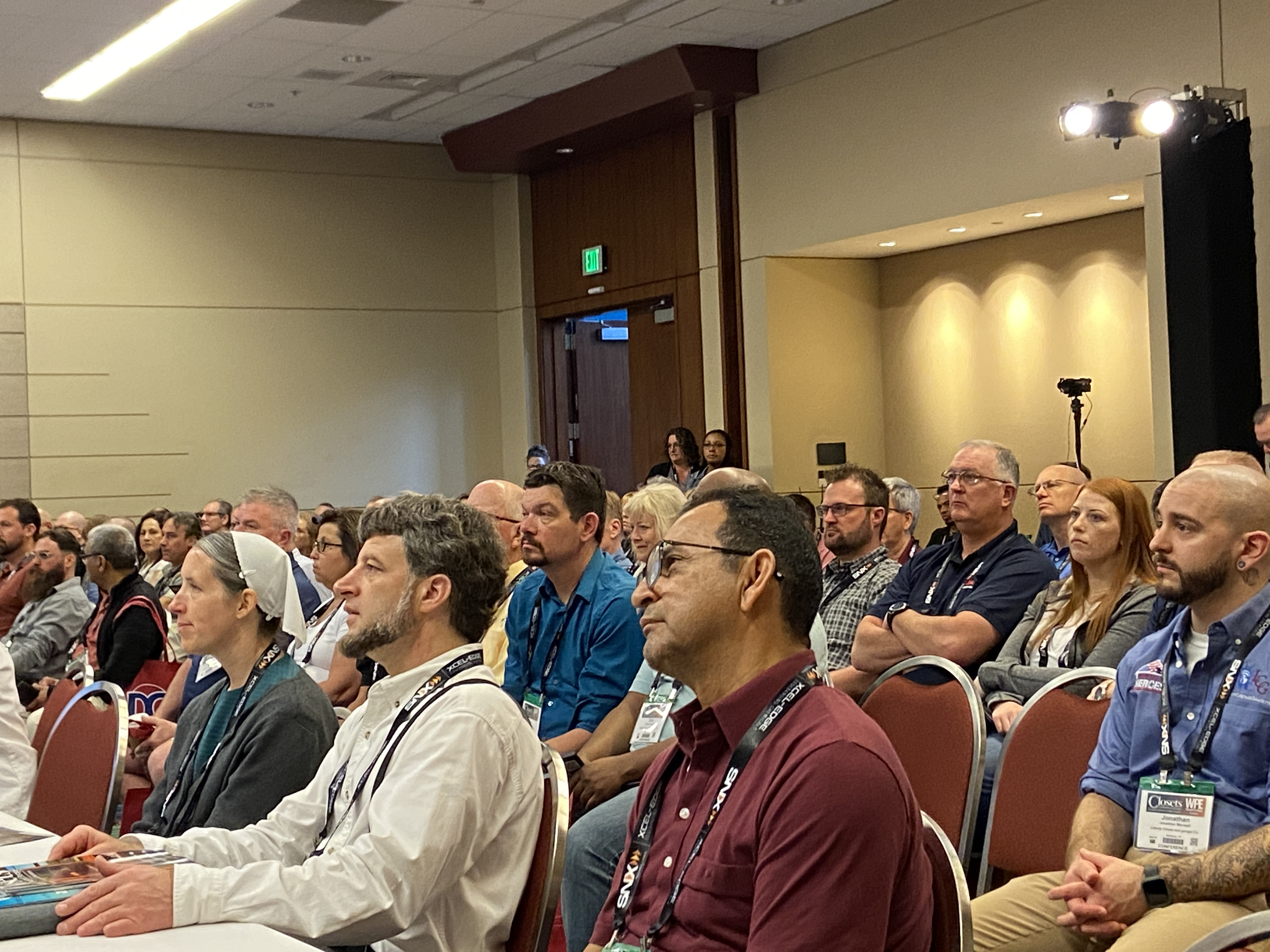 In the Closets Track, Jenny O'Connor from Bespoke Closets & Organized Spaces and Lis Ritz from Inspired Closets Chicago will guide participants on "How to Launch a Design Studio Through Collaboration." This session will delve into developing business plans, leveraging industry partnerships, and creating compelling content on social media to help businesses grow.
Next, Ariane Brabant, TAG Hardware and Knikki Grantham, Keeler Brass Company, will explore the latest trends in accessory and hardware product design and examine the market outlook for new product concepts and finishes in "Emerging trends: Accessories and Decorative Hardware." Participants will hear from these hardware industry experts as they share their insights and experiences.
In the final session of the day, "AI's Role in the Future of Design," attendees will learn about the latest AI-powered tools and technologies that are transforming the interior design landscape and how you can leverage them to enhance your design process, increase efficiency, and deliver results for clients. 
In the Wood Pro Track, attendees can explore the art of "Negotiating Your Contract." This session will offer valuable insights into securing and negotiating contracts in the woodworking industry.
Following that are sessions on lean strategies to increase profitability and best practices on how to transition a business. Industry vets will share their knowledge, providing attendees with a fresh perspective on cost-effective business practices and planning.
A highlight of the day is the off-site plant tour, where attendees can explore a local company's manufacturing facilities and showroom. This experience will offer a firsthand look at the industry's inner workings and innovations.
The day concludes with a welcoming reception sponsored by the Association of Closet and Storage Professionals (ACSP), providing newcomers with more opportunities to network and connect with their peers in a relaxed and social atmosphere.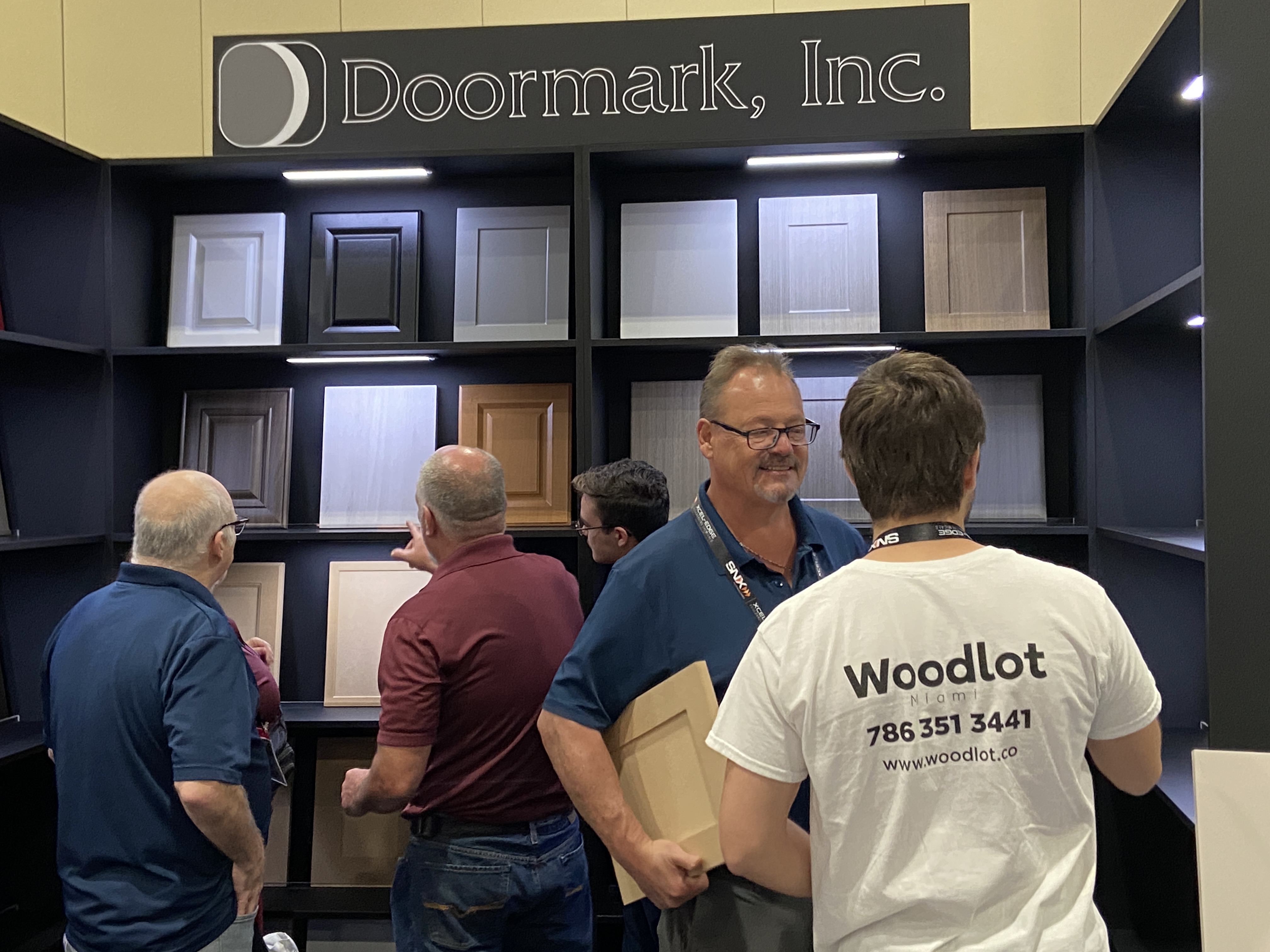 Day 2: Thursday, April 18
Thursday begins with the Cabinet Makers Association (CMA) Breakfast, followed by a morning keynote by Thomas Allott, manager Stiles University, before the ribbon cutting opens the first day of the Expo Hall. Notable events include the Installation Clinic on Closet Lighting, sponsored by ELEKTRA and presented by Eric Marshall of Closet Training Institute, and DESIGN Talks, a series of educational sessions aimed at continuing education for designers.
Woodworking Network podcasts hosted by Editorial Director Will Sampson will provide insights into the industry, and ACSP Certification allows attendees to take the certification exam, sponsored by JB Cutting, at a discounted rate.
Throughout the day, live machinery demos on the show floor will give attendees an opportunity to witness the latest technology in action.
In the evening, an awards reception will take place for the Top Shelf Design Awards and the Young Wood Pro Award, which is powered by Grizzly Industries; additional sponsorships are available.
The day's grand finale is the "Closets & Cocktails: A Speakeasy Soiree," a Great Gatsby-themed party reminiscent of the Roaring 20s. It promises to be a highlight of the show.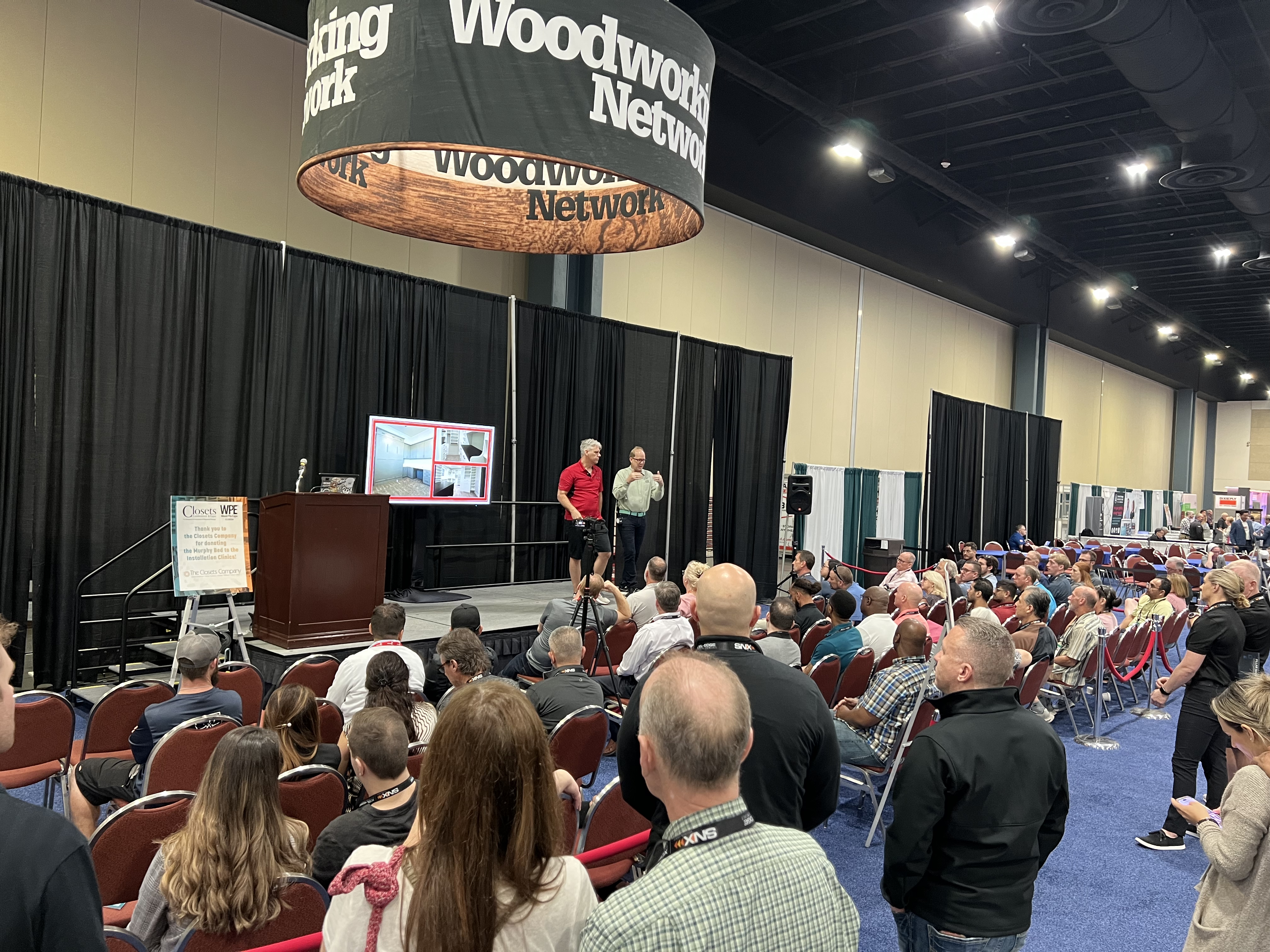 Day 3: Friday, April 19
The conference's final day commences with a final keynote. The expo floor remains open, offering attendees ample opportunities to explore the latest innovations.
ACSP Designer Exchange, Closets State of the Industry, and additional DESIGN Talks sessions will provide in-depth learning experiences throughout the day.
As the conference draws to a close, attendees are invited to a closing reception. Join us one last time for networking and an opportunity to hear a live interview conducted by Closets & Organized Storage Editor Michaelle Bradford.

Closets & Wood Pro Expo is owned and operated by Woodworking Network. The ACSP and the CMA are partners with Woodworking Network for educational programming. Sponsors for the event include ClosetPro Software, DC Distributing, Dustpipe.com, JB Cutting, ELEKTRA, and Pennsylvania Lumbermens Mutual Insurance Co.
Closets Conference & Expo is the only national expo for the entire closets and home organization industry.
Register at closetscon.com or woodproexpoillinois.com. To exhibit, contact [email protected].
 
Have something to say? Share your thoughts with us in the comments below.