2023 Closets Expo and WPE Florida opens with strong attendance
April 13, 2023 | 1:13 pm CDT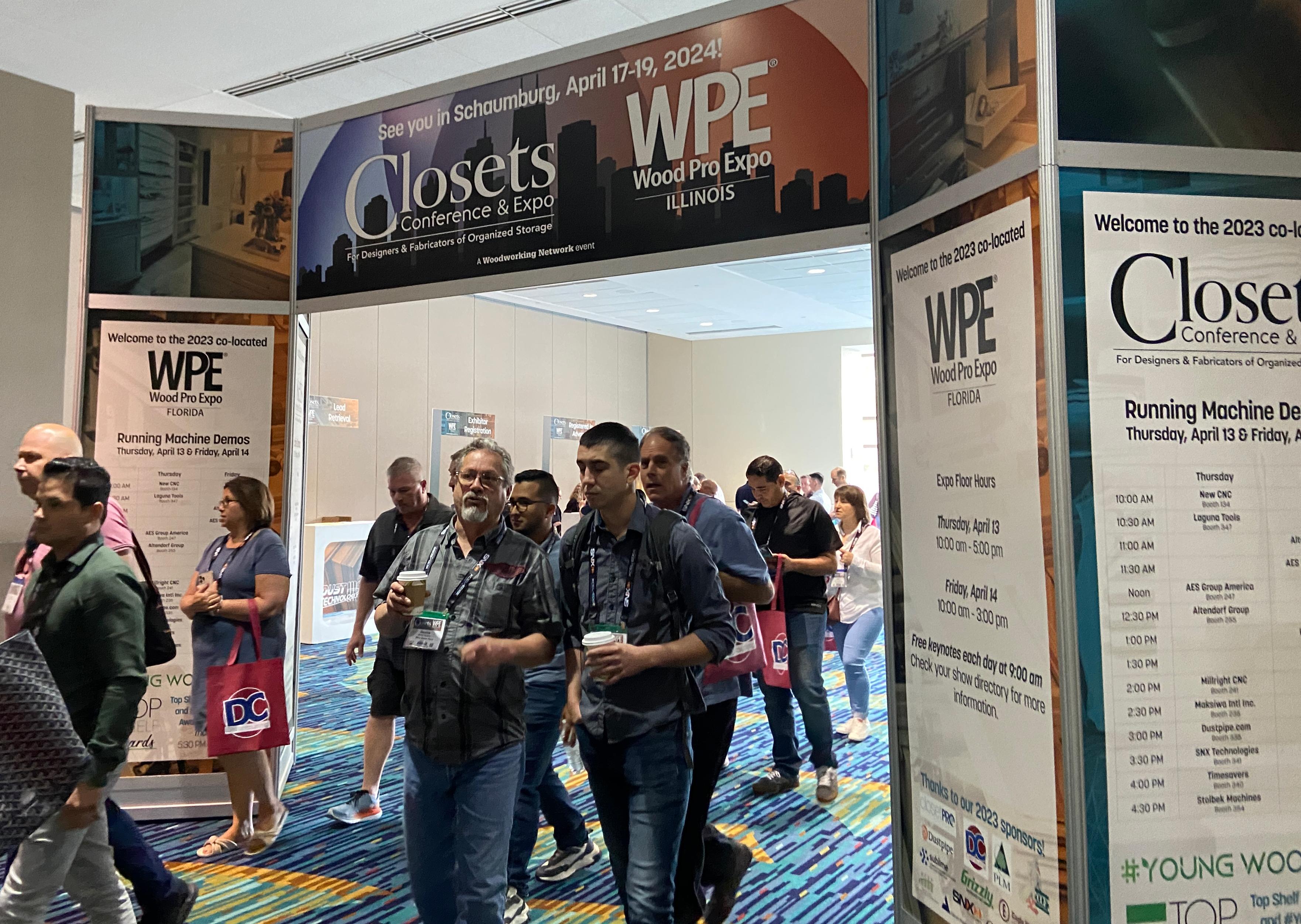 WEST PALM BEACH, Fla. – Closets Expo and Wood Pro Expo Florida opened April 13 with 1100 pre-registered attendees and 83 companies exhibiting hundreds of products at the Palm Beach County Convention Center.  The co-located event, which runs until Friday, April 14, marks a successful return to Florida.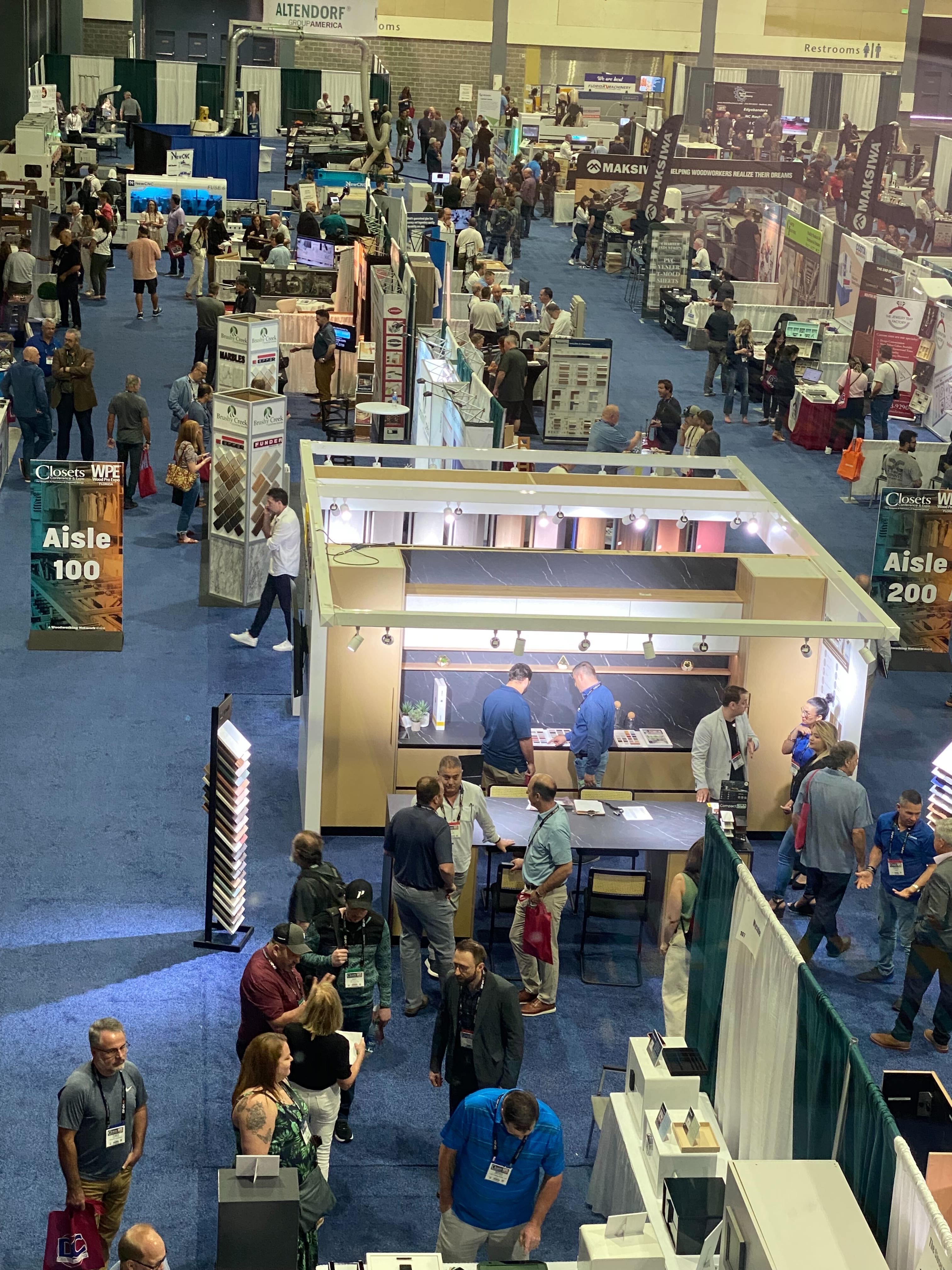 The show floor is open from 10 a.m. to 5 p.m. Thursday, April 13, and from 10 a.m. to 3 p.m. Friday, April 14. Each morning of the Closets Expo and WPE Florida begins at 9 a.m. with a keynote presentation open to all attendees and exhibitors.
Tim Coleman, division manager of SCE Unlimited, presented the opening expo keynote, "My Marketing Pyramid," on April 13. Coleman shared a tool that helps make his marketing decisions easier.
On April 14, Andrew Wadhams, The Wadhams Group, will present a keynote on "Exceeding customer expectations in a demanding environment."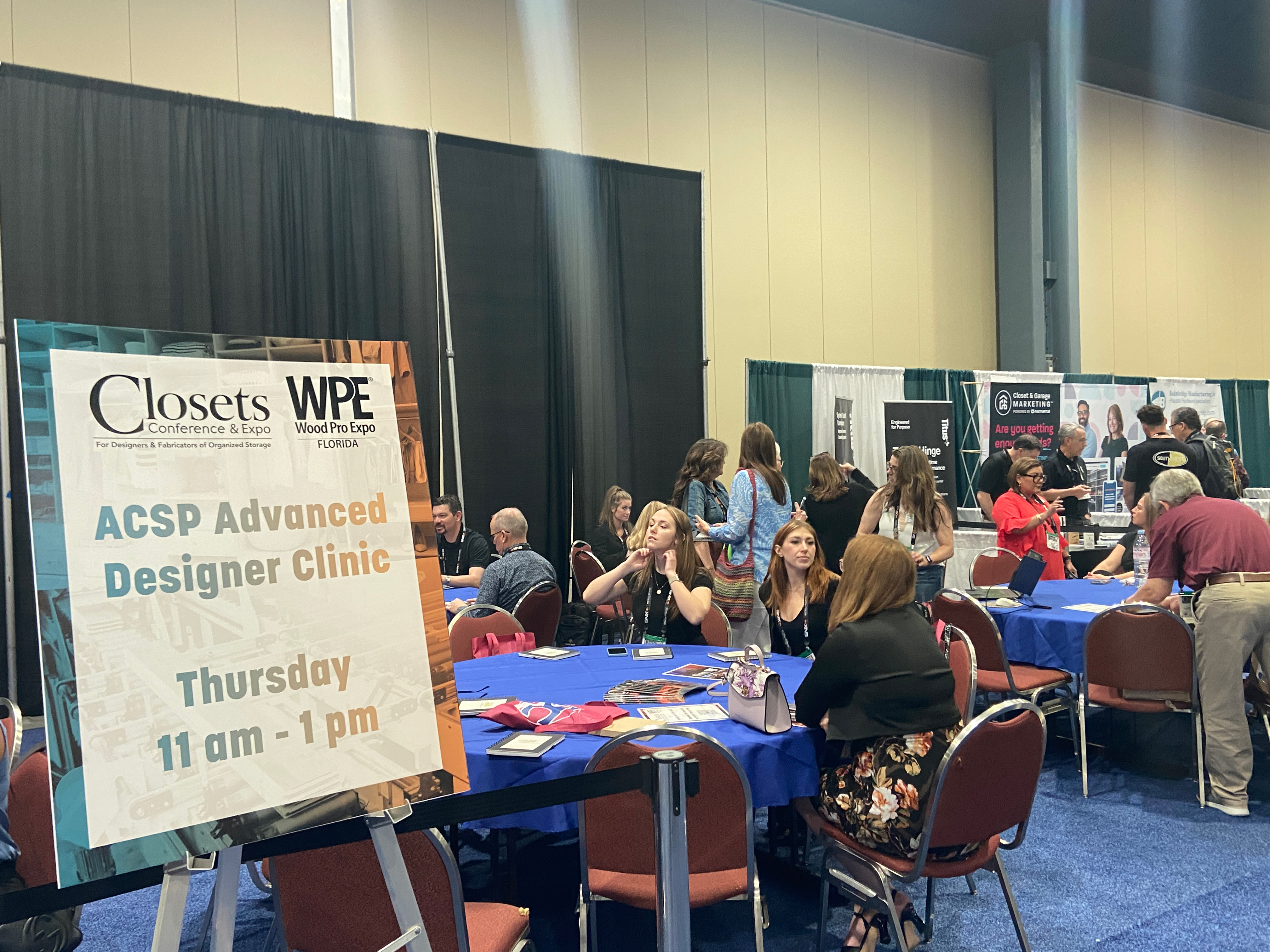 Advanced Designer Clinic
The Association of Closet & Storage Professionals (ACSP) sponsored an Advanced Designer Clinic on April 13. Topics included advanced design, lighting, materials, and trends. The clinic included a tour of vendor booths.
Running Machine Program
An expanded Running Machine Pavilion, featuring comprehensive demonstrations of woodworking technology, will be held during both Wood Pro Expo Florida and the Closets Expo days.
The popular RMP demonstrations will be delivered by equipment companies exhibiting in the Running Machine Pavilion. The size of the pavilion's footprint was increased in December after the original space allotment sold out.
Top Shelf Design Awards
Closets & Organized Storage will present the winners of #YoungWoodPro competition and 2023 Top Shelf Design Awards to closet and storage professionals for their outstanding designs not only of master closets but garages, mudrooms, home offices, and other spaces throughout the home. The awards ceremony and networking reception, sponsored by CCF, begins at 5:30 p.m. on April 13 at the Hilton West Palm Beach, in Coral B, across from the Hilton lawn area.
Advanced Installer Clinics
Eric Marshall, aka The Closet Guru, and Derreck Holland, owner of The Closet Doctor, will draw upon their nearly 70 years of combined experience in the closet industry to discuss best practices for installing organization products in high-end closets, garages, and home offices. Installation 2.0, covering high-end closets, begins at 10 a.m. on Friday, April 14, at booth 445. Installation 3.0, covering other home organization projects, including a live demo of a wall bed install, begins at noon.
About the 2023 Closets Conference & Expo and Wood Pro Expo Florida  
The annual Closets Conference & Expo is the only national event for all closet and home storage professionals. It is co-located with Wood Pro Expo Florida (WPE), a regional marketplace for woodworking professionals. The events are organized by Closets & Organized Storage and FDMC magazines, respectively. Each is a distinct media brand of Woodworking Network. The twin-bill event is scheduled for April 12-14, 2023, at the Palm Beach County Convention Center in West Palm Beach, Fla.
The Closets Expo and WPE Florida each started with separate full-day conferences on April 12, followed by the two-day expo, on April 13-14, featuring woodworking machinery, supplies, and components. Additional educational programming is offered on both days of the expo. Tours of local manufacturing plants and the popular Top Shelf Design Awards networking reception are also key features of the event.  

For information about exhibiting and sponsorship opportunities, contact Laurel Didier, publisher of Closets & Home Storage. For all other inquiries, contact Kim Lebel, show manager. 
More upcoming Woodworking Network events  
Executive Briefing Conference, Sept. 26-28, 2023, The Broadmoor, Colorado Springs, Colo.  

Wood Pro Expo Lancaster, Oct. 12-13, 2023, Spooky Nook Sports / Warehouse at the Nook, Manheim, Pa.  

Wood Machinery & Supply Conference & Expo (WMS), Nov. 2-4, 2023, International Centre, Mississauga, Ontario.  

Salon Industriel du Bois Ouvré (SIBO), Oct. 24-26, 2024, Centrexpo Cogeco, Drummondville, Quebec.
Have something to say? Share your thoughts with us in the comments below.