Is wood making a comeback?
February 28, 2023 | 8:31 am CST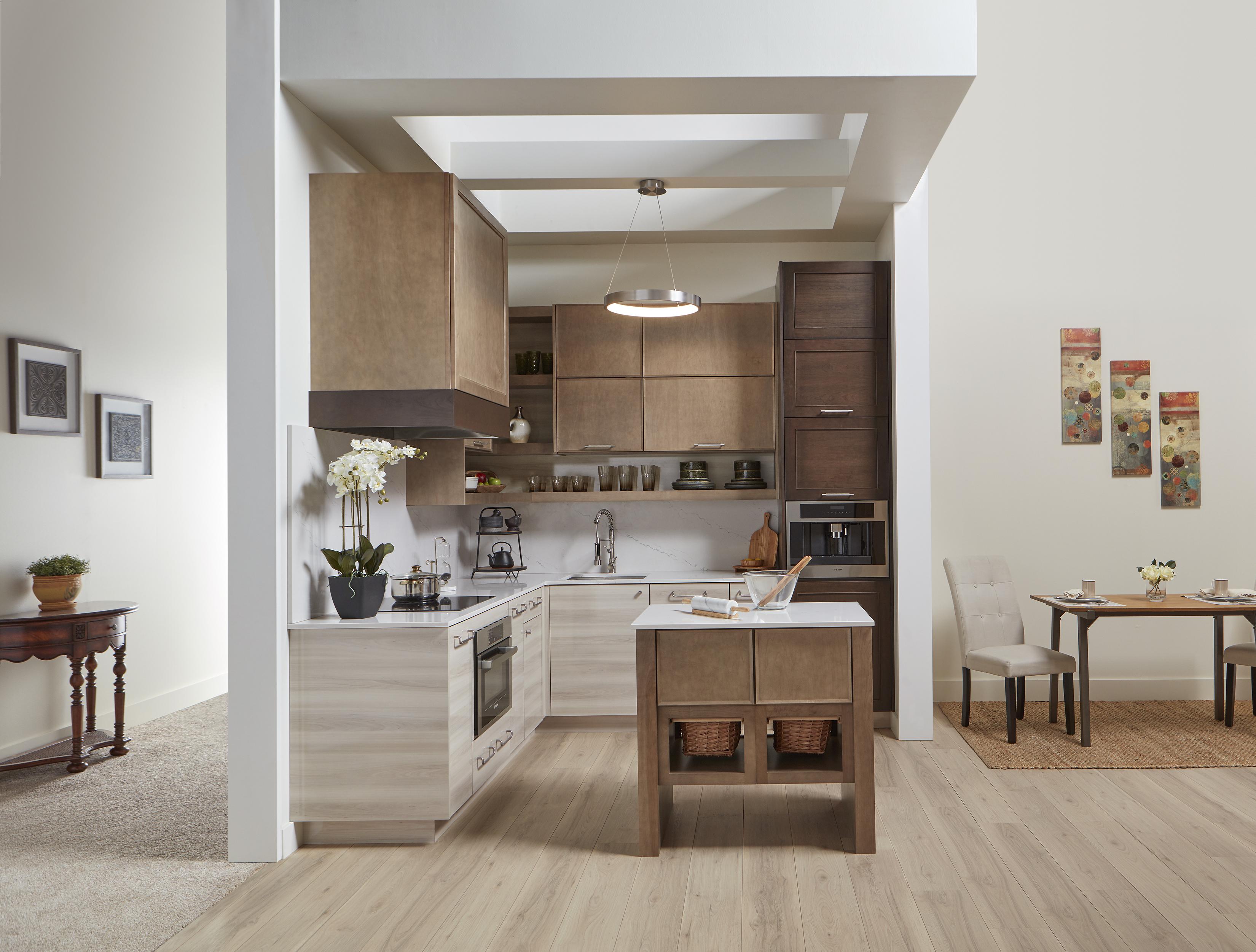 Organizers of Design & Construction Week in Las Vegas claimed more than 200,000 visitors to big co-located shows, making for the biggest attendance at the Kitchen & Bath Industry Show and the International Builders show in 10 years, but apparently North American kitchen cabinet manufacturers didn't get the message.

Few major U.S. kitchen cabinet manufacturers exhibited a these shows this year, making room for European and Asian manufacturers to pick up the pace. Wellborn Cabinets Inc. was the largest American manufacturer exhibiting in halls dominated by plumbing, hardware, and construction displays. German firms such as Nobilia and Hacker increased their presence.

All this comes amid an apparent growing trend toward the "natural look," which means a return to wood finishes and wood looks that could benefit many cabinet manufacturers.

We talked to influential exhibitors at the show to get a handle on all the trends from cabinet style to hardware and lighting. Here's an overview of what we learned.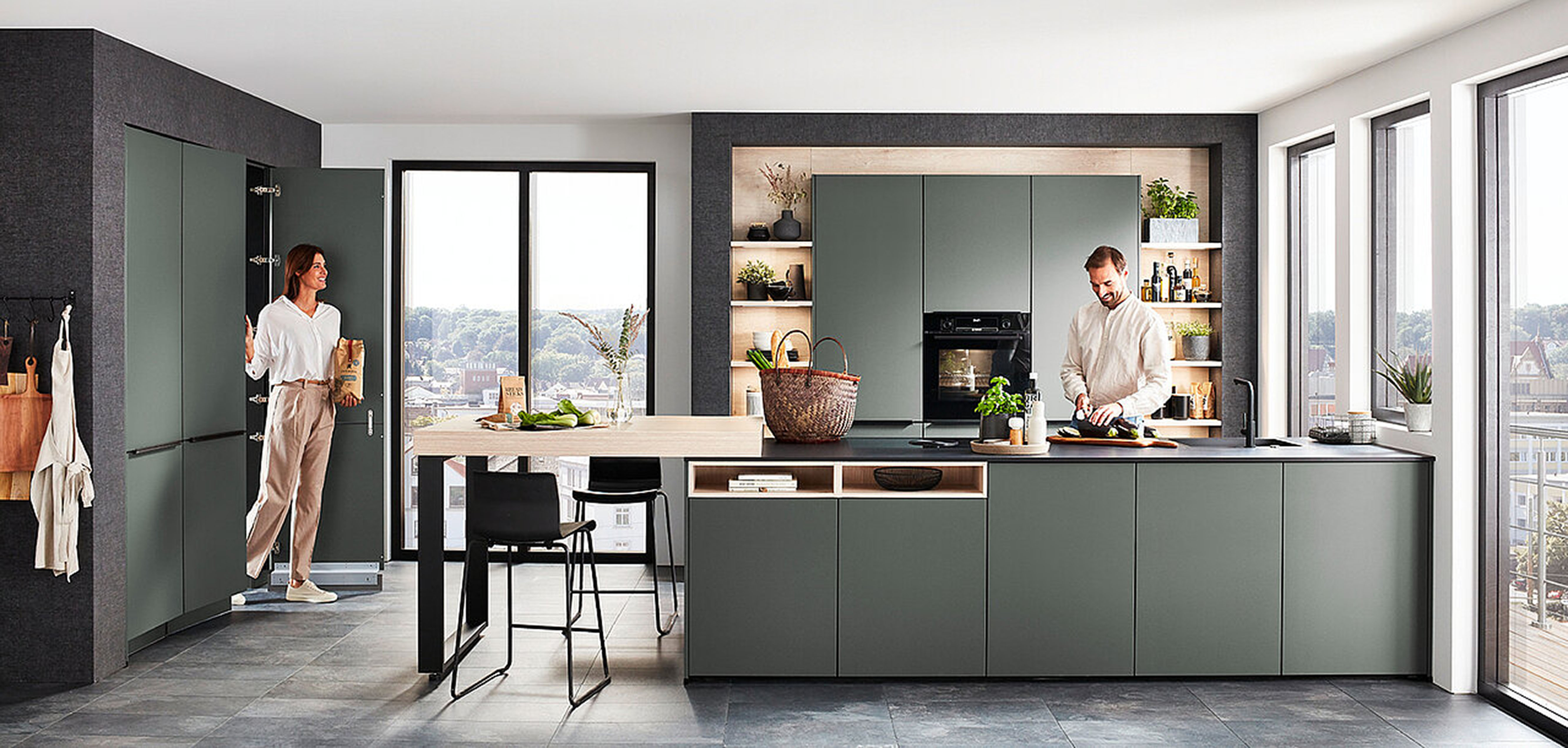 More frameless
There is no scientific study or definitive report that tells what the current ratio of different construction methods and design styles is across the North American market, but clearly frameless cabinetry is finally achieving a major hold after decades of slowly growing in popularity.

Whether it is called "full-access" or any other name, the clean look, extra storage space, strong functionality, and ease of construction are winning over more companies and customers. From economy multi-family construction to high-end European-styled luxury kitchens, frameless has won a place at the table.

Angela O'Neill, director of marketing and advertising for Wellborn Cabinet Inc., confirmed the growth in frameless construction, emphasizing the popularity of her company's Aspire line of frameless cabinets. 

"We could do more frameless if we had the employees," she said, noting the challenge of finding skilled workers. 
One company bucking the trend is Parriott Wood, which emphasizes RTA face-frame cabinetry. Nadeeja Wick, marketing manager, said his company sells to dealers, builders, and homowners who still demand face-frame cabinets.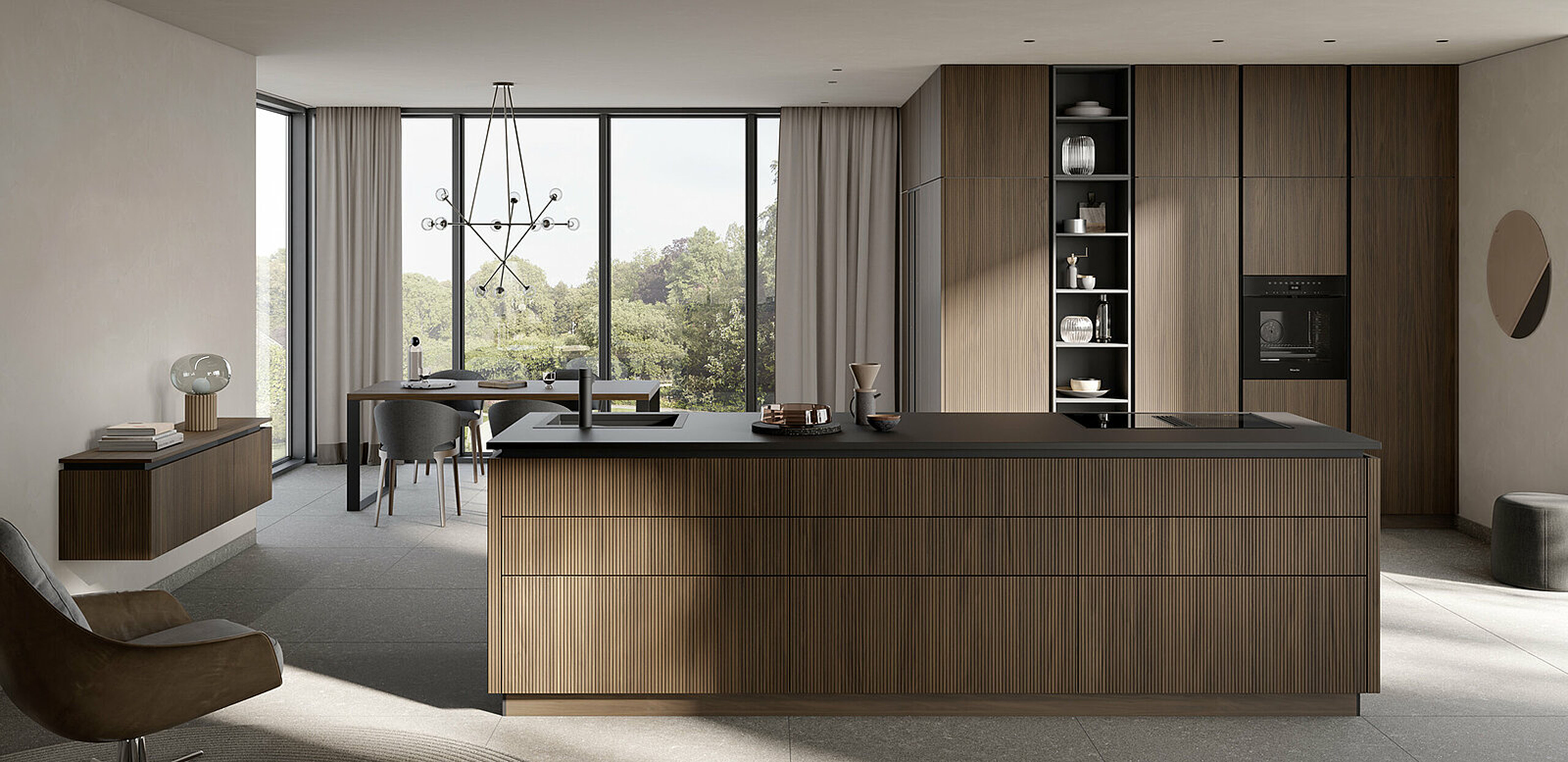 More wood tones, less gloss
While it is too soon to shout, "Wood is back," there was clearly a trend for more wood and wood tones and fewer gloss finishes. Leading the return to wood was the incredible growth in use of riftsawn white oak for cabinet doors. Providing a clean and regular grain, mostly in a natural light to medium tone, riftsawn white oak has become very popular with designers to the point that supplies are a challenge for some manufacturers.

That contributes to the related trend for more use of embossed in register textured laminates that are quite frankly hard to tell from wood without close examination. These laminates, with embossed grain that exactly follows the grain of the wood image underneath, are mostly finished in low gloss or even matte sheens. They are warm to the touch, like wood and readily available in a wide range of colors, "species," and styles. Paired with sophisticated new edgebanding technology and even endgrain-look banding, these textured laminates are harder to distinguish from real wood.

"Wood is coming back," said O'Neill from Wellborn. "People want more natural elements." While white finishes have dominated kitchens for years, she says, "White numbers are ticking down."

"Natural colors are coming back," said Andreas Gommeringer, president of Hacker North America. He confirmed that white oak is "very popular" in the luxury kitchens Hacker manufactures. To further emphasize the linear grain of the white oak, Hacker offers a ribbed wood texture on some cabinets. Shaker and Transitional style
Shaker still dominates the style on display and in demand according to the people we talked to, but there are also strong movements for Transitional style, and some of the styling points on the classic Shaker door are in flux, such as a new door style with narrower stiles and rails. There were also Shaker-style doors that had been augmented with simple mouldings.

Erica Weimmer, sales manager at Fabuwood, said "slim Shaker" doors are a popular new option with them. "We always are ahead of trends," she said.

Hacker's Gommeringer said Transitional style is popular with his customers.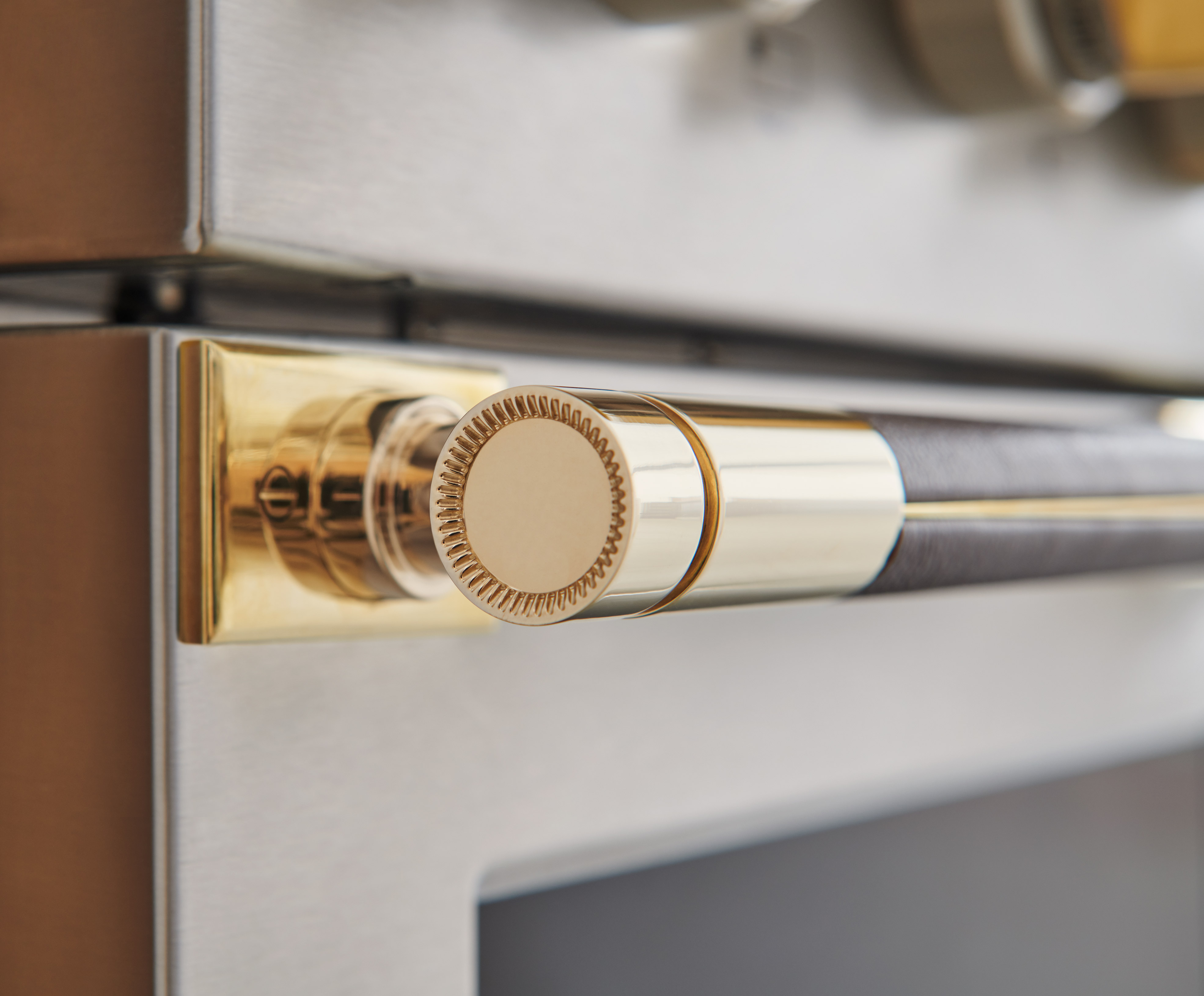 Hardware or no hardware
Along with the rise of more frameless cabinets, the trend for cleaner looks has begun to affect hardware, particularly among European manufacturers of cabinets. They are increasingly going for a no-visible-hardware look in kitchen cabinetry.

This style makes use of deftly hidden finger pulls, more push-to-open systems, and sometimes new lighting technology to help highlight where to open the doors and drawers.

Hacker's Gommeringer said that handleless design along with soft-close hardware is what people are moving to.
Andrea Fernandez, product training specialist for Nobilia, said the three big trends are "natural look, no hardware, and frameless." Nobilia, based in Germany, is a major manufacturer trying to make inroads in North America. "We follow the Bauhaus concept of form follows function," she said.

In the past, the cabinet industry has had appliance panels to coordinate the look of appliances with the rest of the kitchen. Keeler Brass Company announced a partnership with Monogram to create designer pulls for appliance hardware. Now designers can mix and match premium hardware elements throughout the kitchen including on the appliances themselves. Knikki Grantham, creative director for Belwith Keeler, the parent of the new Keeler Brass Company, said, "We make hardware that's more jewelry-like for an upscale experience."

Several hardware vendors we spoke to, including Hafele, Hardware Resources, and Belwith Keeler, noted the trend to gold tones in keeping with a trend to warmer colors throughout the kitchen.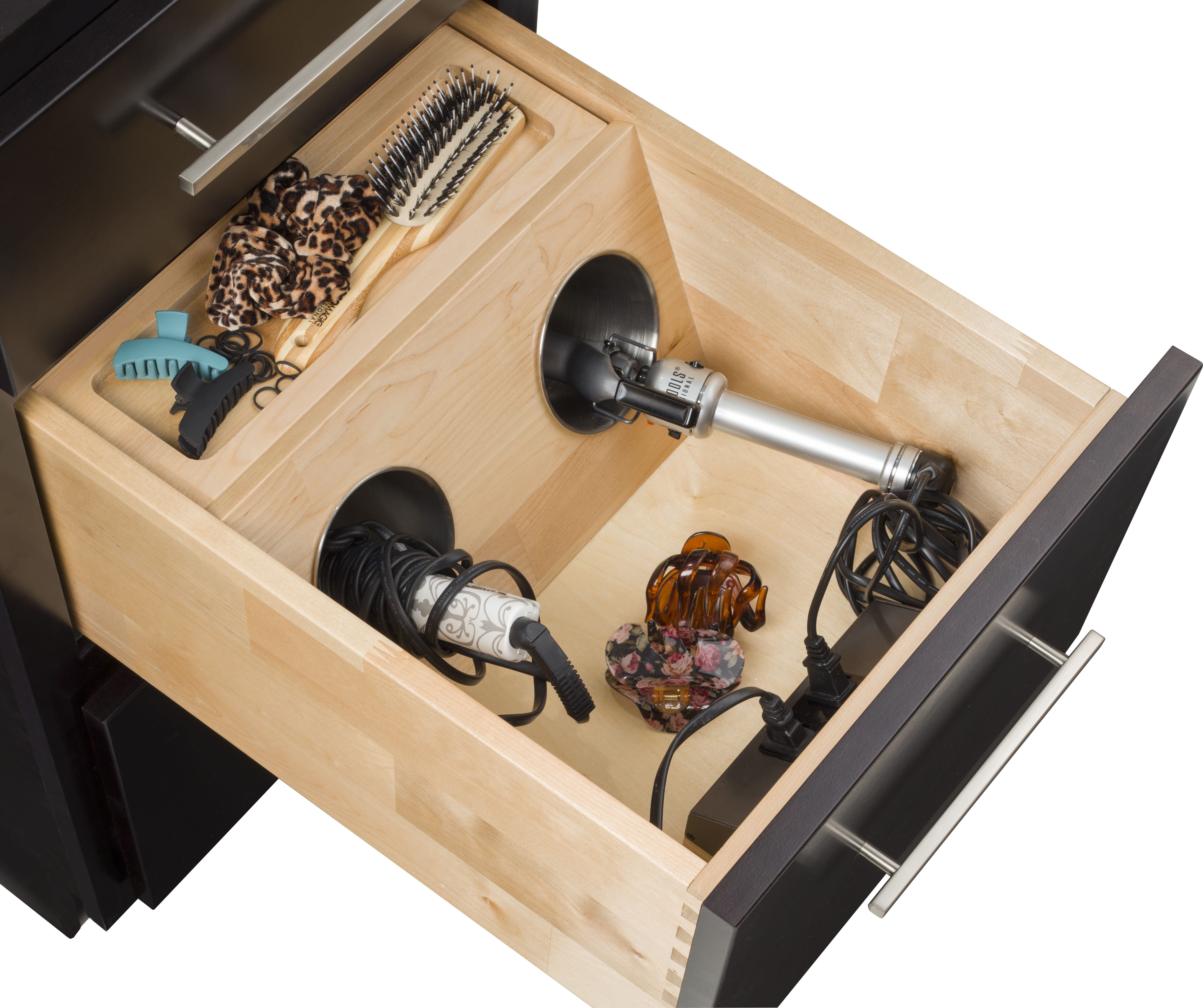 Interior organization, 
multi-purpose use
While the outside of cabinets is increasingly cleaner and less cluttered, insides are filling up with an endless array of organization systems, pullouts, charging stations, and appliance accommodations.

One of the fascinating trends is seeing organization hardware migrate back and forth from different parts of the house. For example, shoe rails meant to keep shoes tidy on shelves in the closet, are appearing in pantries to keep jars, cans, and glassware from sliding off shelves. Appliance outlets and docks in drawers are showing up in the kitchen, bathroom, and craft rooms. Basket organizers are making an appearance in kitchens and closets.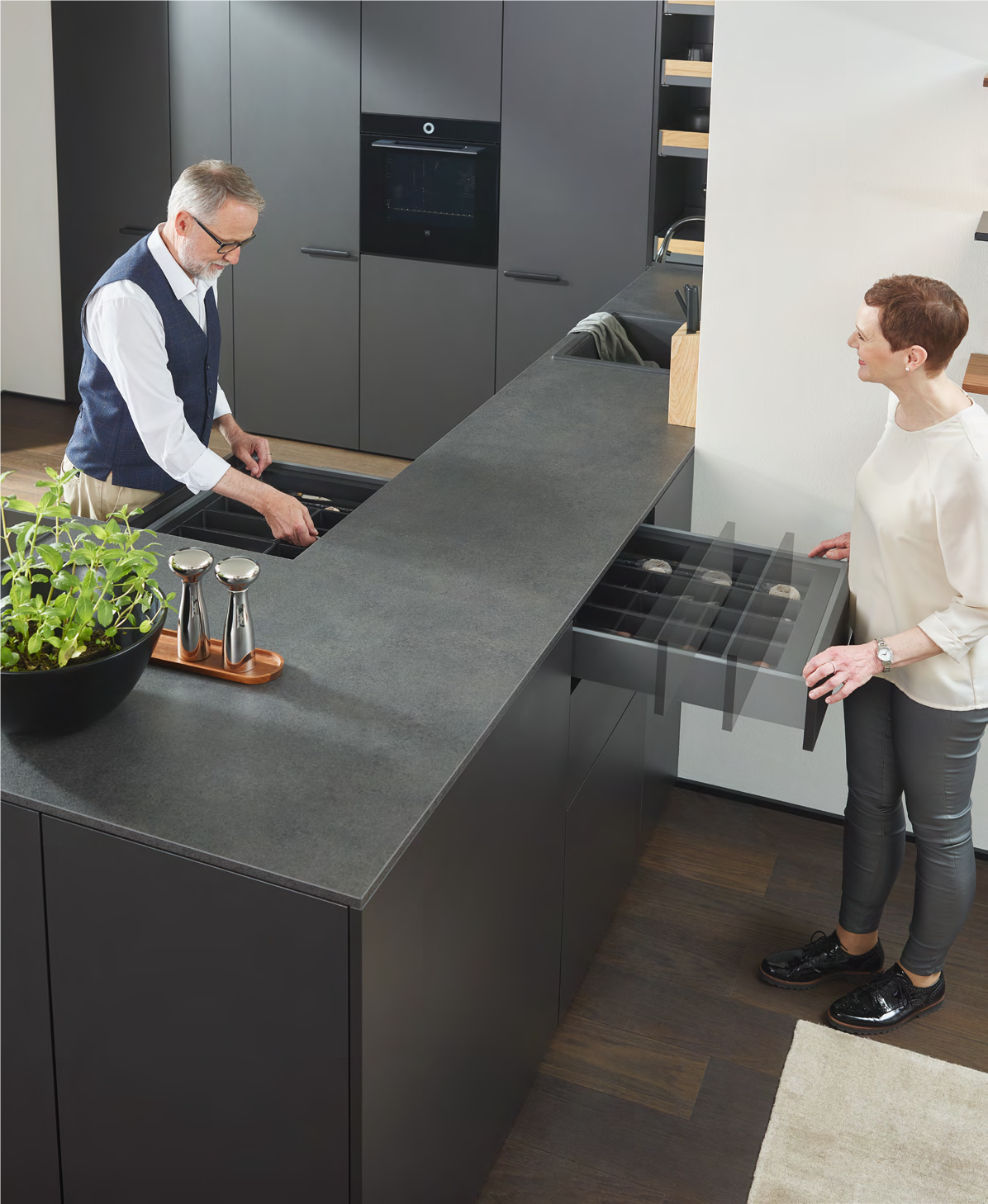 Hidden trends
A popular rising trend is hidden features. The hidden kitchen pantry continues to gain ground with alternatives for access, including doors disguised as shelf units or cabinet doors. One of the most interesting hidden features was shown by Hacker with a kitchen island top that could entirely hide a stove or sink. 

Special hardware was shown to create hidden pullout work surfaces such as a pullout in the kitchen that creates temporary, solid countertop space to add to the work zone. This is much like the idea of mixer and appliance stations that fold out of cabinets and lock into working positions without taking up existing counter space. In the closet, hidden clothes hampers are popular.

While not exactly hidden, Hafele's Riverso drawer system offers dual access to a drawer from both sides of a peninsula or island.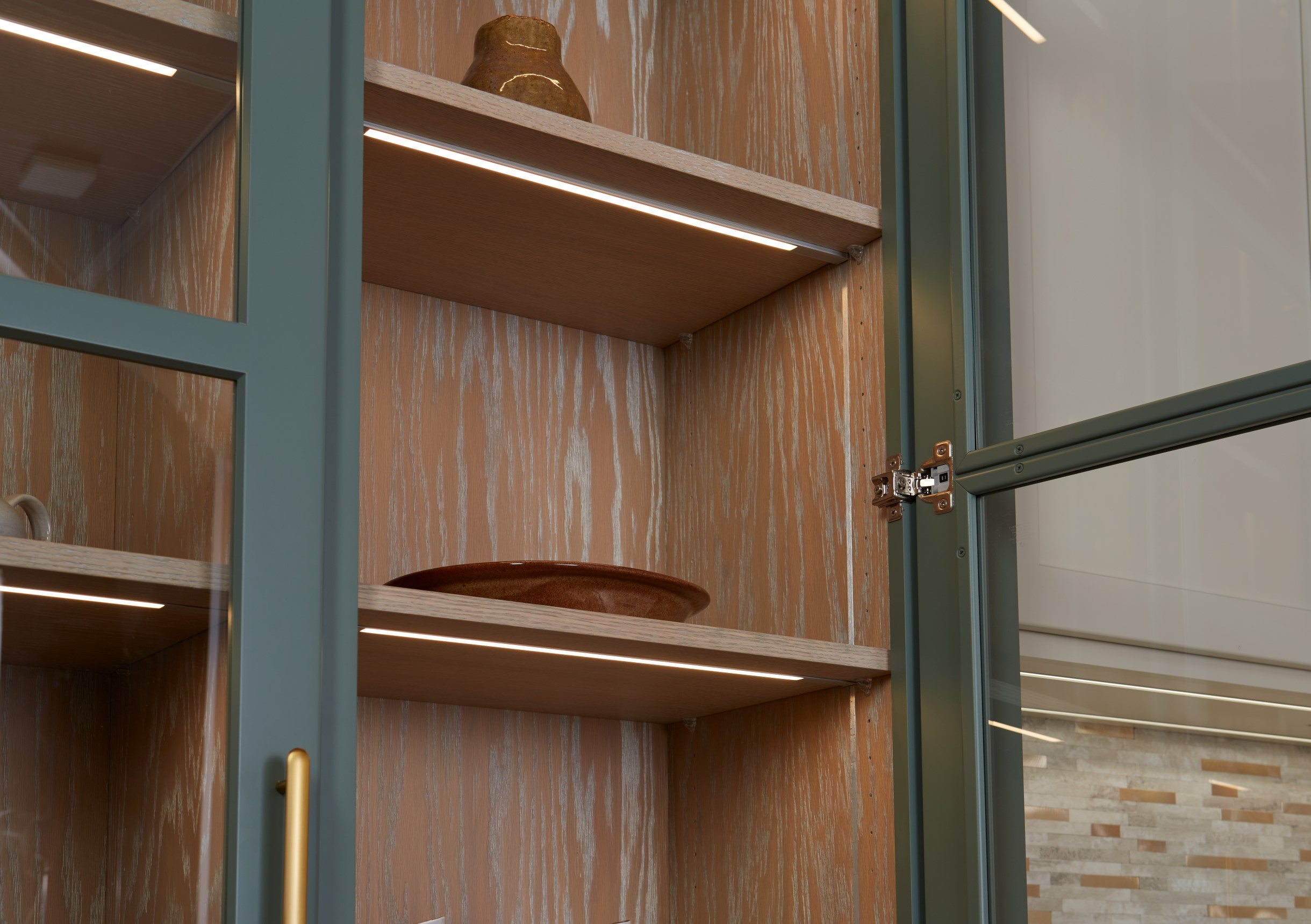 Lighting
Throughout the kitchen, bath, and closet displays, a common denominator was the increased use of lighting. Not only is lighting becoming more ubiquitous, but also it is more sophisticated.

Modern lighting is not just on and off. It is programmable as to intensity, color temperature, and multiple zones. Almost always it can be operated by remote control, frequently with full integration into a smart home system. Just ask your digital assistant to set the lights the way you want, and there it is.

The lights themselves are becoming cleverer and more adaptable. We saw systems to light shelf areas from the top, bottom, and sides. There are lighted closet rods and systems for lighting kitchens under cabinets, above cabinets, at floor level, and inside drawers.

Scott Kaminski, senior marketing manager at Hafele, showed their Loox wireless shelf light that features busbars integrated into the casework with recess mounted Loox5 LED light bars installed beneath each shelf. The result is shelf-based illumination, discretely located and easily repositioned without worrying about connections or wiring.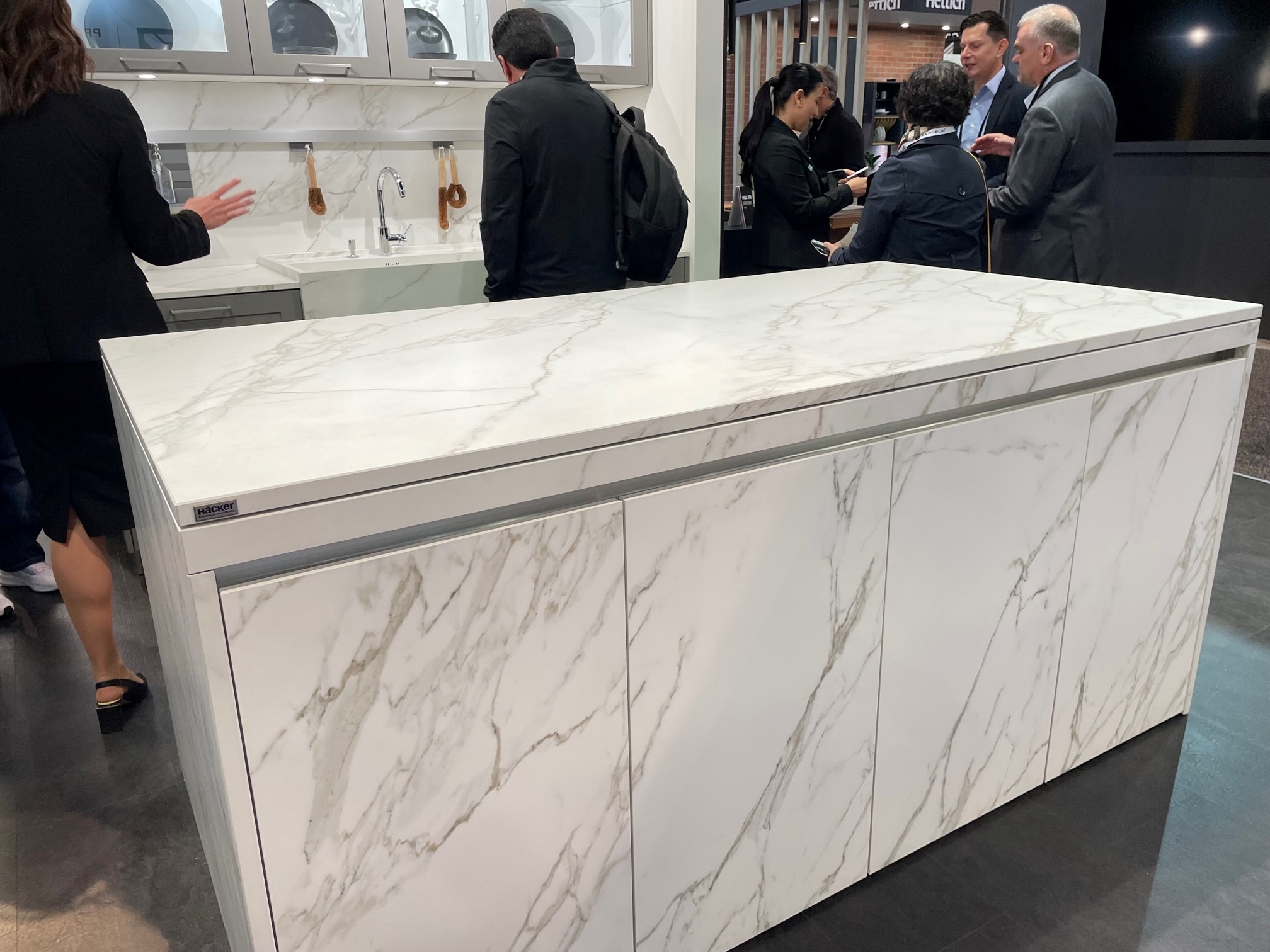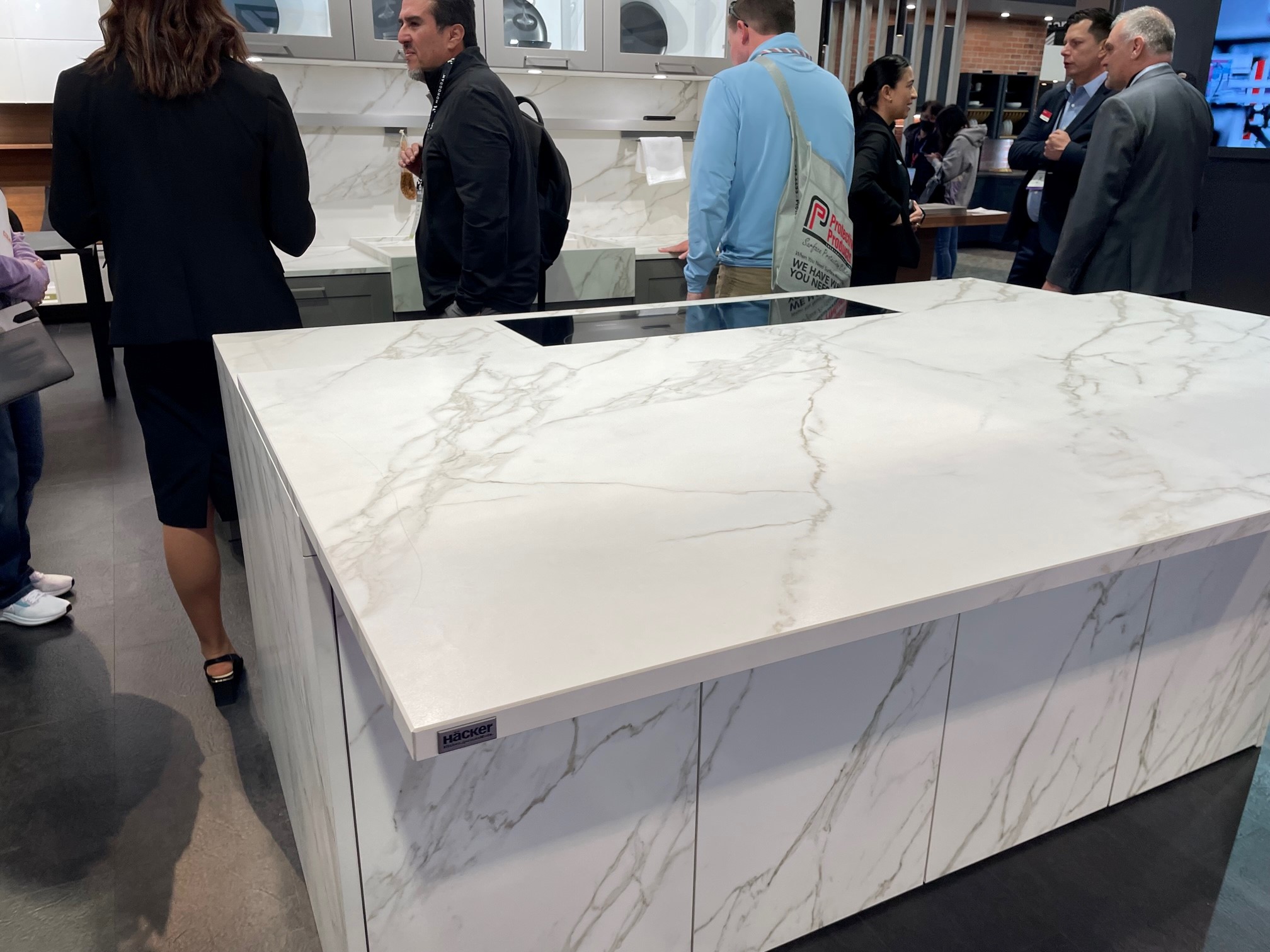 Closet trends
In closet organization systems we saw on display, many of the same trends showing up in kitchen and bathroom cabinetry are moving to the closet, too. The idea of making closets not only more organized and functional, but also more like shopping in a luxury boutique, has taken hold. Automation features bring clothing from a storage position to be more accessible.

Drawer systems not only add specialized storage, but also bring visual interest. Closet designers are also stealing ideas from kitchen and bath cabinets to create new organization opportunities as well as encouraging kitchen and bath designers to steal closet features for use outside the closet.

Closet Maid showed off an interactive online configurator to show designers and customers how various closet features would look with different finishes.
Have something to say? Share your thoughts with us in the comments below.