Design drives cabinet and closet shop's growth
June 2, 2017 | 4:58 pm CDT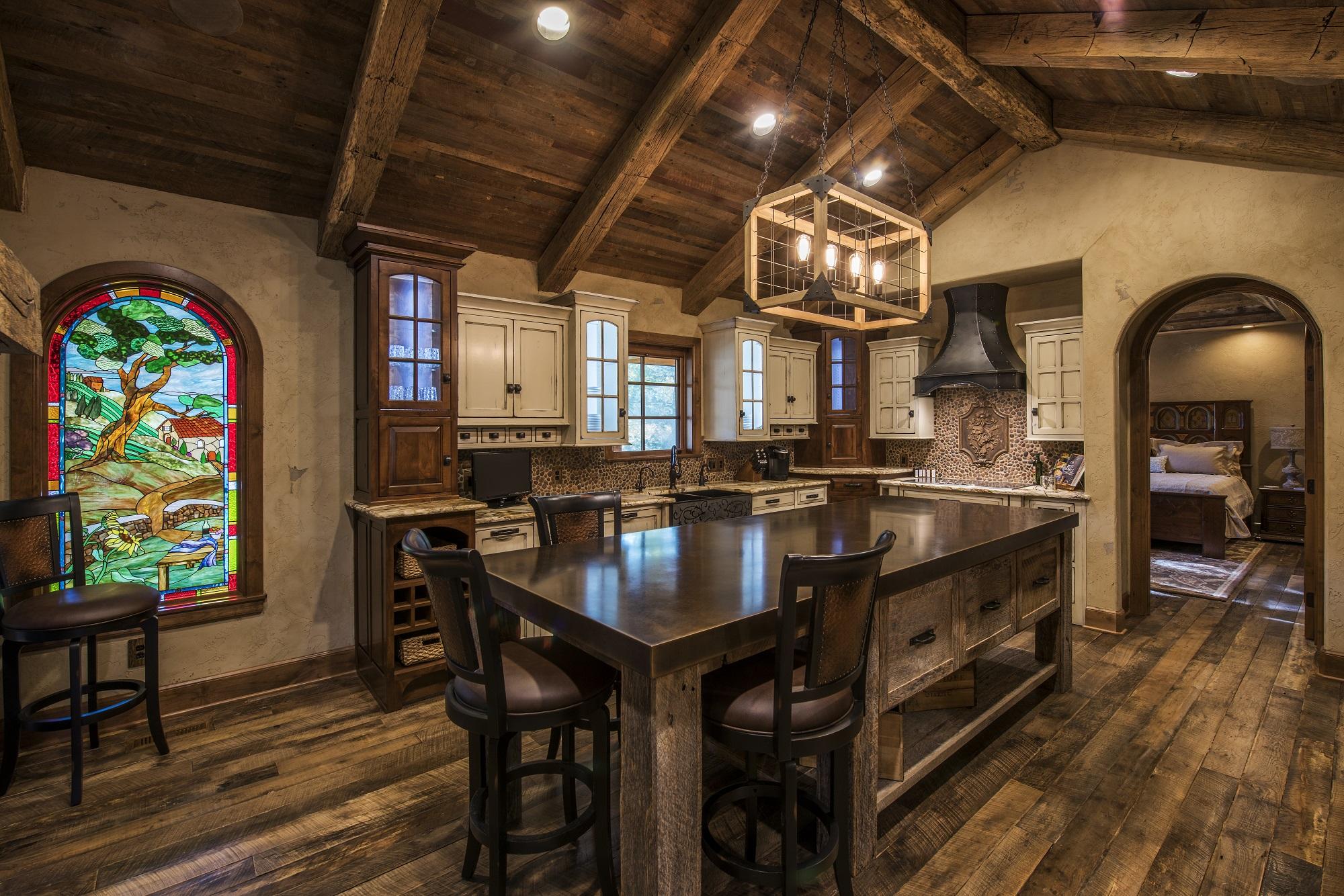 Communicating with customers and making sure they get the design they want have helped Cabinet Concepts by Design grow.
The Springfield, Missouri, company makes cabinets and closets and has emphasized delivering the design customers want, while expanding its own capabilities and use of technology.
Matt and Shelley Wehner started the business in 2007. They bought an existing four-man cabinet shop, and moved it to its current location north of Springfield three years ago.
"My wife and I were both college athletes, so we have a whole team mentality, that everyone has a share in the success of the company," Matt Wehner said. "That's how we built our company. No part is more important than another part, everyone's replaceable, even me."
Matt said that Shelley is not as replaceable, because she's the creative one.  However she has recently expanded her design team. "We're building a team that acts as a family as well.
"Our design and ability to communicate with the client what they're going to get is a strength. A lot of the cabinet shops use Cabinet Vision, but many don't use it in a manner to communicate with the client what they're going to get to the level we do."
Lodge living, farmhouse and traditional designs are promoted on Cabinet Concepts by Design's site. Shelley Wehner starts the design process. "Customers use Houzz, Pinterest, and the internet quite a bit to make sure everyone's talking the same language," Matt Wehner said. "Then they fine tune or hone in on what the look of the entire project should be, whether kitchen or bathroom."
The client may have something in their mind that they want, but transferring that to the designer can be a challenge. There are some local interior designers that want to transfer their design to Cabinet Concepts by Design's CAD, and have them produce it. Other designers understand that the company knows what will work and won't work.
"Most interior designers in the area will let Shelley and her crew design it with their input," Matt Wehner said.
White and walnut
What are customers looking for? "White; 70 percent of cabinets have been paint grade white, gray is also big," Wehner said. "Paint grade is still easily 80 percent of our jobs."
Wehner said there has also been a mad rush of walnut. There were two big jobs of walnut during a recent visit. Rift white oak with a linear grain is popular.  They use poplar for painted door frames and cabinet frames.
What about frame vs. frameless?  "There is a preconceived notion that the frameless is less stable than a framed cabinet," Wehner said. "People still want the frame cabinets. A younger generation is requesting the frameless or Euro look, more than the older generations."
Organization is big now. A lot of the remodeling work comes from people wanting to stay in their homes but making them more functional. About 30-35 percent is remodel, compared to new construction. The company can also make special products like beams made of MDF with walnut veneers.
Closet work growing
Closets represent about an eighth of total revenue, and Wehner is looking for that to grow this year. The company is starting a marketing campaign with their local internet provider, focusing on closets, home offices, and any organization that customers want.
All closet work sold last year was with current clients. "(Closet work) is from current clientele already doing a kitchen or a master bath and expands from there," Wehner said. "We hope those numbers go up from people established in their home and want to organize their closet."
Producing closets is different than other woodwork, with fewer challenges. "It takes a lower skill, and the closets bypass my bottlenecks, which are my finishing department, and my door department," Wehner said. "Those are more highly skilled positions, and it takes longer to produce the finishes on the cabinets and the doors."
Components for a closet go from the CNC to a cart, over to the edgebander. They are edgebanded, put on a pallet, forklifted and tagged on a pallet, ready to go out on a van. The CNC operator is also the primary closet person, so when it's ready to install he will take it out and install it."
With the company's CAD program, Cabinet Vision, it is easy for the designers. "As long as we invest in the people, the designers take care of the clients," Wehner said. "It's amazing some of the closets we've gone into, how enormous they are. We're getting ready to install a 2,000 square feet closet."
A related product is a hidden bookcase, which can conceal a large room. "We will do four to six hidden bookcases a year that lead to a hidden room," Wehner said. "It could be in front of anything. We did one where it went in to a man cave."
LED lighting in the showroom
Cabinet Concepts by Design offers a full spectrum of Hafele LED lighting.
Matt Wehner said that it is important to have the lighting in their own displays, so customers can envision what can be done. Hafele also provides a light box that shows the light tapes and pucks to good effect.
"Hafele has designed it so you do not need a certified electrician," Wehner said. "All you have to have is a strategically placed outlet so you can connect their transformers, or drivers as they call them. Their drivers, in different sizes, plug into the outlet.
"From there, it's infinitely expandable. You can do the touch sensors, the motion sensors, door switches, plug in lights. We use 12-volt exclusively.  All our work is residential."
The company uses the light tape primarily, and sometimes use pucks. "We use this extrusion that will fit behind glass, we'll mount that extrusion to a wall, glass company will slide it into place, it will illuminate it through the glass."
Tiptoeing into technology
Cabinet Concepts by Design has expanded capabilities, from having no finishing to wide range of finishing, LED lighting, and panel processing to enter the closet market  The company has expanded cautiously and deliberately, adding new capabilities when needed and adding equipment from other shops that closed.
In the Springfield shop, jobs are organized on color-coded clipboards that have different cells of the job. Cabinet Concepts has "tiptoed" into technology, originally using a small point-to-point with a panel saw. "We saw the capabilities, but we wanted to merge the two technologies into one, save the footprint, and to have one tool instead of two," Wehner said.
That led to an Omnitech Selexx Chief CNC router, which upgraded the shop's capability, and represented what Wehner called a turning point. Cabinet Vision creates the code and the cut sheets here. This machine was added two years ago.
A Cehisa Pro-12 edgebander has been another key piece of equipment that has changed the company's capabilities.  It is being used to edgeband components for closets and is also fairly new.
A new Viet three-head sander was added recently, also a Timesavers sander. A new Gannomat dowel inserter was bought from a shop that had closed in Joplin (a familiar acquisition strategy for Wehner). A Weinig Profimat 23 was from a different shop that had closed, so they can make their own mouldings. A panel saw and Hess case clamp are also here. Hardwood is cut and machined to make frame parts for cabinet doors and face frames. An older widebelt sander has been fitted with a wire brush to make a distressed finish.
The local preference used to be for contractors was to take fully assembled cabinets, install them and then finish them on site.
Finishing is growing in importance for the company, and they have a wide range of capabilities and a large finishing area, and plan to add an enclosed booth. They are now finishing about 60 percent of work. A recent visit showed appearances ranging from high-gloss polyurethane finishes to distressed, using a chisel, worm hole and bird pecking effect. "We're not stuck on one style," Wehner said.
This display was fabricated for Hafele's booth at the Cabinets & Closets Conference & Expo, and will be displayed in the company's showroom.
For more information:
www.cabinetconceptsbydesign.com
Adwood    Cehisa edgebander
Biesse America,  Viet widebelt sander
Cabinet Vision  Software
800-280-6932  cabinetvision.com
Hafele America Co.   LED lighting
Omnitech Systems  Selexx Chief CNC router
Timesavers widebelt sander
800-537-3611  timesaversinc.com
Tritec Assoc.-Gannomat  Dowel inserter
Weinig Group   Moulder
See the Omnitech Selexx Chief CNC router used in Cabinet Concepts by Design's shop.
http://www.woodworkingnetwork.com/video/cabinet-concepts-design