2009 Kitchen/Bath Cabinets Winner: Kitchen Elegance
August 14, 2011 | 9:34 pm CDT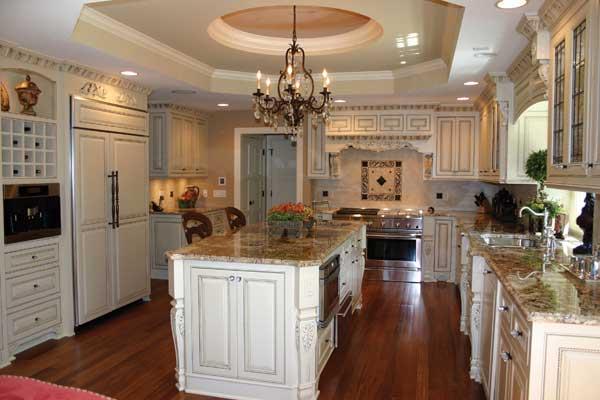 Modern Design creates a dream kitchen for one lucky client.
Modern Design LLC
Cologne, MN
www.moderndesignllc.com
Project: Custom Residential Kitchen

Year Established: 1991

# of Employees: 26

Shop Size: 20,100 square feet

Specialty: Custom cabinetry, both residential and commercial.
With a kitchen this beautiful, how can anyone think to make a mess by cooking in it? We are just kidding of course, but this kitchen, created by Modern Design in Cologne, MN, wowed our judges with both its elegance and functionality.
Modern Design owner Troy Eiden says that the cabinetry features paint-grade 3/4-inch sides and 1/2-inch MDF backs, enameled and glazed. Decorative mouldings, legs and corbels from Enkebol Designs, White River Hardwoods and Art For Everyday Inc. were incorporated into the project. All the doors have Blum soft closures. The drawer boxes are Baltic birch with Blumotion self-closing undermount drawer slides. Four of the upper cabinet doors have leaded, beveled glass, and the countertops are granite.
Eiden says that they used Cabinet Vision and AutoCad to design the kitchen. Much of the machinery was done on the company's Komo CNC router.
The inset beaded frames were created with the company's Hoffman inset beaded notcher. The doors were made as five-piece raised panel cope-and-stick doors with hand-applied rope and bead moulding. The drawer fronts are five-piece flat panel with rope and bead moulding.
"This process was highly labor intensive, but contributed to the overall success of the project," Eiden says.
Other important features include panelized, finished ends on the cabinets and arched toe kicks with CNC-routed designs on each side. On the radius island cabinet with raised panels across the front, the granite countertop follows the radius and outline of the legs.
Eiden says the hood vent presented special challenges due to height restrictions and code requirements. Modern Design used multiple pieces of moulding and cut around the bottom of the mouldings to achieve the look the customer desired.
The decorative mouldings, legs and corbels also were a challenge, in that it took time and consideration to to determine which pieces and styles would work best with each other in this highly detailed project.
Additionally, four finishers had to work closely to apply the glaze by hand in a consistent manner. Eiden says the extra attention to detail makes all the difference.
"Over the years, we've done more and more detailed, intricate work," he says. "Seeing the products we create and the joy on the customer's face makes it all worth while."
Have something to say? Share your thoughts with us in the comments below.