3 Methods for sanding five-piece doors
January 29, 2016 | 9:26 am CST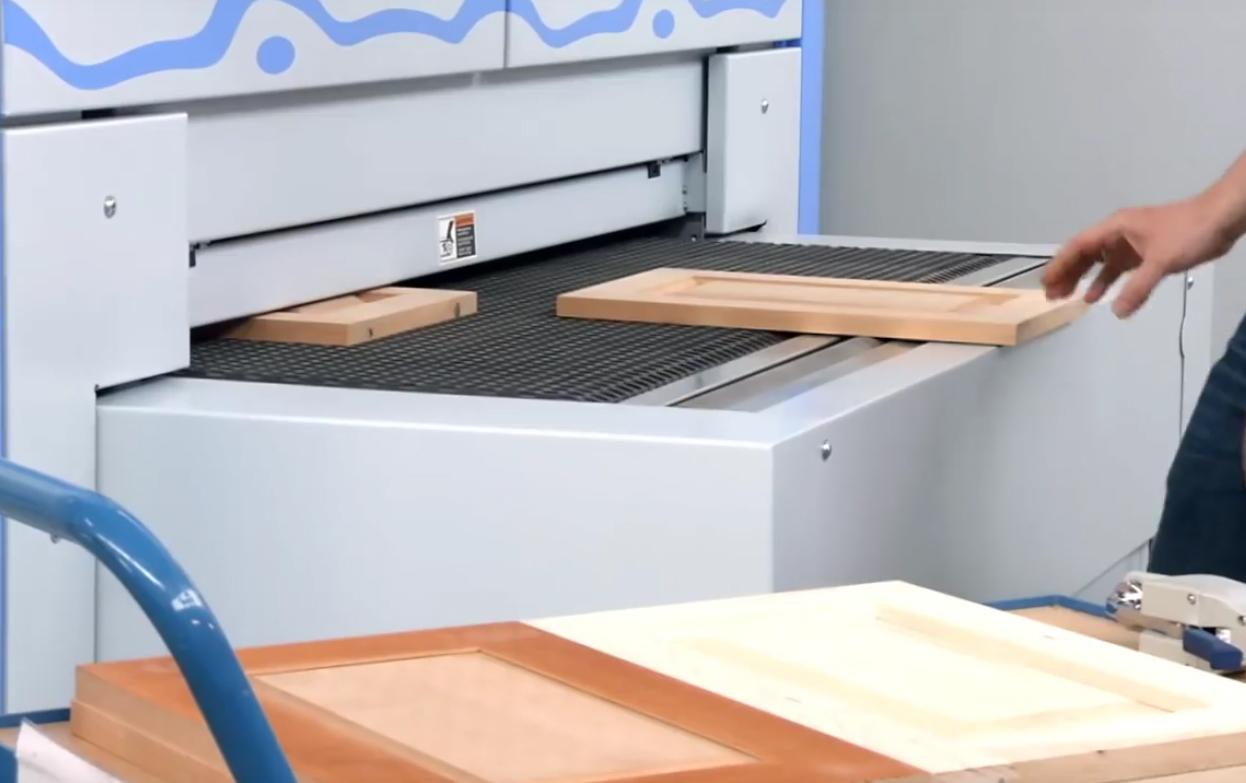 The sanding operation is one of the key components to producing a quality finish.  Although hand sanding is one option, automating the process can prove to be more cost effective – not only in time savings, but in the consistency the machines provide, from part to part.
The benefits of automated sanding, and a look at three key types of systems – calibration, brush and orbital – was the topic of the recent webcast "3 Ways to Sand Doors Using No Hand Work," sponsored by Stiles Machinery and available on-demand at WoodworkingNetwork.com/webcasts.
Calibration sanding
The purpose of a calibration sander is to remove stock to produce a uniform thickness, said Tim Middleton, product manager at Stiles Machinery. When performing this type of sanding, the key considerations include: type of material to be removed, chip load, feed speed, workpiece width and the type and grit of the abrasive belt.
"We want to take a certain amount of material off, but the overall goal is to produce the exact same thickness on every door and every panel in the factory," he said.
How is it done? Integral to the process is the contact roll, also known as the contact drum or just drum. Although this can be made from steel or rubber, Middleton noted that steel is typically preferred when the thickness tolerance is important in that there is no "give" as can occur with rubber. However, he added, a disadvantage of steel is that it can cause "chatter" or lines on the workpiece.
Rubber rollers are not as aggressive as steel and come in different shore hardnesses and different diameters.  "The softer the rubber, the bigger the diameter should be," Middleton noted. "The centrifugal force of the drum spinning around in a circle causes the roller to elongate and oval out, so you're not hitting with a line, you're hitting more with a plane. The pressure is the same, but your contact surface is much greater, so you're getting a less aggressive scratch."
Oftentimes, steel and rubber rollers are used in conjunction for sanding five-piece door. A typical layout is for a steel roller drum (P100), followed by a roller with 65 shore (P120), then a third drum with a 55 shore (P180) roller, followed by a sanding pad (P220). Middleton said he is also seeing a trend toward alternate configurations, with the first roller steel (P100/P80), a second unit of 65 shore (P150), followed by two sanding pads, P180 and P220. "The stock removal is the same amount, but you have two drums and two pads [to] prevent any chatter."
Brush sanding
The purpose of brush sanding is twofold: edge breaking and fiber removal. With edge breaking, the edges are softened so that the sealer coat gets applied evenly, Middleton explained. Otherwise, he said, "If you have a 90-degree corner or edge, zero sealer will go on that edge" and moisture can penetrate.
While brush sanding doesn't remove as much fiber as calibration sanding, it is an important step. By doing this, Middleton reiterated, "You won't get grain pop and you'll have a much better surface to apply the sealer."
The abrasive tool or "brush" is actually made up of three separate components: the plastic or aluminum mounting strip, the abrasive strip (cloth backed, AO or SC); and Tampico natural fibers or bristles. Types of brushes include carousel, disc and drum.
Middleton said he's seeing a change from the typical sanding line configuration of calibration, orbital and brush, to one in which the orbital is the final sanding process. "If you put the brush last, it will put crossgrain scratches back in, so what we've been seeing and recommending is that the brush goes before the orbital and the orbital is the last machine to touch your door," he said.
Orbital sanding
According to Middleton, this method is designed to sand stile and rail doors, frames or inlaid veneer. "Anything that has grain going opposite the direction of the sanding belt's rotation," should be done on this machine to ensure proper crossgrain scratch removal, he said. Types of these sanders include dual orbital, single orbital and drum.
To learn more about these sanding methods, listen to the free webcast, "3 Ways to Sand Doors Using No Hand Work," available on-demand at WoodworkingNetwork.com/webcasts.
For more information on surfacing technologies, visit the Sanding and Finishing Knowledge Center located on FDMCdigital.com, and sponsored by Stiles Machinery.


 
Have something to say? Share your thoughts with us in the comments below.